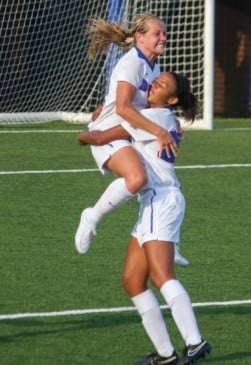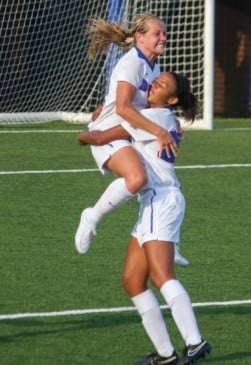 An unexpected win in Lincoln, Nebraska on a Sunday afternoon was the first sign that the 2014 DePaul women's soccer team might be something special. Their 2–1 win over then No. 13 Nebraska showed off both a strong defense against a team that had scored 54 goals the previous year, as well as their new offense with transfer Abby Reed and freshman Alexa Ben providing goals. Their record moved to 2–0–0 with the upset.
Since then, the Blue Demons have gotten results in seven straight games and come into the week undefeated now sporting the best record in the program's history at 7–0–1.
This has come through experience from players such as senior defender Rachel Pitman, junior keeper Alejandria Godinez and junior forward Elise Wyatt, plus ten newcomers to the team.
"We have quite a different team than we had last year, a lot of new faces to integrate so I think that's been a learning curve for us," head coach Erin Chastain said. "We have different kids coming in and playing well and adding to our team dynamic, so I think we're happy with those things."
So far, the Blue Demons have been able to change their style from previous years, going for multiple goals instead of relegating back to a defensive state after gaining a lead, scoring an average 2.5 goals per game.
"It's very different from how we've played before," Pitman said. "I feel like, in the past, it's always been 'we know if we score one goal we're going to be okay, we're going to defend' But we've never really had a lot of goals come in. For me, it's so promising that we can score so many goals."
The offense has been especially lethal for the Blue Demons this year, with a lot of focus on the new forward partnership. Elise Wyatt has scored three goals and has recorded three assists to go along with Abby Reed's six goals to start her career at DePaul.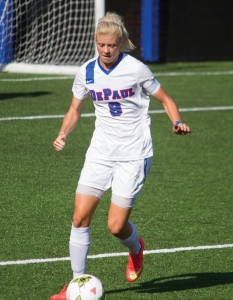 "Abby and I just get each other," Wyatt said. "We read each other really well, and it's amazing when you can set up teammates and they'll finish for you. She knows how to score, and that's what our team needs."
Going forward, DePaul has three straight home games as they start out Big East play on September 25th against Georgetown. As the season starts to hit the middle stretch, the players are reminded that the most important part of the season is still to come.
"Whenever you can start out undefeated it's great but as with every game that follows its a bit more pressure," Wyatt said. "It puts a lot of pressure on Big East because that's what's important."
"Wins against Nebraska and Illinois State are great for our resume going into the Big East and all that but if we don't go into the Big East and perform well it doesn't mean anything," Pitman said. "We still haven't had a complete ninety-minute performance yet but every game we are gradually getting better so that's promising for me going into the Big East."
The Blue Demons finished third in the Big East in 2013 and made it all the way to the Big East Championship game of the tournament before losing 2-0 to Marquette. They also made the NCAA tournament, falling to Indiana in the first round. This year, they seem poised to make a similar, if not better, run in 2014. But the Blue Demons aren't looking that far ahead just yet.
"I think (starting undefeated) gives our group some confidence but it's a long season and a start is what it is," Chastain said. "Good teams have to find ways to get results over the whole course of the season."