Blue Demon Rundown: 9-15-14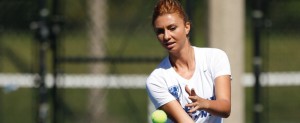 Women's Tennis
DePaul women's tennis received some good news before the season started as the Intercollegiate Tennis Association preseason rankings were released. Junior Ana Vladutu was ranked 80th in singles and joined her doubles partner senior Patricia Fargas in the doubles rankings.
The duo was ranked 44th in the nation and also selected to the main doubles draw in the 2014 Rivera/ITA Women's All-American Championships in Los Angeles. Both players will also play in the singles competition of the tournament with Fargas starting in the pre-qualifying region and Vladutu entering in the qualifying portion bracket. The Blue Demons will open up their fall season next month, looking to regain the magic of last year when they went 22–4 and won the Big East tournament.
Women's Basketball
DePaul women's basketball announced Thursday that they will be featured on national television at least three times this season as they released their Big East Conference schedule.
They open up their conference season Dec. 3 against Butler in a noon tipoff before finishing their non-conference schedule later in the month.
They have three straight road games to open up their Big East slate in January against Villanova, Georgetown and Marquette before returning home to play Xavier Jan. 11.
Their second nationally televised game comes Feb. 15 when they play last year's Big East runner-up, St. John's. They will close the season against Marquette, another nationally televised game.
Allstate Arena will also host the Big East tournament once again March 7 to 10.
Volleyball
After going undefeated in non-conference play in 2013, DePaul volleyball is struggling in their first few games of the 2014 season.
The Blue Demons opened up the season going 1–2 in the DePaul invitational, falling to Stony Brook in the season opener, and winning 3–1 against Bradley before falling in the third game 3–1 to Hampton.
DePaul then followed the same formula in the Windy City Invitational Sept. 5. Despite junior Colleen Smith's double-double with 45 assists and 13 digs, the Blue Demons fell 3–1 to the Syracuse Orange. They rebounded in the second game with a 3-0 victory over Chicago State. But they dropped the third game with a 3–1 loss to UIC.
Over the weekend, DePaul fell to 2–7 after three straight losses at the Evansville Invitational in Evansville, Indiana.
Men's Basketball
DePaul men's basketball will open with Marquette at 4 p.m. Dec. 31 as the Big East will again kick off its conference schedule with a slate of five games. DePaul-Marquette is the third game of the day.
The Big East announced its conference schedule Tuesday, completing DePaul's schedule for the 2014-2015 season. The Blue Demons will again play a slate of 18 conference games, facing each time twice in a home-away series.
Four of DePaul's first six conference games are at home. They open with Marquette and Xavier before traveling to Creighton and Villanova. DePaul then plays Georgetown and St. John's at home. Fox Sports 1 will televise 13 of DePaul's 18 conference games.
Three of the remaining games can be found on the CBS Sports Network while Butler-DePaul Feb. 28 will be televised on Fox Sports 2.