Starbucks closing stores for "racial bias training"
Don't make any plans to drop by Starbucks on May 29 and grab that morning chai latté, because the company will be closing all 8,000-plus company-owned American stores, including its corporate offices, to conduct mandatory racial-bias training that day.
More than 170,000 employees will take part in the training, and moving forward the training will be integrated into Starbucks' new-hire process.
The training comes after an April 12  incident where two black men, Rashon Nelson and Donte Robinson, were forcibly removed from a Starbucks location by police in downtown Philadelphia after they asked to use the bathroom and then sat down without ordering anything. 
While it's not certain if the manager's decision to call the police was racially motivated, the incident received widespread backlash amid allegations of racial bias.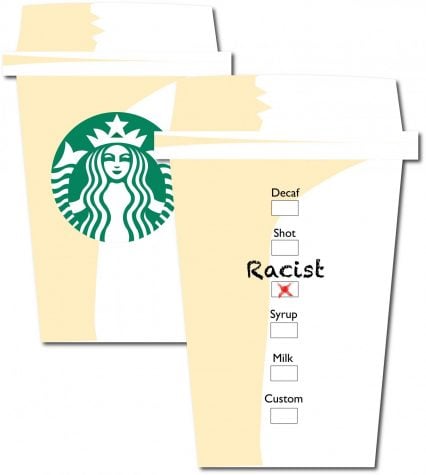 "Calling the police on two black men is obviously a racially motivated move (…), but it's not the most damaging or critically alarming form of racism prevalent in corporations like Starbucks," said Keith Baltimore, a student minister in DePaul's university ministries who worked as a legislative assistant and political consultant on Capitol Hill. "Structural racism is far more dangerous than an easily excited store manager calling the police."
Starbucks is expected to take a huge financial hit as a result of closing its doors. MarketWatch, a financial information website, calculated that Starbucks is expected to lose roughly $12 million in revenue on May 29 alone. And some critics are citing the money factor as one of the main reasons Starbucks is initiating racial-bias training.
"Clearly Starbucks has grasped the severity and negative impact that bad customer service and the stigma of racism can have on profit," Baltimore said. "I think it's a good move and strong show of humility on their part. Ultimately (though), it's just a big corporation trying to save its business from losing profits. They are not trying to reduce racism."
The details of the training haven't been released yet, but the curriculum's input is being influenced by a handful of people. This includes Equal Justice Initiative founder Bryan Stevenson, former U.S. Attorney General Eric Holder, and president and Direct-Counsel of the NAACP Legal Defense Fund Sherrilyn Ifill. Other names that top the list are CEO of the Anti-Defamation League Jonathan Greenblatt and Heather McGhee, former president of New York-based think tank and policy center Demos. Starbucks has a history of branding itself as a progressive multinational corporation, with a prominent example dating back to January 2017 when the company stated it planned to hire 10,000 refugees over a five-year period in all 75 countries of operation.
While the general idea behind racial-biased training might sound good to some, studies question the effectiveness of diversity training.
In 2016, Harvard Business Review authors Frank Dobbin and Alexandra Kalev published "Why Diversity Programs Fail," where they looked at 30 years of data from over 800 U.S. firms and garnered interviews with hundreds of executives and managers. They ultimately concluded that diversity and racial-bias training only has positive effects for a day or two before sparking a backlash.
Additionally, in 2017 researchers from the University of Wisconsin-Madison used a technique known as meta-analysis where they synthesized evidence from 494 implicit bias studies and over 80,000 participants, concluding that techniques requiring participants to accept innate biases tended not to translate well into behavioral practices.
And Lori Pierce, an associate professor of African and Black Diaspora Studies at DePaul, also is skeptical that a structured racial bias training system will immediately resolve tensions at the coffee chain.
"Employees are the ones who have the ability (and responsibility) to intervene when they see or are made to participate in practices that promote or exacerbate prejudice, bigotry or discrimination," Pierce said. "This isn't to suggest that corporations don't have a responsibility, but 'training' like this (…) is probably a waste of time for the employees.  It might be better than nothing, but five hours in a conference room can't change anything about the history that created this situation."
Despite past studies casting doubt on the effectiveness of racial-bias training, some customers feel that it is nonetheless a step in the right direction for Starbucks. Some also feel that more proactive measures should be taken in order to improve customer relations. 
"I think their decision to have racial bias training will be great," said Nicolina Mannino, a junior at DePaul. "However, I think they should focus on making sure everyone who comes into their stores feels comfortable and that something like this never happens again, not just at Starbucks, but at other big name corporations as well. It is one thing to talk about incorporating changes towards reducing the influence of bias, but taking action is much more important."
While Starbucks will still be a popular place to grab a coffee, the company is definitely seeking to reduce any potential for a hostile store environment. Moving forward, it's only a matter of time before employees and customers alike get to see if any real changes will come out of the racial bias training – let alone if other corporations will follow Starbucks' lead.
"If other corporations follow the Starbucks example, then racial bias training will quickly become a false barometer for corporate race-relations," Keith said. "Removing racism requires real counseling, therapy and moral guidance. To remove racism, values, self-interest and notions of power and privilege must all be challenged (…) you cannot force change on anyone who (is) increasingly advantaged by their position."
View Comments (1)