Can they fix it?:Lenti Ponsetto, Leitao express optimism about NCAA recommendations
NCAA president Mark Emmert's Commission on College Basketball released its recommendations to fix widespread corruption in college basketball Wednesday morning, calling for the end of the one-and-done era, regulations regarding the relationship between the NCAA and apparel companies and lifetime bans for major violations.
After an FBI probe led to the termination of Hall-of-Fame Louisville head coach Rick Pitino this past September, the conversation about corruption of amateurism in college turned from smoke to fire. Even Emmert, the NCAA's often criticized president, said he was serious about adopting policies aimed at cleaning up his organization's basketball programs.
"You don't waste Condoleezza Rice's time," he said.     
At the committee's press conference in Indianapolis Wednesday morning, commission  chairperson, former U.S. Secretary of State and Stanford University Provost Condoleezza Rice, stressed the commission's commitment to steer college basketball away from professionalism and back to a truer form of amateurism.
"We need to put the college back in college basketball," Rice said. "Our focus has been to strengthen the collegiate model — not to move toward on that brings aspects of professionalism into the game."
These were comforting words for DePaul's athletic director, Jean Lenti Ponsetto.
"I think (the recommendations have) great potential to be transformative for men's college basketball," she said.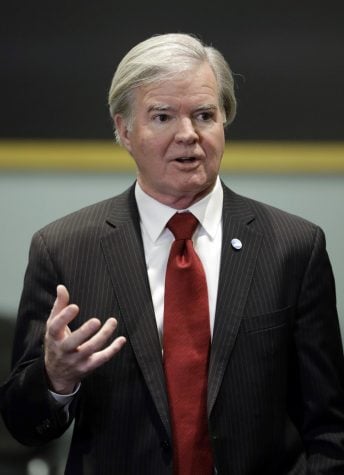 "For me I think the most encouraging part about it was in some of commissioner Rice's opening statements about the importance of what college athletics is supposed to be about. Let's provide the pathway for the elite athlete and work with the NBA to do that (…) but I think the real critical piece in all of this is that being a student athlete is about coming to college to receive a college degree and so I think for a lot of people in our industry that was a really important statement: let's get back to what college athletics is supposed to be about."
Over her time DePaul, Lenti Ponsetto has developed a reputation for her emphasis on the academics. Many Blue Demons routinely rank at the top of the Big East for academic achievement, but struggles with the men's basketball program's success on the court and publicly declaring her program "not the junior NBA" have raised questions about her priorities. When it comes to handling elite athletes, she says forcing them to stay in school isn't the way to go.
"If there is a freshman who has earned the right and has the talent level to be drafted as an 18 year old, it doesn't make any sense to force someone to go to college that doesn't really want to be in college," Lenti Ponsetto said.
Changes to the one-and-done rule will require cooperation from the NBA and the National Basketball Players Association. Since the adoption of the one and done rule for the 2007 draft, required that all players entering the draft must be one year removed from high school, effectively mandating that U.S. players spend one year playing college basketball before making the leap to the NBA.
"Part of the reason there was a one-and-done rule put in place is because there were certain imperfections in that framework," DePaul head coach Dave Leitao said. "A lot of young people that were not ready that went directly out of high school and never got the opportunity to go to college. I think there was some push back because of that to get to the model that we have now. After this amount of time we recognize that, as Jeanne said, you know, forcing someone to go to college may not be the best answer for right now."
From the point of view of any NCAA affiliated party, changing the one-and-done rule makes sense. But it's the NBA's rule and it isn't designed to shepard elite athletes toward a college degree. According to former NBA commissioner David Stern, the NBA is a business, and the players are the commodity.
"This is a not a social program, this is a business rule for us," Stern told ESPN in 2012 regarding the one-and-done rule. "The NFL has a rule which requires three years of college. So the focus is often on ours, but it's really not what we require in college. It's that we say we would like a year to look at them and I think it's been interesting to see how the players do against first-class competition in the NCAAs and then teams have the ability to judge and make judgments, because high-ranking draft picks are very, very valuable."
The NBA Player's Association and the NBA won't meet to discuss changes to the one-and-done rule until after the season has conculded, and changes likely won't occure until the 2020 draft, according to reports by ESPN's Adrian Wojnarowski. But the atmosphere is as ripe for change as it ever has been.
"I think there is a lot of confidence and a lot of energy surrounding this right now in our industry, because it's all overdue," Lenti Ponsetto said. "And I think a lot of people feel that it's overdue."
View Comments (3)