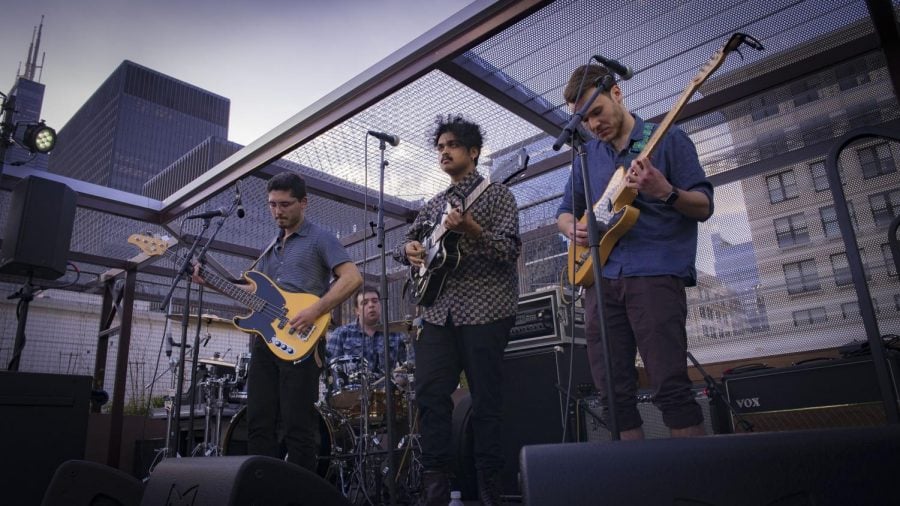 In an effort to try something different, DePaul Activities Board (DAB) held their first FEST Rooftop Reveal on Friday night on the DePaul Center's 11th floor rooftop. FEST is an annual concert that occurs at the end of the academic year featuring performances from two to three musical artists. The concert begins at 6 p.m. on the Quad with the opening act and concludes with the headliner. There is also FEST After Hours that features a DJ performance and is free to all students.
At the end of the event, DAB announced that A$AP Ferg and BJ the Chicago Kid will be headlining FEST.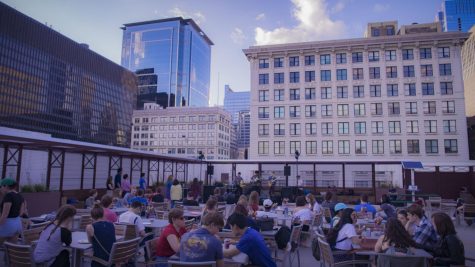 Previous FEST announcements took place in the Lincoln Park campus student center or Lincoln Hall, but this year Hannah Sinclaire, DAB's Fest Coordinator, decided to host the event on the rooftop.
"It's a very beautiful venue, and hopefully it'll be a tradition from now on," she said.
Three local bands performed before the big headliner reveal. Additionally, DAB provided Chartwell's catering and Jimmy John's sandwiches to feed their guests. Sinclaire said it took about a month to organize the reveal party and the entire school year to organize FEST.
It all begins with a student forum that's hosted by DAB in early October. "It all begins with a student forum hosted in early October. DAB sends out questionnaires that let DePaul students voice which musical acts they'd like to see, and from there the results are narrowed down by availability."
After the forum, however, there were minimal rumors on who would be performing at the annual concert compared to previous years. Some students on social media said that last year's lineup of Logic and Jesse McCartney kept them from getting excited about FEST 2018. Other students didn't let the mix in genre discourage them from attending this year's festivities.
Jimmy Tsogas, a sophomore at DePaul, says he's looking forward to FEST despite the lukewarm reactions to last year's concert. "It's going to be a lot of fun, and I haven't heard any rumors on the lineup so I'm excited to hear who the headliner is tonight," he said before the Rooftop Reveal.
Tsogas said though he isn't too familiar with the headliner, he will still be attending to listen to him. The other students in attendance, however, all screamed in excitement.
"A$AP Ferg! That's going to be so much fun," said Devany Perez, a senior at DePaul. She said that the lineup sounds way better than previous years. Other students agreed, continuing to shout in the elevators about their excitement for FEST 2018.
"I do know that every year there's going to be backlash," Sinclaire said. "We know we can't please everyone, but we try to get as many genres in as we can, and I think our lineup makes a bit more sense in regards to genre compared to previous years."
FEST will be held on May 25 on the quad. Tickets are on sale now for $10.