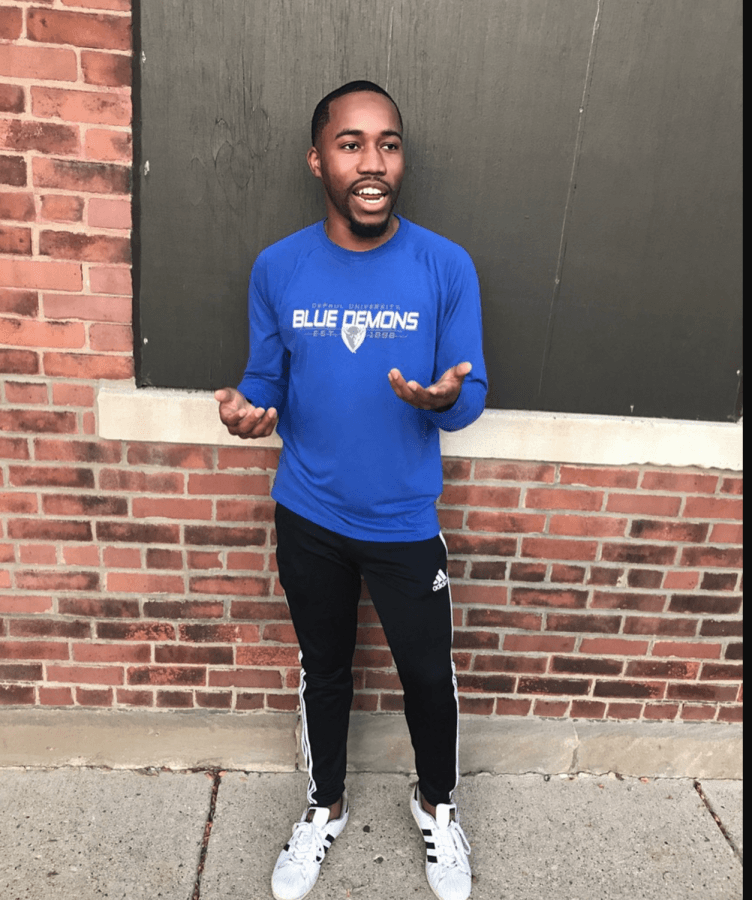 Bully. Poor leader. Threatening.
These are just a few of the words that have been used to describe Student Government Association (SGA)  President Michael Lynch. But Lynch and his vice president say these allegations are both false and unfair.
In an interview with The DePaulia on Monday, cabinet member (and former vice presidential candidate) Katy Bozich and former Election Operations Board (EOB) member Brooke Beatty, described Lynch as a poor leader who failed to accomplish any initiatives during his time in office.
Bozich and Beatty questioned his leadership and wondered if Lynch only cared about the image associated with being president. Both agreed that Lynch "let the power go to his head sometimes" and "played favorites."
Treasurer Benjamin Bui also said that Lynch "straddles the line of bullying."
During the controversial SGA presidential campaign, there was an unofficial closed-door meeting held by Lynch and Bui with presidential candidate Josh Kaufman. Although the details of the meeting are hotly contested, all parties present during the exchange agree that Kaufman drafted a letter of resignation while in the meeting.
Matthew Drew-Caffin, a junior, was close to the Kaufman-Darlington campaign and says that Lynch and Bui threatened Kaufman inside the meeting.
"They implied that if Kaufman did not resign, they would ruin his reputation and future with potential employers," he said.
Drew-Caffin said that Lynch and Bui used Kaufman's political aspirations as leverage to scare him out of the race. Kaufman has previously done work for both Mayor Rahm Emanuel and gubernatorial candidate JB Pritzker's office.
Lynch and Bui both strongly deny the allegations.
"I never mentioned that," Lynch said.
Lynch said that while Bui may have alluded to Kaufman's political aspirations, both of them were only trying to impress upon Kaufman the importance of one's reputation as it pertains to future candidacy and post-graduation employment.
Lynch said that at no point did he ask Kaufman to withdraw from the race, nor did he imply it. Asked if there were any attempts to intimidate or blackmail Kaufman, Lynch said "absolutely not."
Kaufman declined to comment on the specifics of the meeting, but in an official statement on April 25 he cited "dirty politics" and "slander" as being among the reasons for his withdrawal.
"I've accepted the apologies of Michael and Ben," he told The DePaulia on Friday.
Lynch agreed that the meeting was a mistake and says he regrets the way he handled it.
Although Bui was also in the closed-door meeting with Lynch, their relationship has been far from amicable. Bui told The DePaulia on Wednesday that Lynch "carried an image" and a "brand" that seemed more important to him than actually dealing with policy.
"In my opinion, there was a lack of leadership," he said. "The only times things were getting done is when Gracie was stepping in as vice president."
At one point during Lynch's tenure Bui even considered leaving his post as treasurer.
"I had a resignation letter written and ready to submit," he said.
Bui said that other disgruntled members were also considering tending their resignations as well.
But current SGA Vice President Gracie Covarrubias defended Lynch on Friday.
"Michel is passionate about the issues we ran on and being an advocate for students," she said.
Covarrubias said that although Lynch and her "did not always see eye-to-eye," he was nonetheless an "effective president."
While multiple sources have used the term "bullying" to describe Lynch, Covarrubias vehemently denied such allegations, saying that Lynch had never made her feel uncomfortable.
"It's easy to point the finger," she said. "But we were handed a crumbling organization, and Michael was determined in the way he did his job."
Bozich and Beatty disagree. They complained about Lynch's attendance during SGA meetings and crucial events.
They specifically cited a meeting with an political official from the Netherlands. Bozich said the meeting was "a big deal" and that Lynch "just didn't show up."
"It was pretty embarrassing for all of us," she said.
Lynch was candid with The DePaulia, admitting he had mixed up the date and location of the meeting. Additionally, he mentioned that his uncle had just passed away and he was distracted at the time. But overall, Lynch and Covarrubias deny that he had any substantial attendance issues.
"I think that he was making decisions on behalf of everyone," Bozich said.
Bozich said that when it was time to make key appointments to staff, Lynch often would not consult his cabinet. Although Lynch is not required to consult his cabinet for such an appointment, Bozich said it is a standard best practice for SGA.
"I think Michael is a nice guy," Beatty said. "But he was not fit to be president."
Lynch responded to comments from Beatty and Bozich, mentioning that they had run campaigns on separate tickets from himself.
"They have never cared for me," he said. "People think I was forcing them to do things, but there were external realities outside the realm of my control."
Lynch mentioned several initiatives that he says have been accomplished under his direct leadership. Lynch pointed to the creation of a new SGA position, the "executive vice president of institutional diversity and equity." Lynch says that this position now works directly in conjunction with the Office of Institutional Diversity and Equity (OIDE).
Lynch also said that he has worked with the Strategic Resource Planning Committee in order to fight for increased funding of financial aid for students, which is up 9 percent, according to Lynch.
But Bozich and Beatty told a different story to The DePaulia. When asked what Lynch contributed during his time in office, Bozich said, "You know, I'm honestly not sure if he accomplished anything."