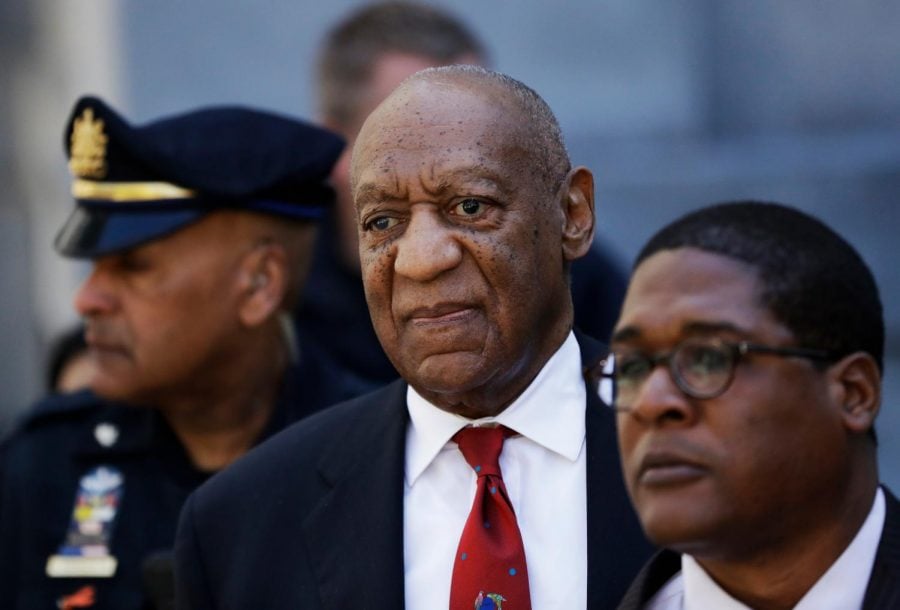 Photo courtesy of AP Newsroom
Beginning with his days on "I Spy" and up to his portrayal as the lovable Cliff Huxtable on the "The Cosby Show," for most of his career Bill Cosby managed to maintain a clean-cut image to fans and the public eye. Through his scripted television roles, Cosby was often portrayed as a wholesome father and a devoted, beloved family man.
Through his role as Cliff Huxtable, a positive black father figure in television when there was a lack of representation, Cosby helped make "The Cosby Show" a staple in television. Such roles further solidified his status as an admired actor and comedian.
"The image of black fatherhood depicted by Mr. Cosby through 'The Cosby Show' was one almost wholly bereft from television at that point," said Kelly Kessler, an associate professor who teaches media and cinema studies.
"The '70s were full of single parent ghetto sitcoms, buffoonish nuclear families, and an occasional two-parent Black family in shows like Norman Lear's 'Good Times'," Kessler said.
"But Bill Cosby as Cliff Huxtable was America's father. He simultaneously brought a new image of black fatherhood to television and became everyone's dad, regardless of race," she said "The runaway Nielsen numbers show that."
Cosby also did extensive charity work, which included fundraising for groups such as the Jackie Robinson Foundation, Robert F. Kennedy Memorial, and Jumpstart, an organization that promotes literacy and childhood education. In 1988, Cosby donated $20 million to Spelman College, a historically black college in Atlanta.
All of this helped Cosby build an image that ultimately shielded the comedian from the sexual assault allegations that followed him. In April, these allegations were ruled credible, with Cosby being convicted on three counts of sexual assault. At 80-years-old, he could spend the rest of his life in prison.
How did Cosby manage to trick so many people into believing he was a righteous moral exemplar? Could no one see the real Cosby, the same Cosby who would stand accused of sexually assaulting approximately 60 women throughout the course of his career?
In reality, once the Hollywood cameras stopped rolling, Cosby shed his family-man persona and replaced it with something more sinister.
Despite the conviction, though, Cosby's achievements cannot be undone.
"His philanthropic contributions are extensive as is his history of sexual predation," said Jalylah Burrell, the Ida B. Wells-Barnett Postdoctoral Fellow at DePaul. "I think the public can wrestle with the complexity of humanity. It is possible to do tremendous good while causing catastrophic harm," she said.
There have been several publicly criticized incidents in Cosby's career that began to crack the facade of his family man image.
In 2004, during the NAACP's 50th anniversary celebration for the landmark Brown v. Board of Education decision, Cosby ranted about domestic violence in the black community in relation to childhood illiteracy.
The rant is now known as the "Pound Cake Speech." Cosby also criticized the black community for teen pregnancy rates, single-parent households, incorrect grammar use and failing to make progress after the Civil Rights era.
Jill Stewart, a public relations and advertising instructor, attended one of Cosby's stand-up shows and also saw the difference between the on-screen Cosby and the in-person Bill Cosby.
"I heard Bill Cosby perform in Las Vegas in 1981, and that shaped my opinion of him permanently," she said. "I thought he just 'phoned in.' He just sat in a chair on the stage and he leaned back like he wasn't working very hard, and he was smoking cigars and telling jokes. I was really turned off, and that had nothing to do with the sexual allegations that came out much later."
As a revered celebrity, Cosby, like many other celebrities, managed to warp the public's perception of him. He was able to use their perceptions as a cloak to hide who he really was all along.
Stewart also explained the possible role that PR could have had throughout Cosby's career.
"I would imagine that if Bill Cosby had a PR team, they would have done everything they could to discredit the women, and that seems a little unfair to me, because the celebrity always has the advantage. Balances of power tilt towards men who are powerful and wealthy," she said.
Not only has Cosby's Hollywood star been removed, but several universities have taken back his honorary degrees. The latest fall from grace for a beloved star is a wake up call reminding us that celebrities are human.
Stripped of all image, celebrities like Bill Cosby and the others accused of sexual assault are not to be revered or idolized. They may have more money and fame than the average person, but celebrities are no better than anyone else. They are talented actors, comedians, directors, models, singers, but they are also human. They are not angels or idols to be revered. As these sexual assault charges emphasize, people with celebrity status are just as capable as anyone else of committing unspeakable acts.