Putting the meaning back into Memorial Day
When we think of Memorial Day, we often think of barbecues, parades, time off school and the beginning of summer. We also tend to forget what exactly our nation is actually celebrating.
"Memorial Day is a national day where we get to spend time with our families, but we need to remember their sacrifice," said Heather Duke, member of the Office of Veteran Affairs at DePaul. "We enjoy the safety and freedom in our country because of the veterans who have fallen to protect us."
Duke, a six-year Navy veteran, joined the Office of Veteran Affairs to connect with fellow veterans and help students to do the same.
"We live in a peace time. It is easy to forget about the veterans," Duke said. "We don't have the same connection to them as we used to when the country was under threat."
It's this ethos that drives both of the main veteran advocacy groups on campus, the Office of Veteran Affairs and the Student Veterans Union, to foster a connection between veterans and the non-veteran study body year round. During Memorial Week, the groups collaborated to highlight the importance of those who serve and to remember those who have passed.
"Memorial day and Veterans Day are two completely different holidays," said Eric King, former president of the Student Veterans Union. "The purpose of Memorial Day is not to honor the living, but to remember those that died serving."
Events included an informational event with interactive games, a Memorial Day luncheon and finally a service event where students traveled by bus to Lincoln Cemetery in Worth, Illinois for a flag ceremony. Students placed more than 400 flags on veterans' graves in honor of the fallen soldiers.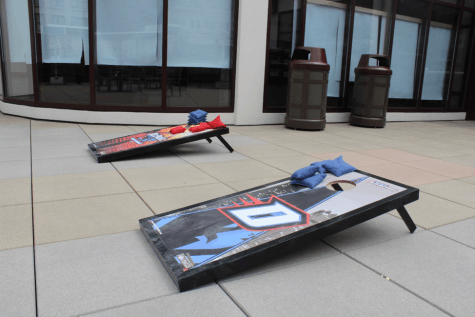 "It is not just about the barbecues. It's about remembering the ultimate sacrifice veterans have made in our country," Duke said.
Many students like Duke enter the military during college. At DePaul, more than 600 students on campus currently use veteran benefits.
The Office of Veteran Affairs also plays a large role in aiding veterans on campus outside of Memorial Week. Part of their outreach includes hosting career events that offer jobs in fields where veterans can excel.
"Certain fields of employment prefer vets because of their unique skill sets," Duke said. "We try to make it easier for veterans to find jobs in these areas by hosting career events throughout the school year."
Additionally, the Office of Veteran Affairs puts on Veterans Week each fall, which celebrates all those who have served and grants veterans a special graduation ceremony.
DePaul was ranked as a top school in the 2015 Military Advanced Education Guide to Colleges and Universities and as a top university serving veterans by the U.S. News and World Report. The university boasts on the Admission and Aid section of its website that DePaul has never placed limitations on the number of veterans that can enroll in the Yellow Ribbon Program, which provides tuition-free education to eligible students.
The Student Veterans Union is another on-campus group that aims to spread awareness about the importance of Memorial Day. It is run by DePaul students and works both independently and collaboratively with other organizations to implement programs and events that assist both veterans at DePaul and throughout the United States.
During Memorial Week, their booth gave out yellow ribbon pins to students as a symbol of remembrance and mourning. Plastic poppy flowers, which have been used to commemorate veterans since World War I, were offered to those who donated to the Student's Veterans Union in an effort to raise money for the organization.
"This is the first time we've collected donations at a DePaul fundraiser," King said.
King emphasized that the Students Veterans Union's goal is to help student veterans on campus feel included at DePaul. The group currently has 85 active members, and they are growing every year.
The organization aims to make changes on campus to accommodate the large amount of veterans at DePaul.
"When I attended the College of DuPage there was a student lounge where all of us could go and meet up," said George Murad, member of the Students Veterans Union. "We are trying to make a veteran's center, similar to the gaming lounge, where people can go and hang out."
The Student Veterans Union attends conferences with different chapters of similar unions at universities nationwide. Through this outreach, they learn new information that can help DePaul's chapter in find ways to further support veterans on campus.
For veteran organizations at DePaul, building a community between veterans and non-veterans is a top priority.
"These events are not just for vets, (they're) for everyone," Murad said. "Vets connect better with other veterans because of their shared experience, but it's important we build an inclusive community for all DePaul Students."