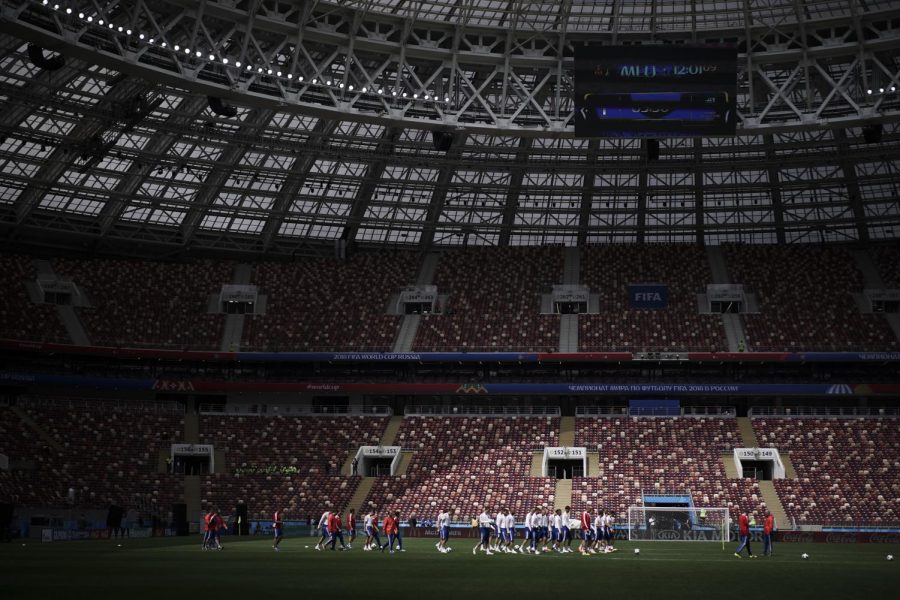 For the first time since 1986, the United States missed the World Cup after falling to Trinidad & Tobago 2-1. During simultaneous matches on the final day of qualifying, both Honduras and Panama rallied from deficits to keep their World Cup dreams alive.
Honduras ultimately fell to Australia 3-1 in a World Cup playoff, while Panama punched their ticket to appear in its first World Cup.
Peru also returns to the World Cup for the first time in 26 years and will have their captain Paolo Guerrero back, after he won a last-ditch legal appeal just weeks before the World Cup despite being banned after testing positive for traces of cocaine following a World Cup qualifier against Argentina last October. Guerrero had already served a six-month suspension, but it was extended on appeal.
Peru and Panama are just two of the many storylines to follow and for DePaul fans to root for during the World Cup. While US fans at least know they will have a team in to root for in 2026 after it was announced Wednesday morning the World Cup would be heading to North America and thus granting automatic spots to the U.S, Mexico and Canada.
However, there are still plenty of interesting teams in the World Cup, so, here are five good options for DePaul students to root for over the next month in Russia 2018.
Saudi Arabia
Saudi Arabia arrives at the World Cup as one of the lowest ranked teams in the field at No. 67, just ahead of host Russia, and one of the many teams to endure a coaching change during qualifying or between then and the World Cup. Now in charge is Juan Antonio Pizzi, who led Chile to the 2016 Copa America title and has admitted his team's goal is to make it to the round of 16.
Aside from the benefits of rooting for the underdog, just over seven percent of the international graduate students are from Saudi Arabia, accounting for the second highest number of international graduate students behind China, according to DePaul's 2017 enrollment summary.
Saudi Arabia has not made it out of the group stage since 1994, when the World Cup was last in the U.S, DePaul students would be well-served rooting on one of the tournament's biggest underdogs to make a run into the knockout round.
South Korea
The 2014 World Cup didn't go well at all for South Korea who didn't make it out of the Group Stage in Brazil with two losses and one draw. To make matters worse, fans waited for the team to return at Incheon International Airport before pelting them with candy as they entered the terminal as a sign of their displeasure.
Unfortunately for South Korea, they received the daunting task of being placed in the same group as Germany and Mexico and will once again have a tough time making it out of the group. Following Saudi Arabia and China, South Korea also accounts for one of the highest number of International graduate students, again making it a popular choice to root on from a DePaul perspective.
Panama
Unfortunately for U.S fans, their World Cup spot came at the expense of Panama qualifying for their first ever spot in the field. That doesn't mean the team isn't filled with players that called the MLS their home with six players on the 23-man roster.
Even Panama's coach Hernan Dario Gomez has admitted the team is heavy underdogs with soccer powers Belgium and England also in their group and has experimented with five defenders as they limited the damage in a friendly against Denmark in March to a 1-0 loss. That "park the bus" strategy could be one of the better stories of the World Cup if they could somehow frustrate either Belgium or England into surrendering three points.
The fact Panama is finally in the World Cup after 10 tries is reason enough to root on this team.
Mexico
While of course Mexico is one of the U.S's biggest rivals, their passion for the World Cup and soccer is unrivaled. Mexico has not been able to get over the hump of getting to the quarterfinals or beyond, and a date with Brazil potentially looms if they do not win their group.
Similar to Panama, there are three MLS players on the Mexico squad headlined by Jonathan dos Santos, Giovani dos Santos and Carlos Velas all based out in Los Angeles with their two teams. DePaul also has a large hispanic population accounting for just 16 percent of the student body, according to the University's enrollment study.
As the U.S's closest neighbor in the World Cup, Mexico is a great choice to root on as they look to finally get over the hump amidst tremendous criticism of Mexico head Juan Carlos Osorio, who has made a habit of making lineup changes.
Iceland
The best story from Euro 2016 now makes its way to the World Cup for their first ever appearance. Iceland now becomes the lowest-populated country ever to reach the tournament with just over 330,000 inhabitants.
Led by the "thunderclap" war chant after every game, Iceland truly made a name for themselves with a 2-1 over England to advance to the quarterfinals, which led England manager Roy Hodgson to resign immediately after the final whistle and Portugal star Cristiano Ronaldo to dismiss them based on the size of their country after they drew 1-1 earlier in the tournament. 
If Iceland can advance to the knockout stage a potential matchup with Ronaldo and Portugal looms in the quarterfinals.
Those who were sad to see Iceland eliminated by France in the Euro's now have the opportunity to see them go on another magical run.