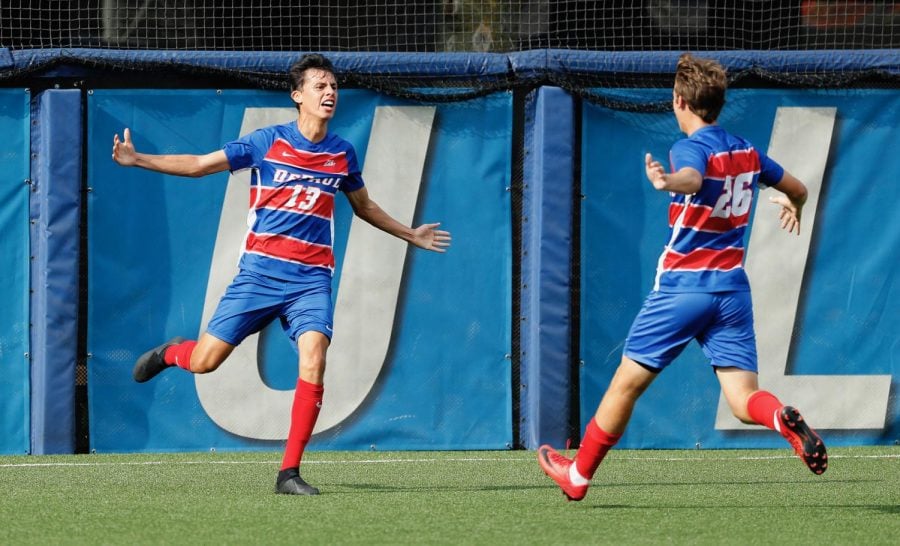 After finishing fifth all-time in games started with 74 as a player for DePaul from 2006-09, a new era began Monday afternoon with DePaul head coach Mark Plotkin recording his first career win as a head coach as DePaul knocked off No. 8/14 Western Michigan 1-0 at Wish Field.
While DePaul was on their heels in the first half not recording a shot on goal while playing into a stiff wind, they managed to keep the score 0-0. Plotkin said after the game he proud to record his first win and the way his team continued to battle against a Bronco squad that made it all the way to the third round of the NCAA Tournament last season.
"Pretty unbelievable," Plotkin said. "But I'm just proud of our guys and the effort they put forth for 90 minutes. I mean if anybody was out here they could just sense how amazing these guys are and how much they are willing to work for each other and just dig in and find that fighting spirit that we have been talking about ever since we took over and we're just so excited for them. They deserve every ounce of joy they get out of this and it's just fantastic."
Heat and wind were a major story Monday afternoon as both teams took a hydration break every 15 minutes. Both sides were forced to play into a stiff wind turned and the Blue Demons were rewarded for opting to play with the wind in the second half. DePaul controlled much of the second half, including scoring the only goal of the match in the 73rd minute. Plotkin said the key was simply hanging in for the first 45 minutes.
"We just talked to the guys, 'look it's not going to be pretty we just got to get to halftime and just give ourselves a chance to win'," Plotkin said. "That's all we talk about is fighting through and just if we give ourselves an opportunity to win the game whether it's 0-0 at halftime, we definitely know at some point we are going to break through and get our opportunity and we're going to score."
That opportunity came with 17 minutes to go when senior midfielder Harry Hilling found his roommate and fellow senior midfielder Michael Mojarro on a through ball on the left side that Mojarro slotted past Western Michigan goalkeeper Elijah Michaels into the upper corner. Mojarro said the plan was just to put a shot on net and force the goalie to make a save.
"I'm not known for finishing," Mojarro joked. "So I was thinking I've got to get it on frame, get the goalie to make a save and hopefully if it rebounds back hopefully it will rebound to someone and it just went right in."
The play was similar to one the Blue Demons were called for offside on against Eastern Illinois in their exhibition match early last week. Hilling admitted it was cool to be part of a big moment for his roommate and one the team as a whole hopes sends a message to the Big East and across the country.
"It was awesome, I was so excited," Hilling said. "We're both roommates so knowing I got the assist on his big time goal, really make a statement in the conference and the rest of the country that DePaul is here to play and we're going to have a great season."
As the Blue Demons waited for their opportunities to create the chances, their defense held strong including early in the second half where the Broncos had arguably their best chance to score of the game. The Blue Demon backline was able to deflect away multiple chances inside inside the box. Hilling credit the effort inside the box from the defense and noted it's been something the team has been stressing all preseason.
"Defensively the same mentality we had all preseason that the coaches are continuing to instill in us," Hilling said. "Which is just defend your butts off, just work hard, work for each other and have a good time. That's what everyone did in the 18-yard box, everyone defended so hard worked their butts off it was great, because of that we won the game."
Their head coach was also proud of the defensive effort in a game the team knew there were going to be stretches they did not possess the ball a lot, but by hanging in defensively they would have a chance.
"I think we just really stressed digging in deep and just being super blue-collar and just doing anything for each other," Plotkin said. "We knew they were a very talented team and that at times they were going to have a little bit more of the ball than us, we just told our guys we have to be ok with it because if we don't give up anything and we do all the extra effort for the guys around you then pretty special things can happen."
The Blue Demons continue their three-game homestand with the Chicago Classic beginning on Friday where they will host Oakland and Loyola Marymount on Sunday.