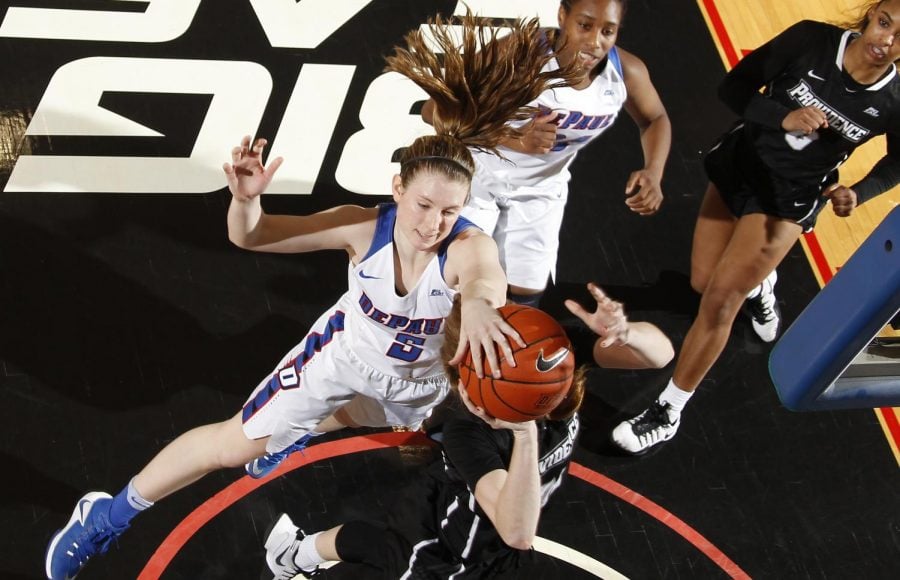 Former DePaul point guard Lauren Prochaska is staying home as she will join the staff as the Director of Community, Corporate and Professional Relations, Women's basketball coach Doug Bruno announced on Tuesday.
When Prochaska saw former assistant Jasmine Lister had returned to UConn, she said she figured the position would open up at some point. That opportunity came when Candis Blankson was moved back to being an assistant providing an opportunity for Prochaska to apply.
"I'm a person who likes to organize, sort and plan, so when the opening was posted, I sent in my resume," Prochaska said. "I was interviewed by the entire coaching staff. Normally, I'd be really nervous interviewing for my first job. But knowing everyone for four years made it easier. I wanted them to know I would be good for the program and impress them with my professional skills."
Prochaska added the transition has been smooth so far and she was happy to get the opportunity to both play and work for Bruno, especially coming right out of college.
In explaining why Prochaska was the right choice, Bruno cited what his former point guard had done on and off the court in her four years with DePaul as reasons he was confident she would do well in this position.
"Lauren is very smart, efficient, organized, hard-working and as a player has been a key member of four NCAA tournament teams, four Big East regular-season titles and two Big East tournament titles," Bruno said. "She definitely understands the drill from a player's perspective. Lauren has long held a desire to get into intercollegiate athletics administration, and this position is a perfect match for her organizational skill set."
With eight of her teammates still on the team, Prochaska also said she doesn't foresee any issues relating to her teammates now as a member of Bruno's staff.
"I know the values, standards and history of the women's basketball program," Prochaska said. "I'm familiar with the daily routine as a player and I'm learning about the coaching side. The players all know I love them and care about them. I will always cherish the memories of the last four years, but now I have to be more professional about everything. There is a distinction between being a player and a member of the staff. Now, my job comes first."
Prochaska added she knows the players also wouldn't want to do anything that might jeopardize her position on the staff.
Bruno is also confident in Prochaska's ability to adapt from being a player to now holding a spot on the staff and relating to many of her former teammates.
"No player truly understands what goes on behind closed doors on an intercollegiate staff," Bruno said. "There's always a learning curve that this is not a 9-to-5 job. Lauren has to realize this is 24 hours a day, seven days a week."
Bruno added there is a different dynamic than a player-to-player relationship, but the staff is looking forward to working with her.
"Moving as a player to a coaching staff as a young person means a different role than player to player," Bruno said. "Having been a teammate of many student-athletes on the current team, adjusting from player to staff member requires an intelligence and wisdom—both of which Lauren possesses. All of us on the women's basketball staff look forward to working with Lauren this season."
The biggest adjustment for Prochaska may come with getting used to a new nickname players have already come up with.
"Ash (Ashton Millender) and Mart'e (Grays) started calling me 'Coach P.,'" Prochaska said. "When a freshman recently came into the office, she said: 'Excuse me, Coach P.' I laughed and said: 'Just call me Lauren.'"