Abby Reed's two goals lift DePaul women's soccer in second half against Cincinnati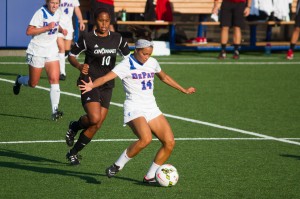 After scoring four goals in four games, DePaul sophomore Abby Reed saw her scoring drop off a bit. Reed, a transfer from Indiana State, said she hadn't been feeling herself the last couple of games.
Against Cincinnati, Reed was back.
Reed scored two goals early in the second half to lift DePaul to a 3–1 over the Bear Cats. The win extended the Blue Demons streak to eight — snapping the school's record for the longest undefeated streak for women's soccer.
"It shows how much we want it," Reed said of the team's streak. "It show how much we've come together since the start of the season."
Reed scored her first goal in the 48th minute after she was set up perfectly by freshman Alexa Ben, allowing her to just tap it in and giving the Blue Demons a 2–1 lead.
Her second goal came just five minutes later. Reed hit a beautiful kick from the top of the box as the ball curved in at the top of the goal to cap off a blazing start to the half.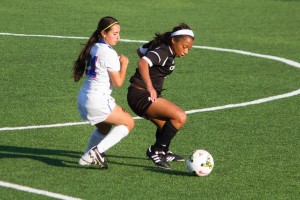 Both goals were much needed. Cincinnati controlled the tempo in the first half, keeping DePaul's athleticism in check with a physical style.  The Bear Cats tied the game in 17 seconds after a hard-earned Elise Wyatt goal put the Blue Demons on top briefly in the 24th minute.
"I had felt like we needed to get something going because we didn't play that well in the first half," Reed said. "I thought we were playing to their strengths and hit over them. At the end of the first half, we started to get it going and I think we picked it right by up in the second."
The Blue Demons were determined to answer, head coach Erin Chastain said. She said that the team always seems to respond to what she asks them to do.
"This is a special group for sure," Chastain said. "Before the season starts, you don't know what the team is going to be and they've proven game after game they're going to play for each other. The seniors have set the tone for everyone to follow.
"We have some fun, attacking players that we were missing in the past. That offense is in combination with a great defensive core."
DePaul outshot Cincinnati 4–3 in the second half, but were outshot 11–6 total.  Part of DePaul's surge in the second half was because of junior defender Sarah Gorden. Gorden, who missed all of last season, blocked passes and disrupted Cincinnati's rhythm repeatedly.
"That was Sarah's best game of the year," Chastain said. "She had a different level of toughness and commitment to defending. She was really awesome for us today."
Ben also had a big game, setting up Wyatt's and Reed's goals for two assists. She has six assists on the season.
"I think I look for other people to score more than me," Ben said. "I anticipate defenders being there. Usually, I have defenders commit to me first so my teammates have a better opportunities to score. I know we're going to score so I trust my teammates with the ball."
With the win, DePaul moves on from their non-conference schedule. DePaul finished second in the Big East in 2013 and are eager to face the conference again. The Blue Demons begin their conference schedule Sept. 25 at home against Georgetown.
"This was a great last non-conference game to get us fired up and ready to go," Reed said.