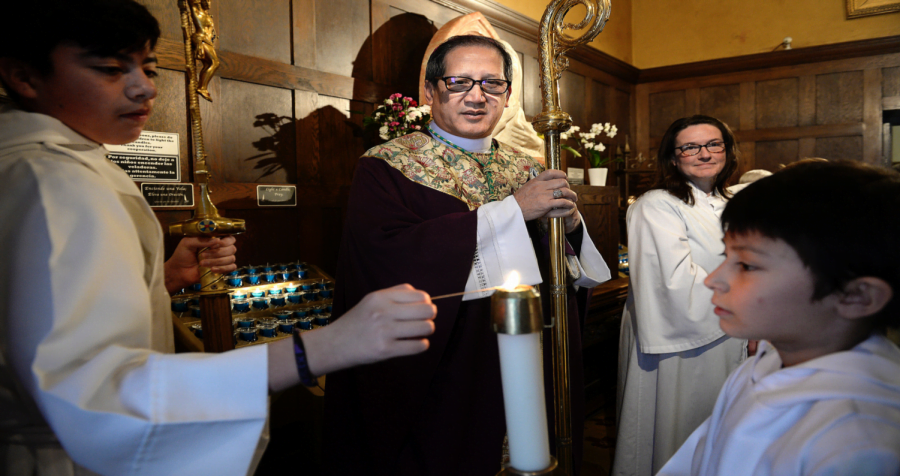 Susan Walsh | Associated Press
It has been a month since the grand jury report was released, revealing that the Catholic Church has covered up the systemic sexual abuse of children by priests over 70 years in Pennsylvania. This revelation has sent parishioners and members of the Catholic community questioning their safety in churches, their relationships with their priests and their faith in God.
For university students, the concern is much greater. Students already face increasing rates of sexual assault and rape on campus, with sexual violence being the most common crime on campuses across the U.S., according to a study done by RAINN, an organization working to bring awareness to this issue.
For those who turn to their faith for safety and support, these actions have shaken their faith.
"The students who are most impacted by this are ones that are active in their Catholic faith, and they're trying to make sense of how they really do feel betrayed by the bishops," said Lisa Writer, the Director of Campus Ministry at Loyola University. "I could see a student saying, the church is not credible. And why should I align myself to you to be a member and a participant?"
"The cover up and the denial and the re-assigning [of priests] that's… the word that I have used to describe it is evil, and we must name that evil."
Write refers to the priest who began raping a child at the age of 18 months. She is referring to another priest in Scranton that raped and impregnated a girl at his church, and then demanded that she get an abortion. She is also referring to a priest in Greensburg that used teachings from the Bible to coerce middle school students into performing oral sex. All of these men were defended by their Diocese and kept in the community. While parishioners are shocked by these accounts, it is clear now that the church has a system through which it spared the 300 priests from facing any legal consequences. By using vague wording, swayed psychiatric "evaluations" and refusing to contact law enforcement were all ways that the clergy continued keep these perpetrators out of prison.
The effects of this abuse are not stagnant 70 years after the first victim was forced into silence. Those who had been touched, objectified and violated by these priests suffer daily with the trauma of what happened to them. Some took their own lives rather than cope with the pain. Others turn to drugs and alcohol to self-medicate.
"Research suggests that childhood abuse, including sexual abuse is associated with higher rates of suicidal ideation," said Jeffrey Lanfear, the director of DePaul University's Counseling Services. Lanfear explained that while there is an increased risk of self-harm due to childhood trauma, he does not have specific data on this topic.
After news broke of this institutionalized abuse, the attention turned to Pope Francis and their local Archdiocese for answers. Meanwhile, Catholic university professors across the United States have condoned the church for refusing to address the matter. Eventually the Pope himself condoned does the priest's actions and those of the church, yet Writer felt that nothing would really change. For her the system needs to change, and Loyola University is a good starting point.
"It's one thing for us to condemn the clergy sexual abuse crisis but is it just one more letter that says that," Writer said when discussing Loyola's pending response on the matter. Writer and her team have been working to take this tragedy and make it into an opportunity to remind students that they come first. Making Loyola's campus church as transparent as possible is one of the many steps towards changing the way the Catholic church handles sexual abuse, especially in universities.
"We are constantly monitoring ourselves so that we can be transparent," said Writer when discussing the programming that all volunteers and priests go through to ensure the safety of their students. "All of our offices are glass, so our offices are physically safe spaces. In the chapel, we're clear about what are the spaces and that there are windows into the confessionals."
However, these initiatives are not being widely seen by the entire student body. For this reason, Writer and Loyola University have put concrete plans in place if a similar crime were to occur on campus.
"If we had a priest where a student brought forward a claim of sexual assault or misconduct, that would be filed through our Title IX office and it would be investigated," said Writer.
"In the aftermath of the Pennsylvania Grand Jury report in which there were revelations of widespread sexual abuse of children within six dioceses of the Catholic Church in Pennsylvania, and the systemic cover up by senior Church officials, we join with many on campus and Catholics around the world to pray for all survivors of abuse and their families," DePaul University's Office of the President said in a statement.
The DePaul Office of Ministry and Mission did not respond to repeated requests for comment. "Students at DePaul are invited to come and talk with Catholic Campus Ministry staff, which are here to support and participate in the renewal and transformation of the Church."
Both Loyola and DePaul open their campus counseling offices to those who want to further discuss the matter. "We're continuing to ask … how need to care for our students through all this. What we're looking at is trying to provide some kind of open forum," said Writer.
Through this dialogue, they hope to better the relationship between campus churches and students. Writer also said that these forums are being created with counselors on campus to reduce triggering language for sexual abuse survivors.
For further information and input on the matter, Loyola University will be sponsoring "Integrity and Accountability in the Catholic Church" on Oct. 11 from 7 p.m.