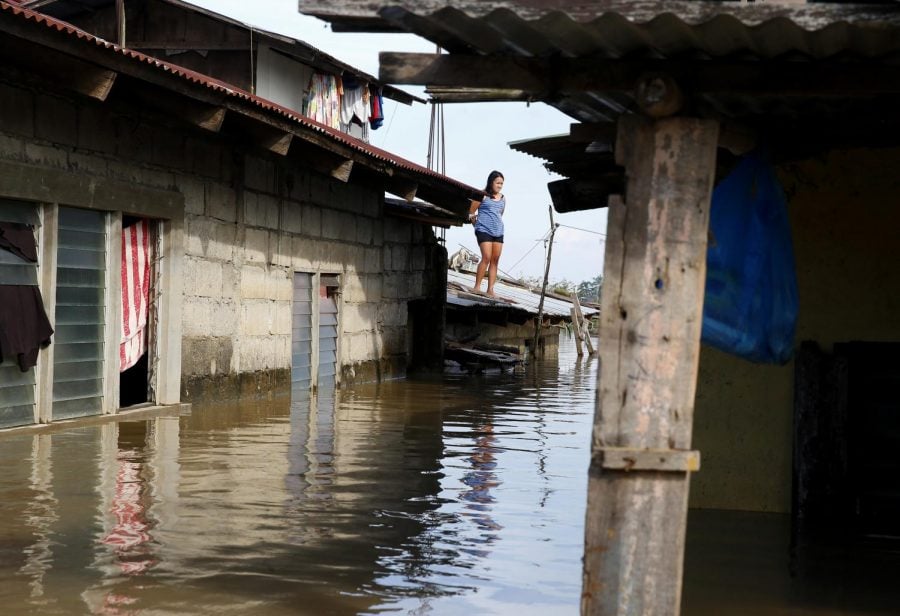 Vincent Yu | AP
Typhoons and hurricanes set to increase due to climate change, experts say
In the beginning of this month, Hurricane Florence left the Carolinas flooded. At the same time, "superstorm" Typhoon Mangkhut, a Category 5 hurricane, made its way through the Philippines to Hong Kong, China. With powerful winds getting up to 180 miles per hour, Mangkhut has become one of the most deadly storms in the region's history.
Each storm is causing large amounts of rainfall, leaving behind flooding, destruction and an rising death toll.
While the Carolinas are left in standing water, rainfall in the Philippines has caused large landslides that have buried over 60 people and destroyed hundreds of homes. Flooding and power outages have left over 5.7 million people affected by the typhoon. The last update of the death toll in the Philippines was reported by the Japan Times to be 80 and growing, as searchers continue to dig through the damage.
All news reports show these storms leaving damage to the cities they pass. The storms called typhoons in the Pacific, hurricanes in the Atlantic, and cyclones in the Indian Ocean are all the same– tropical cyclones.
"There is no doubt that global warming is making tropical cyclones, including typhoons, larger, longer-lasting and wetter," Rick Knight, a research coordinator at Citizens' Climate Education in Chicago, said.
Warming of oceans by greenhouse gasses adds to moisture available for storms. When paired with rising sea levels, these higher sea surface temperature can increase size and duration of the storm as well as how much rain it produces. When these storms are accompanied by such high moisture build up, large amounts of flooding are produced, as seen with Hurricane Florence, Knight explained.
However, there is also a natural phenomenon caused by climate change known as wind shear that suppresses cyclone formation in some regions.
"The link between tropical cyclones and climate change is complicated," Mark Potosnak, an Environmental Science professor at DePaul University, said. "The consensus is that there may be fewer tropical cyclones with a warming planet, but that ones that do form will be more intense."
"
"There may be fewer tropical cyclones with a warming planet, but that ones that do form will be more intense.""
— Mark Potosnak, Professor of Environmental Science at DePaul University
Typhoon Mangkhut is the strongest typhoon to hit the Philippines since Typhoon Haiyan, the most powerful storm to have ever formed in the world, which touched down in the Philippines in 2013.
"Forecasts predict that continued warming will heighten the risk of the most destructive typhoons," Knight said. "The resulting damage will harm both human life and property."
"Extreme weather events like tropical cyclones demonstrate how vulnerable human society is," Potosnak said. "In particular, it is often poor and vulnerable that suffer most."
Countries like the Philippines that may have less access to resources are projected to see more tropical cyclones like the ones forming now.
"The climate is changing and human activity is responsible," Flannery Winchester, the communications coordinator at Citizens' Climate Lobby, said. For Flannery, it is important that we try to make changes in the way we respond to climate change as a nation and "reduce our carbon dioxide emissions which are driving climate change."
Potosnak spoke of the difficulty in predicting these storms and their direct correlation to climate change. However, Knight and Winchester both agree that future storms will be stronger due to the drastic change in weather patterns.
For now, the Philippines is continuing rescue efforts, including evacuating over 1,200 residents in communities affected by landslides. The government of the island nation is currently facing up to $116 million in damages to agriculture alone.
Superstorms such as Mangkhut have prompted the United Nations to have more discussions on how climate change leads to more intense storms and what can be done to lessen the damages done by them.
"Tropical cyclones like the one in China are projected to be more likely with climate change," Knight said.
However, with greater divide amongst the world's leaders over how climate change should be handled, it will take time to come to a compromise on the matter.