The prosecution rested last week in Chicago Police Officer Jason Van Dyke's murder trial for the 2014 death of Laquan McDonald, a 17-year-old black teenager.
Van Dyke and other officers encountered McDonald after responding to a report that he was breaking into vehicles while carrying a knife. After multiple verbal warnings from the police to drop the weapon, McDonald walked away from the officers, according to official reports.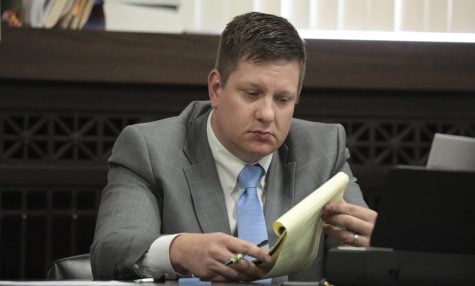 Antonio Perez | Chicago Tribune Via AP
The video from a dash cam on one of the officer's car shows that after having turned his back to the officers, McDonald was shot by Van Dyke and fell to the ground. The video shows McDonald being repeatedly hit with bullets before an officer comes over and kicks the knife out of his hand. McDonald was shot a total of 16 times by Van Dyke, who was alleged to have began firing his weapon after being at the scene for less than 30 seconds, police said.
"To many people, the 16 shots were a clear sign of a police officer, and perhaps an entire police department out of control," said associate professor in the School of Public Service Bob Stokes. "The fact that protestors and activists have chosen to focus on the number of shots fired in their broader police abuse messaging is instructive, as to most reasonable people that number of shots was excessive."
The case was revisited in 2015, when Chicago officials released the police dashboard-camera video from the night McDonald was shot. The video clearly shows McDonald being shot while his back was turned, contradicting the official police report description of McDonald as a violent assailant.
"We've all heard of the 'blue wall of silence'," said associate professor of political science Christina Rivers. "Taking all of this into consideration, it does not surprise me at all that members of CPD, and other city officials, would engage in further misconduct to conceal what Van Dyke did."
The release of the video created a media frenzy, with Chicago protests of McDonald's death lasting five months. The Chicago Police Department and Mayor Rahm Emanuel were accused by many of deliberately withholding the video in order to serve Van Dyke's account of the shooting.
"I agree that such shootings are epidemic, increasingly so in the last 5 or so years," Rivers said. "They are also episodic, as there is a long history of police brutality in black communities."
Van Dyke was initially charged with first degree murder on Nov. 24, 2015 and was later indicted the following December. Van Dyke pleaded not guilty to all charges.
If found guilty, Van Dyke will serve 20 years to life in prison. The case marks the first time since 1980 that a Chicago police officer has been charged for an on-duty fatality.
The defense team is attempting to curb the evidence against Van Dyke by portraying McDonald as a violent drug abuser.
Toxicology reports from the night of the shooting proved that McDonald had likely been using PCP the day he was shot by Van Dyke. James Thomas O'Donnell, the defense's pharmacology expert, testified on Thursday that PCP provokes "rage, violence and aggression" in users.
Van Dyke's legal team also alleged that the quick force used the night of the shooting is consistent with the training received by Chicago police officers. Former Chicago Police Department firearms instructor Nicholas Pappas testified on Thursday saying, "[Van Dyke] was taught to shoot rapidly. He was taught to neutralize the threat."
"I'm not sure how persuasive this testimony will be for the jury," said law professor Monu Bedi. "What I can say is that this is exactly the kind of case that should go to trial so a jury can decide whether this was appropriate police behavior or whether the defendant used excessive force."
The mostly white jury has left some worried that ultimately the jury will clear Van Dyke of the charges.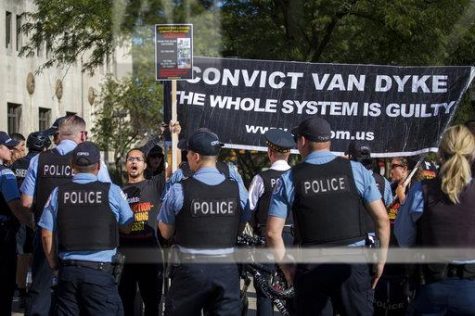 "More often than not, juries or judges find that such shootings are justified, and police are able to walk away and keep their jobs, or get a similar job elsewhere," Rivers said. "While the publicity around Van Dyke's case is far greater and while his actions were more severe, the jury is not very diverse and what the judge has allowed/not allowed could bias the trial towards him. So despite the dashcam evidence and autopsy report, I would not be surprised if he were acquitted."
"My sincere hope is that whatever the outcome, that city leaders can negotiate a new social contract between the city's police department and the citizens of Chicago," Stokes said. "This will not be easy work, as there are advocates on both sides, each with vested political interests, as well as strongly held personal beliefs and social values to negotiate."
Associated Press