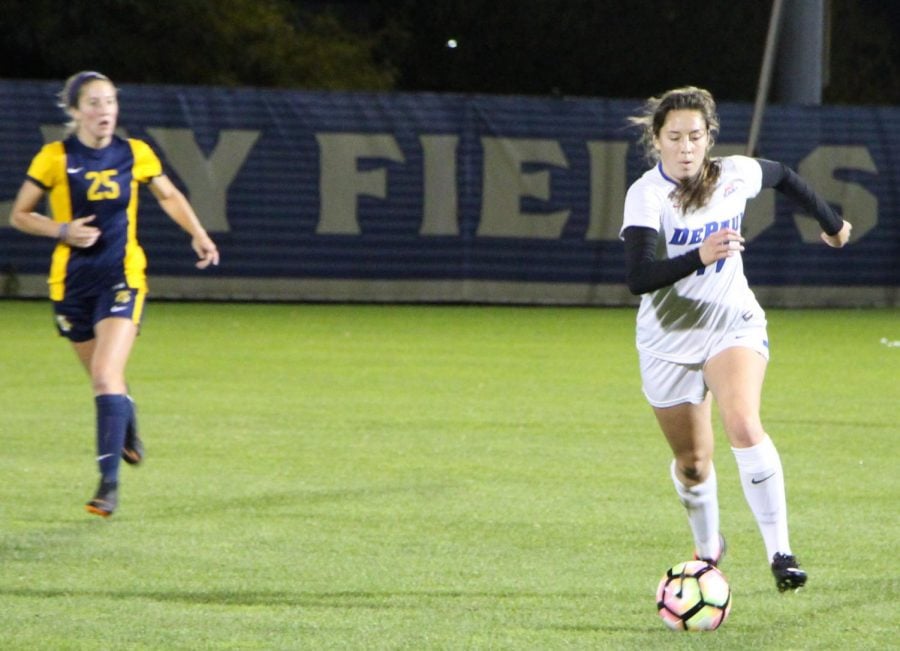 The trip up I-94 to Valley Fields, home of Marquette women's soccer, has traditionally been a challenging game for DePaul (6-4-3; 2-1-1 Big East) and Thursday night it was another grind as they battled to a 0-0 draw with the Golden Eagles.
While disappointed to only walk away with one point, head coach Erin Chastain was happy her team was able to secure a point on the road at a place they have only won once since 1996.
"This has been a place that's always tough to play," Chastain said. "We as a program have struggled to get results on this field so I am at least proud of the effort and the shutout."
Senior forward Franny Cerny also credited her teammates for maintaining their composure in a game that featured 25 fouls between the two sides.
"That's their gameplan, try to frustrate us, try to get into our head," Cerny said. "I think everyone did a great job of taking it more as 'hey if they foul us we get the free kick from that, lets just go from that,' and nobody was getting really mad or frustrated so I think that was really great and we were just using their gameplan almost to our advantage."
On a cold and windy night in Milwaukee, both sides controlled the half in which they had the wind at their backs with the Blue Demons firing off 13 shots in the first half, while the Golden Eagles responded with six in the second half.
DePaul appeared to break through however midway through the second half however, as Cerny got in behind the defense to put away a shot in the right corner of the night. The referees, however, whistled the play dead for offsides. After the game, Chastain and Cerny lamented this missed opportunity but were pleased to create the opportunity.
"We felt like in the first half we created good chances but didn't ever release our shots so that final decision wasn't there," Chastain said. "They had maybe the better of the second half, and then you know I'd like to see the call on the offside goal because I just can't imagine that Franny (Cerny) was offside but you know both teams created a couple of good chances in overtime."
From Cerny's perspective, she felt she had stayed behind the defender but was happy to at least create a good opportunity with the Blue Demons fighting the wind.
"Honestly I did think I was onside," Cerny said. "I was signing for the ball so I did feel like I was kind of coming from behind the girl, I guess who knows it was still a great play and at least we were able to create a good chance."
The final minutes of regulation saw both teams create good opportunities with the Golden Eagles hitting the crossbar twice in 86th and 106th minute, and DePaul forcing Marquette goalkeeper Maddy Henry to make a series of saves, including one on Cerny from point blank, to keep the game tied. The senior forward thought DePaul had secured a late win with five minutes to go, but was optimistic eventually those opportunities will turn in their favor.
"I think that's kind of the theme of our season is sometimes we do get really unlucky," Cerny said. "I think for us just to know that 'hey we're playing these great teams, we are making those chances' and it's not coming yet but I do believe it will come when it matters and I think down the line we are going to be able to finish those chances and we are going to get the results that we need."
To keep the game tied, the Blue Demons also received a gutsy performance from freshman goalkeeper Mollie Eriksson who played aggressively and decisively throughout.
"I think she made some really great assertive decisions back there for us and some great plays," Chastain said. "We've been relying on her to do that this year so far and I think she continues to step up so I think we're happy with what she was able to do."
Eriksson, who finished with six saves, said she had heard a lot about the rivalry coming in, and was admittedly nervous, but knew from the first ball played in it was going to be an intense challenge. From there, Eriksson wasted no time leaving her goal to challenge plays at the edge of the box or even outside the box late in the game.
"I guess I really got in the moment," Eriksson said. "This rivalry really got to me in a good way. I really felt like I was in the zone and I guess it made me aggressive and it brought an edge to my game."
The Blue Demons schedule now turns in their favor with three of their last five matches at home starting with Butler on Sunday afternoon.