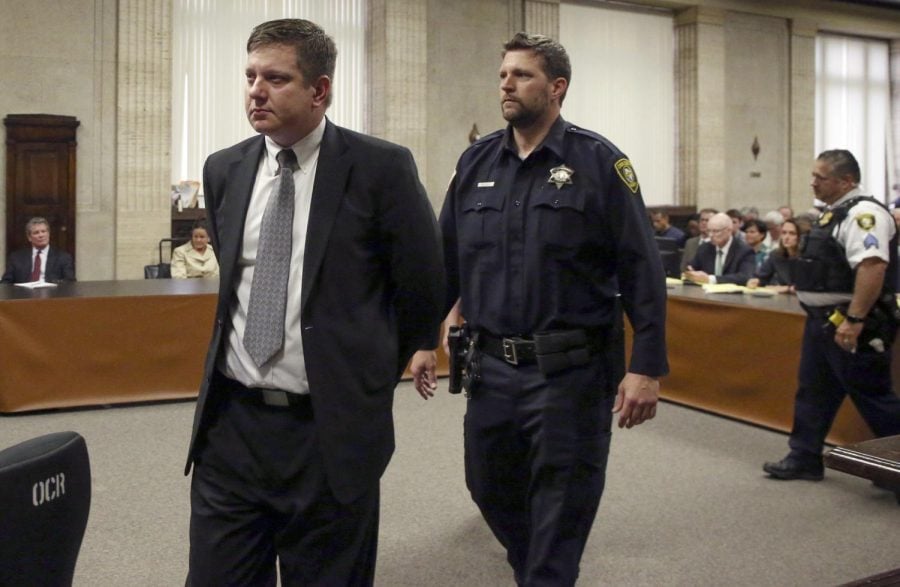 Gerry Broome | AP
Four years after he fired 16 bullets into a black teenager, three years after dashcam video of the shooting was released and three weeks after his murder trial began, Jason Van Dyke's transformation from Chicago patrol officer to convicted felon came suddenly.
A clerk announced the jury's decision. The judge revoked his bond. And Van Dyke, the first city officer in about a half century to be convicted of murder in an on-duty shooting, put his hands behind his back as if handcuffed and strode across a courtroom into custody.
The scene Friday was a quiet coda to the tension that erupted after the video was made public in November 2015. The shocking footage showed Laquan McDonald crumpling to the ground as the officer red repeatedly at the teen, who was walking away from police. The video drew nationwide outrage and put the nation's third-largest city at the center of the debate about police misconduct and the use of force.
The magnitude of the conviction for second-degree murder was inescapable as Van Dyke walked out of sight of his family and McDonald's relatives.
"This verdict provides validation and a sense of justice for many residents of Chicago and Cook County and beyond this area … the African-American communities across our country," special prosecutor Joseph McMahon said after the verdict was read. The choice of second-degree murder reflected the jury's understanding that Van Dyke believed his life was in danger but that the belief was unreasonable.
Second-degree murder usually carries a sentence of less than 20 years, especially for someone with no criminal history. Probation is also an option. Van Dyke was also convicted of 16 counts of aggravated battery — one for each bullet.
One legal expert predicted that Van Dyke will be sentenced to no more than six years total. But because he's an officer, it will be "hard time," possibly spent in isolation, said Steve Greenberg, who has defended clients at more than 100 murder trials.
Defense attorney Dan Herbert called Van Dyke "a sacrificial lamb" offered by political and community leaders "to save themselves." He said it was a "sad day for law enforcement" because the verdict tells officers they cannot do their jobs.
A McDonald family spokesman thanked prosecutors for pursuing a case that, he said, many black attorneys did not believe could be won.
The 12-person jury included just one African-American member, although blacks make up one-third of Chicago's population. e jury also had seven whites, three Hispanics and one Asian-American.
Jurors said they spent much of their deliberations discussing whether to convict on first-degree or second-degree murder, not an acquittal. They said Van Dyke's testimony did not help him. One woman said he "messed up" and should not have testified. Another said Van Dyke needed to "contain the situation, not escalate it."
On the night of the shooting, officers were waiting for someone with a stun gun to use on the teenager when Van Dyke arrived, according to testimony and video. The video, played repeatedly at trial, showed him ring even after the teen lay motionless on the pavement.
Van Dyke's attorneys portrayed the officer as being scared by the young man who he knew had already punctured a tire of a squad car with the knife. Van Dyke testified that the teen was advancing on him and ignoring his shouted orders to drop the knife.
Van Dyke conceded that he stepped toward McDonald and not away from the teen, as he had initially claimed. But the officer maintained the rest of his account.
"The video doesn't show my perspective," he said.
In his 13 years on the force, Van Dyke was the subject of at least 20 citizen complaints — eight of which alleged excessive force, according to a database that includes reports from 2002 to 2008 and 2011 until 2015.
Though he was never disciplined, a jury did award $350,000 to a man who led an excessive-force lawsuit against him. Van Dyke testified that McDonald was the first person he ever shot.
Three officers, including Van Dyke's partner that night, have been charged with conspiring to cover up and lie about what happened to protect Van Dyke. They have all pleaded not guilty.
Ahead of the verdict, the city prepared for the possibility of the kind of massive protests that followed the release of the video, with an extra 4,000 officers being put on the streets.
Schools and businesses braced for potential unrest, and people across the city paused in the middle of the day to listen for the jury's decision. In the end, the response was muted, with a few hundred protesters marching peacefully through the downtown Loop.
The issue of race permeated the case, though it was rarely raised at trial. One of the only instances was during opening statements, when McMahon told the jurors that Van Dyke didn't know anything about McDonald's past when he encountered him that night.
What Van Dyke saw "was a black boy walking down the street … having the audacity to ignore the police," McMahon said.
Herbert countered, "Race had absolutely nothing to do with this."