International Briefs: Sept. 22
Catalan region to push for independence referendum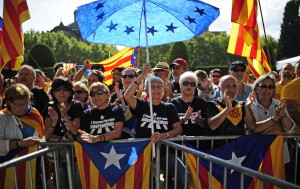 Despite Scotland's decision to reject independence, lawmakers in Spain's Catalonia region voted overwhelmingly Friday to give their leader the power to call a secession referendum that the central government in Madrid has denounced as illegal.
The prospect of an independent Scotland had captivated European separatists. Besides the Catalans, their ranks include pro-independence Basques in northern Spain; Corsicans who want to break away from France; Italians from several northern regions; and Flemish speakers in Belgium demanding more autonomy, independence or union with the Netherlands.
Catalonia's regional president, Artur Mas, supported a Yes vote in Scotland, but stressed Catalans simply wanted the same chance as the Scots. Spanish Prime Minister Mariano Rajoy has said he will block a planned Nov. 9 vote in the wealthy northeastern region of 7.5 million people.
Later Friday, the Catalan parliament voted 106-28 to give him the power to call a referendum. Mas didn't say when he would sign the decree to set the vote date.
Backers called the vote a strong sign of support. "Catalonia has a social majority
that wants independence, a majority in parliament that wants independence and now we have the instrument in this law of public consultation," said Carme Forcadell, president of the Catalan National Assembly group.
Unlike the Scotland vote, the referendum in Catalonia wouldn't result in secession. It would ask Catalans whether they favor secession. If the answer is Yes, Mas says that would give him a political mandate to negotiate a path toward independence.
But Spain's constitution doesn't allow referendums that don't include all Spaniards, and experts say its Constitutional Court would rule the vote illegal.
Catalonia shares cultural traits with the rest of Spain, but many Catalans take pride in the deep differences based on their language. The region, a financial powerhouse, is key to helping Spain emerge from its economic crisis — but locals feel they give too much of their taxes to help the rest of Spain.
Suicide bombers kill 15 at Nigerian college
Two suicide bombers killed at least 15 students Wednesday at a government college in Nigeria's northern city of Kano, police and emergency officials said.
Four men in a tricycle taxi drove up to the Federal College of Education Kano and opened fire when security guards insisted on searching the vehicle, according to a guard who spoke on condition of anonymity because he is not entitled to speak to reporters.
One of the attackers got into a lecture hall filled with students and detonated his bomb, and the second blew himself up before he could enter a second lecture hall, according to Kano state police commissioner Aderenle Shinaba.
He said 34 students were hospitalized with various degrees of injuries.
Spokesman Sani Datti of the Nigerian Emergency Management Agency said the bombers also died, making the total death toll 17.
Officials said Islamic extremists from Boko Haram were responsible. The group is blamed for five suicide bombings carried out in one week in July in Kano. The extremists have also been blamed for a string of car bombs and suicide bombings that have killed scores of people across their stronghold in northeast Nigeria as well as in Abuja, Nigeria's capital in the center of the country, and a failed attempt in Lagos, the commercial capital in the southwest.