Turkey has proof Saudi writer was killed
Turkey's government has told U.S. officials it has audio and video proof that missing Saudi Arabian writer Jamal Khashoggi was killed and dismembered in the Saudi consulate in Istanbul, the Washington Post reported Friday.
The newspaper, for which Khashoggi is a columnist, cited anonymous officials as saying the recordings show a Saudi security team detained the writer when he went to the consulate on Oct. 2 to pick up a document for his upcoming wedding.
The Associated Press was not immediately able to confirm the report, and Turkish officials would not comment.
A delegation from Saudi Arabia arrived in Turkey Friday as part of an investigation into the writer's disappearance, Turkey's state-run news agency Anadolu said.
Saudi Arabia has called the allegation it abducted or harmed Khashoggi "baseless." However, it has offered no evidence to support its claim he left the consulate and vanished despite his fiancee waiting outside.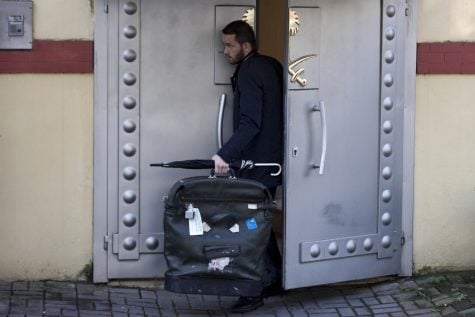 Anadolu Agency said the delegation would hold talks with Turkish officials over the weekend. It did not provide further details.
On Thursday, Turkish presidential spokesman Ibrahim Kalin said Turkey and Saudi Arabia would form a "joint working group" to look into Khashoggi's disappearance.
The 59-year-old journalist, who was considered close to the Saudi royal family, had became a critic of the current government and Crown Prince Mohammed bin Salman, the 33-year- old heir apparent who has introduced reforms but shown little tolerance for criticism.
Khashoggi had been living in self- imposed exile in the United States since last year. As a contributor to the Washington Post, he has written extensively about Saudi Arabia, including criticism of its war in Yemen, its recent diplomatic spat with Canada and its arrest of women's rights activists after the lifting of a ban on women driving.
Those policies are all seen as initiatives of the crown prince, who has also presided over a roundup of activists and businessmen.
Search crews look for the dead and the living in Florida
Florida authorities fielded a barrage of calls about people missing in Hurricane Michael's aftermath as search-and-rescue teams Friday made their way through ravaged neighborhoods, looking for victims dead or alive. The death toll stood at 13 across the South.
The number of dead was expected to rise, but authorities scrapped plans for setting up a temporary morgue, indicating they had yet to see signs of mass casualties from the most powerful hurricane to hit the continental U.S. in nearly 50 years.
Search teams continued to pick their way through the ruins of Mexico Beach, the ground-zero town of about 1,000 people that was nearly wiped off the map when Michael blew ashore there on Wednesday with devastating 155 mph (249 kph) winds.
State officials said that by one count, 285 people in Mexico Beach defied mandatory evacuation orders and stayed behind. Whether any of them got out at some point was unclear.
Emergency officials said they have received thousands of calls asking about missing people. But with cellphone service out across vast swaths of the Florida Panhandle, officials said it is possible that some of those unaccounted for are safe and just haven't been able to contact friends or family to let them know.
Gov. Rick Scott said state officials still "do not know enough" about the fate of those who stayed behind in the region.
"We are not completely done. We are still getting down there," the governor added.
Emergency officials said they had done an initial "hasty search" of 80 percent of the stricken area, looking for the living or the dead.
Shell-shocked survivors who barely escaped with their lives told of terrifying winds, surging floodwaters and homes cracking like eggs.
Federal Emergency Management Agency chief Brock Long said he expects to see the death toll rise.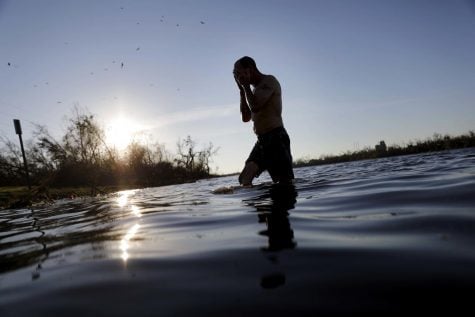 "We still haven't gotten into the hardest- hit areas," he said, adding with frustration: "Very few people live to tell what it's like to experience storm surge, and unfortunately in this country we seem to not learn the lesson."
Long expressed worry that people have suffered "hurricane amnesia."
"When state and local officials tell you to get out, dang it, do it. Get out," he said. Officials, meanwhile, set up distribution centers outside big stores such as Wal-Mart and Publix to pass out food and water to victims. Some supplies were brought in by trucks, while others had to be delivered by helicopter because some roads had yet to be cleared.
The deaths were spread throughout the storm's vast path, from Florida to Virginia, where at least four people drowned in flooding caused by Michael's rainy remnants. Two died in North Carolina when a car smashed into a fallen tree.
On the Panhandle, Tyndall Air Force Base "took a beating," so much so that Col. Brian Laidlaw told the 3,600 men and women stationed on the base not to come back. Many of the 600 families who live there had followed orders to pack what they could in a single suitcase as they were evacuated.
A small "ride-out" team that hunkered down as the hurricane's eyewall passed directly overhead ventured out to find nearly every building severely damaged, many a complete loss. The elementary school, the flight line, the marina and the runways were devastated.
Nevada Senate race could test Kavanaugh impact
Facing a female challenger in a state gradually becoming more Democratic, the senator and longtime fixture in Nevada politics has long been one of the few GOP incumbents at risk of losing their seat this year.
Beyond running as a Republican in a gradually Democratic trending state, Heller faces other challenges, including his residency near Reno, in the northern part of the state. Most voters live in the Las Vegas area, where he can't lose too badly if he wants to win.
Freshman congresswoman Jacky Rosen, who blasted Kavanaugh and railed on Heller's characterization of sexual misconduct allegations against him as "smears", has hurdles of her own.
She lacks Heller's name recognition and has had to fight with little active assistance from Harry Reid, the former Senate Democratic leader and longtime Nevada power broker. Though Reid helped recruit Rosen to run, and has authored email fundraising solicitations for her, he has been absent from the public political fight as he battles pancreatic cancer.
Still, Rosen has had help from rising Democratic women. Sen. Elizabeth Warren of Massachusetts, a potential 2020 presidential contender, lauded Rosen in June at the Nevada Democratic convention and headlined a fundraiser for her that evening.
As Election Day nears, Rosen is working feverishly to solidify a coalition of African Americans, women and immigrants, including Latinos who hold sway in Las Vegas' powerful Culinary Union.
She later dashed through blocks of Spanish mission-style homes to speak at University of Nevada, Las Vegas' Asian student conference before driving past the strip's gleaming entertainment monuments to events in the historically black Westside. There, she heard from mothers who expressed concern about police shootings and the safety of young African Americans.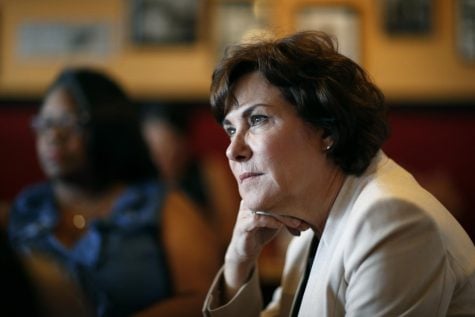 "Every day, it's just a constant worry about his safety," said Tracy West, who is unrelated to Carmen, referring to her son attending graduate school in Ohio as a dozen women listened, nibbled on crostini and sipped wine.
Sitting straight and focused on West, Rosen responded: "Some changes only come about through, I think, friendship and trust."