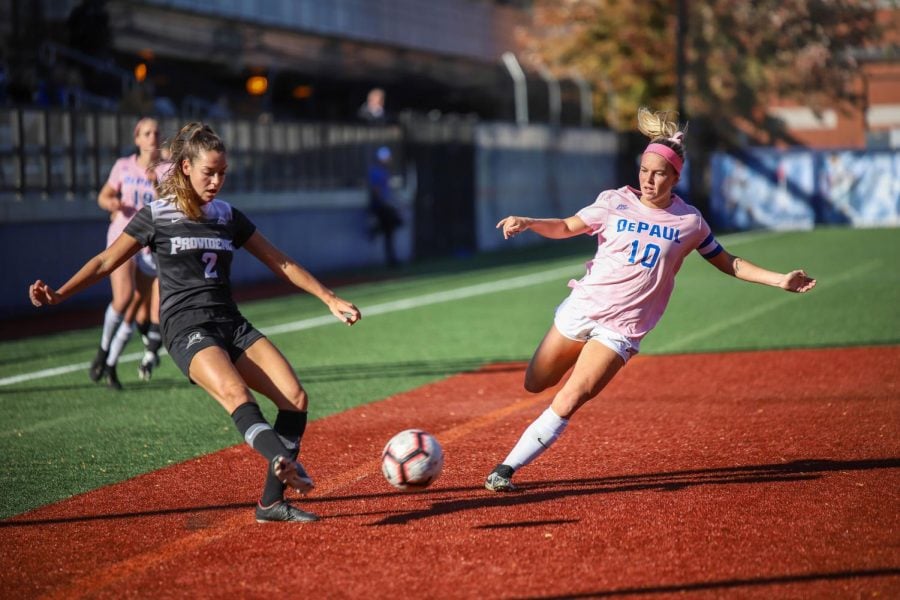 For the third straight meeting between DePaul and Providence, 90 minutes was not enough. Just like their meeting last season in Providence, the two sides settled for 0-0 tie after double overtime Thursday at Wish Field.
With both sides deadlocked at seven points apiece, both teams were on the outside looking in on the Big East Tournament field heading into the game. The stakes were high as both teams needed a win – the all-important three points that come with a win would help a team gain an edge in a race that has four schools fighting for two spots.
Senior Franny Cerny admitted that, even though the Blue Demons outshot Providence 14-4 in the second half and overtime, settling for one point was disappointing but better than the alternative.
"I think it's disappointing that we didn't get the three points," Cerny said. "I thought that in the second half and overtime we were the better team, we were trying harder but I think we still did get a point and that's still big, every point matters, so as long we still get the tie and not a loss it's still definitely important."
After a scoreless first half and in spite of numerous shots on goal, DePaul put the pressure on Providence early when senior Madeline Frick had a shot tipped away for a corner by redshirt sophomore goalkeeper Shelby Hogan. DePaul finished the game with a total of 14 corner kicks.
Frick had another chance soon after, off of a free kick that reached her at the back post – but her shot slid just to the left. Late in the second half, Cerny nearly snatched all three points with a header that landed on the netting behind the goal, fooling some in the crowd who thought from a distance the shot had gone in.  
Chastain pointed to the disparity in shots and corners during the game, noting that DePaul hopes to clean things up in the final third heading into Sunday. She did, however, appreciate the way her team came out with a little edge after losing in the 87th minute to Butler on Sunday.
"I think we competed hard and won a lot of first and second balls," Chastain said. "I think looking to Sunday we got to recover first, and then I think obviously when you have stats that are 20 shots and 14 corners, you need to fix something in the final third. So I think that will be the focus but having the same defensive mentality which I think our group brought today."
As Cerny has said on a couple occasions this season, the Blue Demons are getting the chances they are hoped they would, and noted that each player has to hone their ability to position themselves into goal scoring opportunities as the Blue Demons look to edge out these close games.
"I think every game we're so close," Cerny said. "We are getting the chances, we are sometimes getting unlucky, goalies making good saves, barely missing on something so I think we are close and it's disappointing that we can't put it in. And hopefully it's going to start coming but I think the fact that we are at least creating the chances it's good for us."  
Defensively, Chastain was once again pleased with the way her team was able to hold Providence to just four shots during the second half and overtime.
"I thought we were pretty disciplined," Chastain said. "I didn't think we gave them a lot of clean looks. We knew they would be dangerous on set pieces and we knew their center forward is a lot to deal with so we were disciplined."
With only two games left in the regular season, and four teams separated by only one point for the final two spots in the Big East Tournament, Sunday's game against the logjam Villanova brings even more importance on top of already being senior day.
As a captain and in her final regular-season home, Cerny said her message to the team will be simple on Sunday.
"We're getting close to the end of the season and we're starting to run out of games," Cerny said. "If we don't get a result on Sunday we could be done, and so I think that it's the biggest game we've had this year and we have to put everything we have into that game and we have to come out with a win."
Chastain admitted the team feels like they missed an opportunity on Thursday, but isn't worried about how her team will respond on Sunday.
"I don't think I even have to give the message to the team they know how obviously as things wind down each point is really valuable," Chastain said. "We are happy to get a point out of this game but certainly feel like we left two on the table, so I think we will be a really motivated group on Sunday."