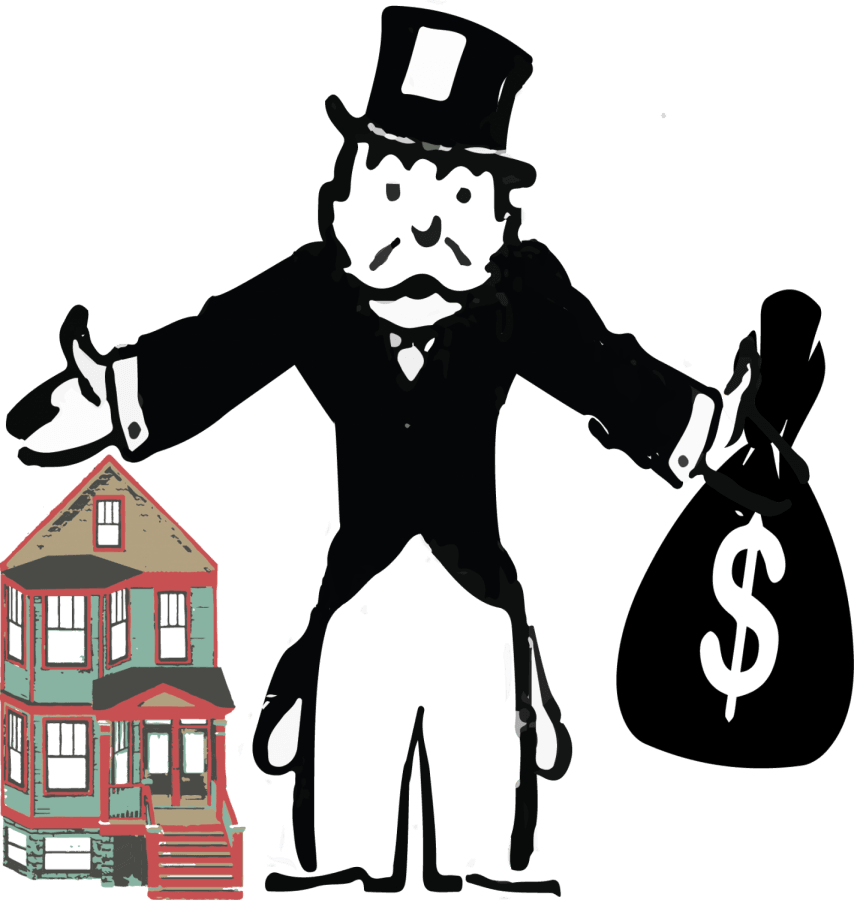 Graphics By Annalisa Baranowski | The DePaulia
When moving into a new apartment, the incoming tenant usually expects to play a little game of clean-up. The former tenant may have left without giving the mounds of dust on the ceiling fan a second thought and the landlord didn't think to take care of it for you. Inside the refrigerator might be a disturbing trip through greasy and molded corners you never thought to clean. The former tenant could have forgotten a task as small as vacuuming, and that falls on the new tenant as well.
In cities like Chicago, it isn't surprising when landlords leave the chores up to the new tenants. They are letting you, out of all other applicants, live there. But is it right for them to leave it so messy? Isn't cleaning duty supposed to fall on the former tenant, or their security deposit suffers? Legally, yes. Tenants must clean and/ or fix things that the landlord listed in order to get their security deposit back which is the motivating factor for most who move. Without completing this, legally the security deposit can be used for the clean up the landlord now has to take care of, but in some situations, this step is skipped because the former tenant skipped out without cleaning or the deposit.
Things like curtains discolored by age or time-warped cabinets are not reason enough to keep a security deposit, but more tenant-caused problems like cigarette ash-stained curtains and off-the-hinges cabinets can be. Security deposit laws vary state-by-state but in Illinois, in buildings with five or more units, the deposit must be returned within 30 to 45 days after the tenant moves out. The landlord is allowed to make deductions based on how the unit was left, whether it was spotless or required a close eye to see what was left, but these must be put into writing for legal purposes, or else you could dispute the claim.
"I moved out of my last apartment without completely cleaning it like my landlord wanted it to be," said Claire Bernotavicius, native Chicagoan and Columbia College Chicago graduate. "I wanted the deposit back, but I just didn't have the time to clean since I had to move right around my graduation. He had the right to not give it back, but it definitely hurt when I didn't see that money again."
Even though Byrne admitted to not properly cleaning her apartment before move-out day, this is not always true for many Chicagoans, especially college students. When moving into an apartment for the first time, students might be unaware or entirely ignorant of security deposit laws. If the student's parents pay for their rent, the security deposit might not be an issue at all, but this creates a slippery slope for tenants down the line.
In general terms, college students are easy to scam. The complexities of tenants rights laws present a daunting task to any 20-something, and they are probably better off not learning them. Landlords then take this ignorance to the bank and withhold the security deposit until either the tenant gives up or another tenant moves in and pays theirs.
"I moved out of my apartment almost four weeks ago now, and I still haven't seen that money," said Jake Chevron, another Chicago native and North Central College graduate. "My landlord said he would give me the deposit back once the new tenant paid it and moved in, and they've been moved in for weeks now. I made sure my place was clean and fixed up before I moved out and everything, but it didn't work. It just seems like he's ignoring me and refusing to give back something that is rightfully mine."
Chevron spoke on the fact that his landlord was thoughtful and caring for the apartment, but he took advantage of him and his deposit once he decided to move out because his landlord did not want to deal with another person moving in.
"It shouldn't make a difference either way to him if I'm living there or someone else is," Chevron said. "If the new tenant already had to have paid their security deposit to move in and have moved in already, where is mine? It just seems like he's either punishing me or just stealing my money."
The withholding of his security deposit upsets him, but it isn't enough to get Chevron to take action. He could take his case to court and ensure the return of his deposit, and this would help ensure his landlord does not act like this in the future. Chevron isn't different than many college-aged people who give up once their deposit seems too far out of reach. Once the landlord stops answering your calls and ceases contact, students don't have time to proceed to court to claim a few hundred dollars. But they should make the time.
Landlords must know the tenant-landlord laws of their state which include security deposits before they rent out property to tenants or they could get themselves into serious trouble. They aren't accidentally breaking the law by withholding the deposit—they are using that knowledge to gain some dollars from people who don't know any better. It's important to remain up-to-date on tenant-landlord laws to ensure your landlord is working within their limits. Taking action when action is necessary helps not only you in that moment by saving you some money, but also it helps future tenants from falling into the same trap.