A seamless transition: DePaul Wish Field's turf got a makeover during summer break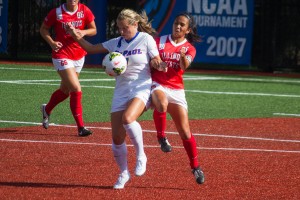 There's a reason the DePaul soccer and softball teams are just  a little more excited to train and play at Wish Field this year. Gone are the hazardous seams, hard turf and infield clay, which have been replaced with a brand new turf field.
Over the summer, Wish Field went through an overhaul as it replaced the entirety of both the soccer and softball portions of the field. The softball field underwent a complete change, moving away from the clay infield and opting for a full turf field.
Mike Lenti, the director of athletic facilities, said the change in turf came about due to player safety concerns, labor efficiency and overall aesthetics.
"Everybody likes it because it minimizes hazards," he said. "It's not one piece but it's one field. It just makes it a simple process for everybody."
This change has been in the works for the past couple of years. After noting safety issues due to the wearing down of the turf, the proposal to revamp the turf was made in hopes that it would be ready for 2013 soccer season. That timeframe fell through but the change happened over this summer, with crews taking apart the old field right as the 2014 softball season ended in May.
The project was completed in July and ready to go for preseason soccer training, which started in early August.
Instead of using a tray system like the facilities used for the past decade, where facilities crews would change out the turf and insert clay for the softball infield between the soccer and softball seasons, the entire field is turf year-round.
Lenti said this change will have an impact in a few of areas. First of all, it will make game preparation less labor intensive since there is no clay to take care of for softball games.
"It just makes it a more conducive environment for everybody from a standpoint of game preparation," he said. "Instead of 12 to 14 people working a single game, now it's reduced to three or four."
The second benefit will be making the field seamless, which presents a smoother and more aesthetically-pleasing surface. With the change the playing surface went through every offseason, the turf experienced wear and tear, and the seams from each piece of turf became more apparent.
"We had to deal with a significant amount of seams, a significant amount of shrinkage and we had to trim in pieces," he said. "Not only was it not game-safe but aesthetically it didn't look good and a lot of people were leary of playing on a surface that had so many repair spots."
So far, the turf has had positive reviews. Women's soccer head coach Erin Chastain said that her players are "excited to train on the field every day."
"For us to have one, flat playing surface with no seams is awesome," she said. "Surface is something that is incredibly important in our sport and we're certainly happy that they upgraded and went with a real, high-end turf."
The change to a full-turf field is one that Lenti believes will become the norm in schools in the Midwest and northern parts of the country, where the winter climate is usually not conducive to a softball or baseball field featuring a clay or dirt infield.
"In the future you'll see a lot of programs, especially in the Midwest, move to all-turf because it's labor intensive and the type of weather we have in the Midwest tends to be cold and snow instead of mild," he said.
Lenti pointed to Notre Dame and Michigan's baseball programs, both of which are successful, Division I tournament teams that moved to a full-turf system instead of having a clay infield.
Another benefit of moving away from the clay will be the ability to use the field year-round, including softball practices before the season starts in January and February.
"In the Midwest, you can't contend with the weather. It wreaks havoc on your field in preparation for game day, nor does it give your team the opportunity to practice," He said. "Now it's a small plow away from getting your field ready in 40 degree weather."
Despite playing with a clay infield for the past several years, Lenti says that the change to turf shouldn't affect softball gameplay.
"Our team is pretty acclimated to turf," he said. "They practice at the Dome at Rosemont so our women's team has been practicing on all-turf fields for the better part of three or four years."