A conversation with the skaters of 'Mid90s'
All right, Stop! Collaborate and listen…the title "Mid90s" is a bit misleading.
Jonah Hill's new film does indeed takes place in that era and it features some noticeably '90s technology and merchandise, yet the film is far from an excuse to break out your Hammer pants and skate down memory lane. The film focuses on a young boy named Stevie (Sunny Suljic) who isn't connecting with his mom and is abused often by his older brother. With the troubles at home, Stevie ends up spending his time with a group of skaters in the neighborhood.
With dirty, ripped clothes and an apparent lackadaisical attitude towards everything, Stevie's mom feels he is throwing his life away hanging with his new friends. However, it is with this group that the film explores its true theme – family.
"For this film, I want everybody to realize, no matter who you are, no matter how you look, no matter what you think you don't have and what your situation is, there is always a community with warm welcoming hands," said Olan Prenatt, one of the skaters Stevie falls in with.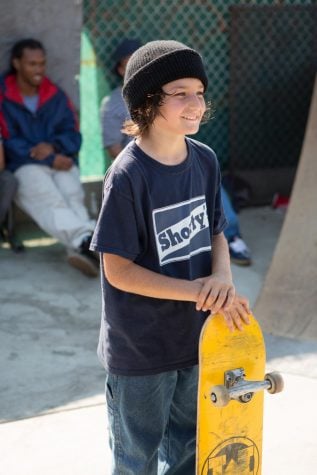 In "Mid90s", that community is the skateboarding community. The actors cast in the film all have a skating background, and most have been part of the culture for most of their lives. Gio Galacia, who plays the character Ruben, said that this isn't just nostalgic movie magic, and that today the skateboarding scene welcomes people of all walks with open arms.
"I know skateboarding brings a community where […] it doesn't matter who you are. If you're just a good person at heart and get along with everybody it's just going to build up a really good community," said Galicia.
Suljic agreed, adding that Hill's direction and writing brings out the essence of how skateboarding is a sport for anyone.
"I can't really explain it, but Jonah directed it really well and the film is just a really accurate representation of what skating is all about," Suljic said. "I want people to take away that skating […] it's something that anyone can do, you just need that drive. It's not based on appearance […] everyone is just super supportive."
While the actors in the film all have a plethora of skating experience, most of them have little acting experience as far as feature films go. This is Galacia's first role, and he said that Hill's writing and lots of rehearsal before shooting helped things come naturally. Suljic added that Hill helped the cast get close by having them meet together to watch movies and hang out. This is Prenatt's first feature as well, but the filming process wasn't the only new experience.
"Throughout the time of the press tour I feel like I think about my answers and I feel like I can only think of what I want to say after. It's like, 'wow, I didn't answer a single question with what I wanted to say', Prenatt said. "It's been fun though, it's fun getting to hang out with everybody. It's like a vacation."
While Suljic has some more acting experience, appearing in "The Killing of a Sacred Deer" last year and "The House with a Clock in its Walls" recently, the press stuff is mostly new to him as well.
"Last year I did "Killing of a Sacred Deer". I was one of the supporting characters, so I didn't do much touring or press, but I did go to TIFF [Toronto International Film Festival], I went to Cannes. But this is still pretty new to me because it's a lot more touring," Suljic said.
Going forward, Prenatt said he hopes to continue in acting. He said he enjoys how the art allows you to create life out of words on a page. Castmate Ryder McLaughlin, who plays a character called "Fourth Grade", does have other acting experience. He has appeared in a few shorts and recently scored a role on HBO's "Ballers". But he had a specific idea for a possible future role.
"The first thing that comes to mind is like a psychopath," McLaughlin said. "I would love to just try and do something that's so far that it just doesn't relate to me at all."
Jonah Hill's written and directorial debut, "Mid90s" is in theaters now.