DePaul men's basketball picks up first two recruits for 2015
Hang on for a minute...we're trying to find some more stories you might like.
The dividends of recruiting in the Washington D.C. area are paying off for DePaul men's basketball. The Blue Demons secured their first two recruits for the 2015 season last week from the area.
Forward Develle Phillips and center Oumar Barry gave verbal commitments and will join the team next season. Phillips and Barry are both from the Washington D.C. area and are ranked as three-star recruits.
The pair of recruits also have experience playing together, playing on the same AAU team throughout the summer.
"When I played with him over the summer he kind of lightened my load because I'm actually hybrid four, like a four or a three," Phillips said. "When I played with him he actually rebounded so I wouldn't have to focus so much on rebounding and I could actually do what I was supposed to be out there doing."
Phillips, 6-foot-8, described himself as a stretch-four who excels at running the floor. He also said he prides himself as being a defensive force, something the Blue Demons are  in need of.
Phillips said he fell in love with Chicago when he visited DePaul.
"The team was really cool and the environment was basically what stood out to me," he said.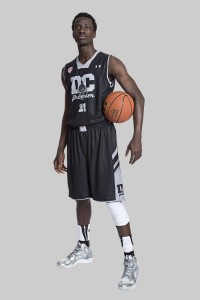 Barry, who lives Arlington, Virginia and is originally from Guinea, attends Bishop O'Connell High School and is a 6-foot-9 center known for his ability to play defense and grab rebounds, Phillips said.
Talent evaluator and Comcast Sports Net journalist Scott Phillips said that Barry is a raw athlete with a lot of potential  to grow.
"Barry's been only in the United States for about a year and playing basketball for about four," Scott Phillips said. "He showed this summer at some high-level camps that he's a pretty good shot blocker and can run the floor. He has an OK feel for rebounding.
"Once he figures out footwork on the offensive end and how to properly attack guys in the post, he should be a decent Big East player down the line as a contributor," Scott Phillips said.
Ever since head coach Oliver Purnell came to DePaul, the DMV (District-Maryland-Virginia) area has been a location that Purnell targets to get recruits. In his first recruiting class, Purnell secured commitments from Maryland prospects Cleveland Melvin and Brandon Young. Melvin and Young, of course, were the face of the team throughout their four years.
Assistant coach Renard Phillips also plays a major role in recruiting from that area, Scott Phillips said.  Renard Phillips, who was added to the staff in 2013, had coaching experience in Maryland since 2002-2003 and was a coach with DC Premier, the AAU team that Barry and Phillips played with.
Phillips and Barry committed within three days of each other. They are DePaul's first recruits after not having any freshman underclassmen for this season. The Blue Demons two previous recruits for this season   — Jon Davis and Ray Doby — both reclassified after originally committing for this season. Davis is another recruit from D.C.  It is unclear if Doby and Davis will recommit to DePaul for 2015.
Despite not having any freshman recruits for this year and DePaul's history of losing, Develle Phillips is looking forward to trying to return the program to its glory days.
"I thought of me going to the school was just make a tremendous difference, probably more wins," Phillips said. "Really I'm trying to get a couple recruits to come to DePaul so that we can take the city over and basically get it back to where it used to be."