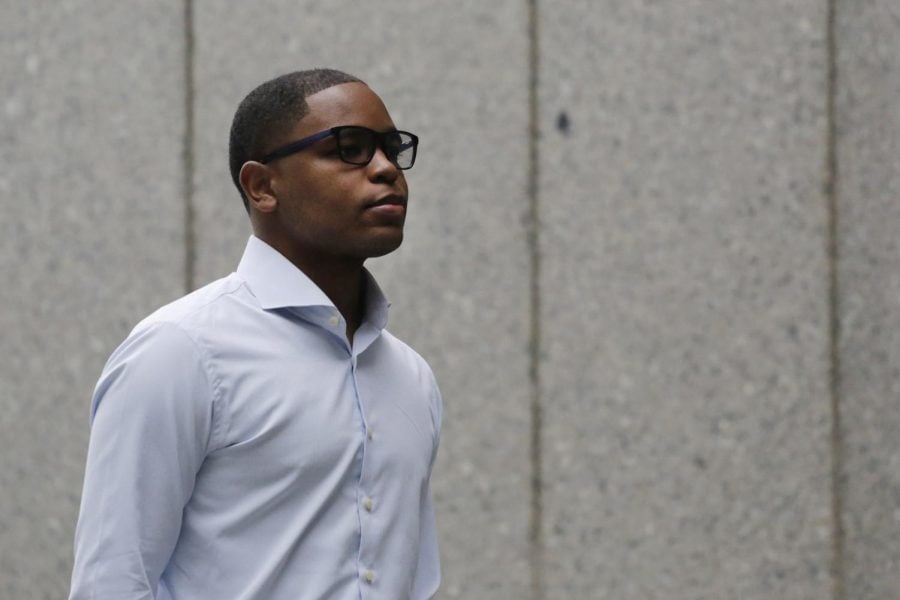 After deliberating for more than 19 hours over three days, a jury on Wednesday convicted the three defendants accused of pay-for-play schemes to influence recruits to attend Louisville, Kansas and NC State.
Adidas employee James Gatto, Adidas consultant Merl Code and Christian Dawkins, a former runner for NBA agent Andy Miller were all found guilty on charges of felony wire fraud and conspiracy.
Gatto, Code and Dawkins were accused of paying money from Adidas to recruit families to help influence their decision and make sure they signed with Adidas-sponsored schools, as well as the sneaker company and certain financial planners down the line.
The trial lasted nearly three weeks and featured explosive testimony from Brian Bowen Sr., the father of former five-star recruit Brian Bowen, who detailed payments he either discussed or received while his son was still in high school from a variety of coaches, including DePaul assistants Shane Heirman and Tim Anderson.
Bowen Sr. told the jury Heirman paid him $8,000 to have his son, Bowen II, play for La Lumiere High School. He said Heirman, who was the head coach at La Lumiere at the time, also paid him $1,400 per month for a condo on with a nice view.
Bowen Sr. also testified that Anderson paid him $1,500 to have his son to play for Mean Streets AAU program in Chicago, where Anderson was a coach at the time. Bowen Sr. also testified earlier in the trial that he was paid $5,000-$8,000 to have his son play for Mean Streets, but never mentioned Anderson, specifically.
DePaul responded to both of those allegations by releasing a statement saying they hadn't been contacted by prosecutors in the NCAA corruption trial.
"DePaul University takes seriously the high standards of conduct expected in our athletics department," a university spokesperson wrote in a statement. "To date, federal prosecutors have not contacted us about the investigation into college basketball recruiting or statements included in testimony this week in federal court in the Southern District of New York. We will fully cooperate if contacted in the future by federal law enforcement, the Department of Justice or the NCAA."
The sentencing date for Code, Gatto and Dawkins has been set for March 5. Attorneys in the case indicated the defendants could face two to four years in federal prison. Three former assistant coaches, Arizona's Emanuel "Book" Richardson, Oklahoma State's Lamont Evans and USC's Tony Bland are scheduled for trial in April.