DePaul drops senior day contest to Creighton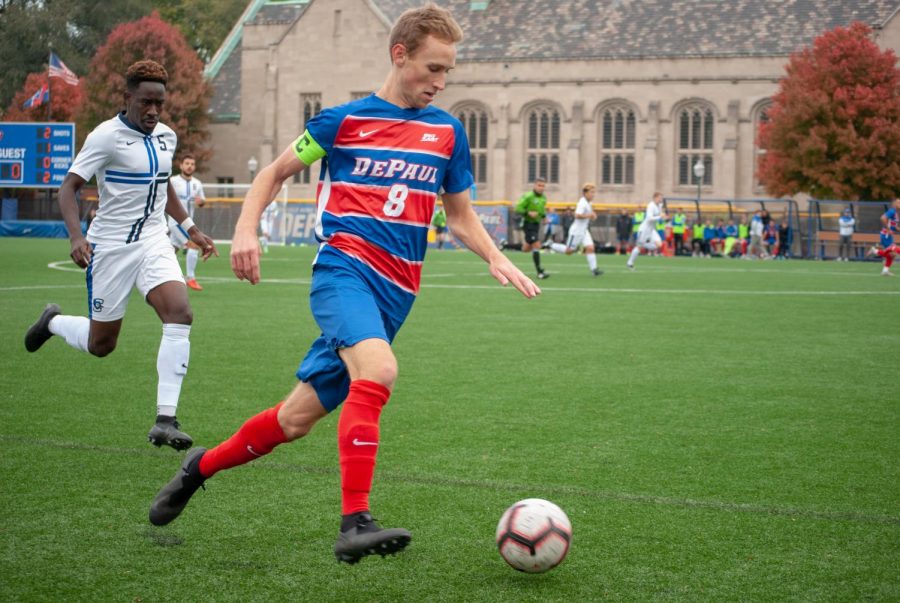 In the penultimate game of regular season play, DePaul (5-8-3; 2-4-2 Big East)  hosted the 19th ranked Creighton Blue Jays on senior day. After a hard fought game between the two Big East rivals, Creighton came away victorious 2-1, clinching the Big East regular season title.
Throughout the entire 90 minutes the Blue Demons hung in with Creighton showing fight and passion to get the game within one in the second half. While Creighton had more shots overall, 18-14, the Blue Demons had more shots on goal, 8-6. However, the Blue Jays proved to have too much fire power for the host to deal with.
"Coming into the game Creighton is a national seed (19th) and they are obviously leading the Big East, so we knew this was going to be a tough game," senior midfielder Harry Hilling said. "We got a great win on Wednesday against Xavier, and we knew we had our hands full coming into today's game.
Overall the players and Head Coach Mark Plotkin are pleased with how the team performed against a very good team.
"Our run of form against St. John's and Xavier made us feel pretty confident heading into this game," Plotkin said. "Creighton made a couple of great plays to score, but I'm proud of our guys of fighting back. We put up 15 shots or so, earned a bunch of corner kicks and even hit a post. Had a couple of things bounce the other way we would have score a couple of more goals. I thought we were right there with them and caused them some problems, so I'm happy with that."
Creighton opened the scoring in the 32nd thanks to a header from forward Sven Koenig who leads the Big East in goals with nine. DePaul responded by creating numerous goal scoring opportunities in the final 10 minutes of the first half. The most dangerous chance came in the 40th minute when a header from junior defender Max De Bruijne was cleared off the line.
The Blue Demons came out on the front foot in the second half, causing trouble for the Blue Jays defense and forcing goalie Paul Kruse to make a couple of tough saves. However, Creighton got a penalty in the 56th minute after Koenig was taken down by De Bruijne, but sophomore goalie Drew Nuelle came up with a big save to keep the deficit at one.
The Blue Jays finally extended their lead to two in the 62nd minute off another header from Bryce Gibson. Ten minutes later, DePaul cut into the lead after freshman forward Jack Richards scored his second goal of the season.
"It felt good (the goal)," Richards said. "It got us back into the game, but I'd rather have gotten a win."
Saturday's loss puts DePaul two points out of the final spot for the Big East tournament starting next week. With one game remaining against Marquette on Wednesday, the Blue Demons must win and hope for Xavier to lose to Butler.
Plotkin is feeling confident his team can take care of business and give themselves a chance to make the six-team tournament. However, Hilling, who will play his final regular season game on Wednesday, has one thing on his mind going into that game.
"Winning," Hilling said. Winning, yep. Survive and advance."