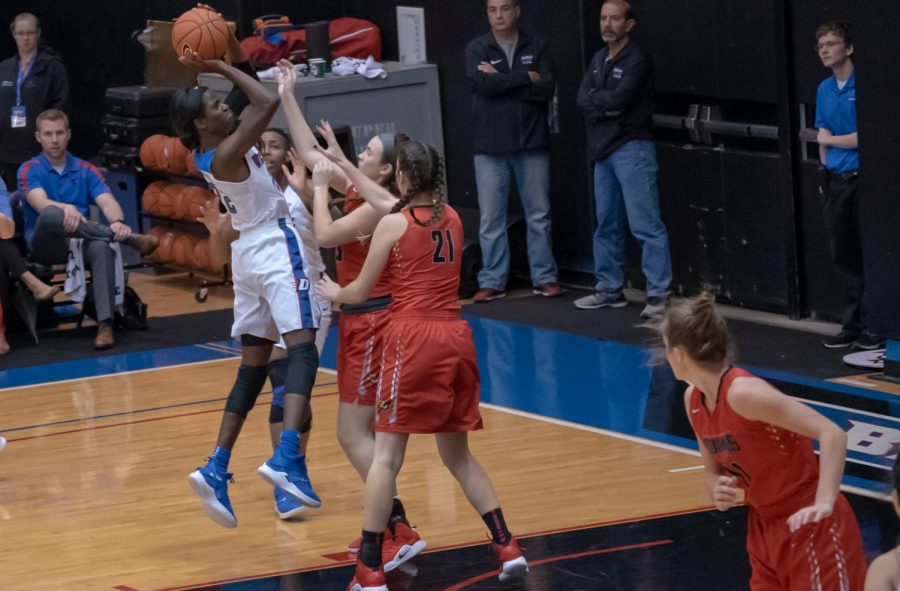 After weeks of practice, DePaul stepped away from competing against each other and took down St. Xavier 140-62 Monday night at McGrath-Phillips Arena. This was their final tune up before opening the season on Friday against UW Green Bay.
Helped by a press that forced Rockhurst into 10 first quarter turnovers, DePaul opened the game on a 27-5 run and led 31-10 after the first quarter. The Blue Demons came out shooting the ball even better in the second quarter making 13-of-20 shots en-route to a 35-point second quarter and 36-point halftime lead. Offensively, there were a lot of positives for the Blue Demons as they had eight players in double figures to go along with every player who played on the night at least scoring four points.
While the result was never in doubt for much of the night, DePaul head coach Doug Bruno said the experience of going through a game day routine with the lights on and people in the stands against an opponent is something his team needed to do before facing Green Bay on Friday, which kicks off a daunting non-conference slate.
"You have to turn the lights on and have to play in front of the lights so it's a game day," Bruno said. "So our players instead of having a practice day today, they had to have a game day shootaround, then they had a game day ritual, they had to understand and get a practice day in before Green Bay gets here on what it means to play a game in the midst of their finals coming at them, their school situation coming at them, that needs to be practiced as much as basketball needs to get practiced."
Breaking away from practice and having the opportunity to go through a game day routine was a welcome sight for many players, including junior forward Chante Stonewall.
"Like Bruno mentioned it was a dress rehearsal," Stonewall said. "But it was nice instead of putting on your practice uniform you get to put on your game day uniform and actually broadcast what we worked so hard in practice for."
On the court, Bruno cautioned even though DePaul only lost two players in Amarah Coleman and Lauren Prochaska to graduation, the dynamic still changes with three freshman now in the fold, senior guard Rebekah Dahlman back healthy and sophomore guard Dee Bekelja also playing well. Playing a game provides a valuable opportunity for the team to continue to build chemistry and learn from some areas despite the lopsided score.
This process of building chemistry has been helped by the fact there are five players back who played significant minutes last season, so for senior forward Mart'e Grays and others, the focus has been making sure the newcomers are settling in.
"We have a lot of veterans and returning players so it's just assimilating the newcomers," Grays said. "More like Dee, sophomores who can play, so just assimilating the whole team and it's been fun doing so."
One of those newcomers, freshman guard Sonya Morris was in the starting lineup Monday night and fared well with 19 points in 18 minutes. Bruno said the fact she is in the starting lineup is a testament to the energy she has brought to the team, but also to what was on display Monday night when she showed she has the chance to affect the game in a variety of ways.
"I think Sonya Morris started for a reason, I mean she really gives us great energy," Bruno said. "I think Sonya, she gave us great energy and that's why she played, that's why she started and I think she showed there is more there than just an energizer bunny, there's more than just a motor inside that player, there's a player inside that player so I mean it was good for her to get out on the floor and get some confidence in a game like this."
After missing all of last season, Dahlman and freshman Jolene Daninger both made their return to the court.
Dahlman's night got off to a concerning start when just moments into the game she appeared to tweak her ankle, but returned later in the first half to finish with 12 points and nine assists in 21 minutes of action. Despite the concerning start, Bruno was happy to have his senior guard,who has battled injuries her entire career including a broken left hand last season, back on the court.
"I loved having Rebekah back on the floor, how about her tweaking her ankle in 30 seconds?" Bruno said. "I just couldn't believe that happened, but thank god she was able to come back on the floor."
Given the time Dahlman has missed over the last two seasons due to various injuries, Bruno also said it's reasonable to expect it will take some time for the senior guard to get back into the rhythm of consistently playing games.
"Rebekah is a work-in-progress because Rebekah as experienced as she is, anybody that comes back from a year off from an injury is rusty," Bruno said.  "So Rebekah isn't close to the Rebekah I think we're going to see as we get into the season if we can her keep healthy. She's rusty she didn't have a year last year and she was hurt the year before that so that was the beginning of her fourth year so that was two full seasons ago the last time she had any rhythm of basketball."
Daninger on the other hand, closed out the third quarter with back-to-back layups and finished with four points in 12 minutes of action.
The Blue Demons can now turn their attention to the Phoenix, who visit McGrath-Phillips Arena at 7 p.m CT Friday night.