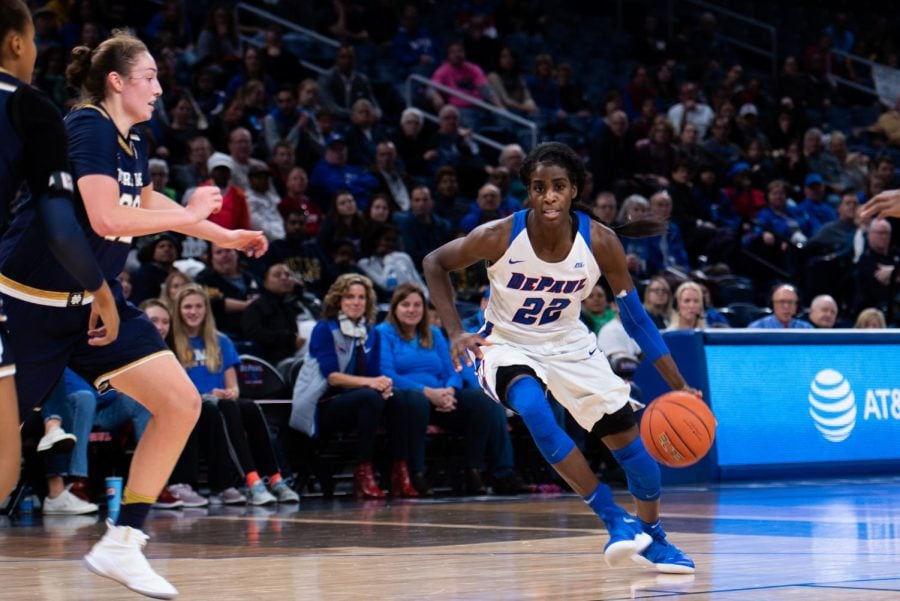 Despite a career high in points from junior forward Chante Stonewall and a near career afternoon for senior guard Ashton Millender, it was not enough for No. 15/15 DePaul to pull off the upset over No. 1 Notre Dame, who settled down after a rocky first quarter to pull away for a 101-77 victory Saturday afternoon at Wintrust Arena.
Stonewall set a career-high in points with 21, while Millender was the only other player in double figures for DePaul as she tied a career high with 27 points. Coming in to the game, Stonewall said the focus for her was no different than other games with an emphasis on doing the little things right.
"Play my game as best as I can, Bruno always preaches that to us," Stonewall said. "Do you as best as you can do you and that's kind of the mindset I try to take into every game hustling, using my size to my advantage, [playing] inside outside that's where I felt like was most effective today just using every part of my game."
DePaul got off to a fast start forcing Notre Dame into 10 first-quarter turnovers that the Blue Demons converted into 15 of their 29 first quarter points and a seven-point lead through the first 10 minutes. Notre Dame head coach Muffet McGraw credited not only DePaul's press, but also shooting that allowed the Blue Demons create chaos early in the game.
"They were making shots too which helped," McGraw said. "But I think they were just running at the ball to double team, their pressure really I think was a little hard for us to get into any kind of offensive rhythm and so it took us a while to figure out how to get the ball into the post."
Many of those turnovers in the first quarter came either on long passes that the Blue Demons were able to get a hand on or passes that sailed out of bounds. Millender said the plan coming in was to force Notre Dame to either side of the court and make them have to complete some of these longer passes.
"For us to be successful we had to keep it out of the middle," Millender said. "Coach Bruno always talks about if we're going to trap we got to stay out the middle to make [them complete] a far pass then it exposes us as a defense."
Notre Dame settled down in the second quarter, however, shooting 70 percent from the field and subsequently took a 54-47 lead to halftime despite 19 first-half points Millender. DePaul on the other hand, struggled shooting 32 percent over the final three quarters after shooting  47.8 percent in the first half. After the game, Millender said part of the Blue Demons problems could be tied to just being in a rush on offense that prevented them from consistently getting good opportunities.
"Everyone was just moving too fast," Millender said. "We really didn't have basket cuts I feel like we just got [discombobulated] I don't know why."
Coming into the game, DePaul knew they were going to have their hands full slowing potentially four future WNBA players that were on the court for the Fighting Irish. Despite limiting Notre Dame forwards Brianna Turner and Jessica Shepard to just six combined points in the first half,  junior guard Jackie Young and senior guard Arike Ogunbowale combined for 38 first half points. Ogunbowale finished with 24 points, while Young had 28 points and 12 rebounds.
The Fighting Irish carried their momentum gained from the second quarter into the second half with a quick 6-2 run to open up an 11-point lead with just over seven minutes remaining in the third quarter. Despite turning the ball over six more times in the third quarter, the Fighting Irish were able to maintain a comfortable lead throughout the third quarter after shooting 56 percent coming out of the break. Again Notre Dame continued to take advantage of its size with 34 points in the paint in the second half.
Next up, the Blue Demons head to Mexico for the Cancun Classic where they will open against Princeton Nov. 22, before playing Kansas State on Friday and Syracuse on Saturday.