DePaul cruises past Savannah State
On an evening where records were broken, No. 16/16 DePaul scored an all-time program-record in points scored with its 124-61 victory over Savannah State Monday night at McGrath-Phillips Area in what was DePaul's fourth game played in five days.
DePaul drilled 20 3-point field goals, which also broke a school record of total 3-pointers made in a single game previously set against Syracuse on Nov. 27, 2016. Freshman guard Lexi Held poured in a both game-high and a career-high 28 points off the bench on 11-of-18 shooting, including five 3-pointers.
"I was trying to let the game come to me more this game than I have in the past couple games," Held said. "So I was excited to really push through and have a great game."
DePaul head coach Doug Bruno was thrilled to see the youngster play so well.
"It was good for Lexi (Held) to be able to get some deep breathing practice in and get some nice space into some good looks," Bruno said. "She knows that she can make the same shots in college as she made in high school, and so I think that was good for her confidence tonight."
Sophomore guard Dee Bekelja also had a strong performance off the bench and recorded a double-double by scoring 16 points and grabbing 12 rebounds. Chante Stonewall, a junior forward who was named Big East Player of the Week on Monday, recorded 20 points on six-of-nine shooting from the field with seven free throws.
The Blue Demons opened the game on fire from behind the arc as Mart'e Grays and Sonya Morris knocked down back-to-back 3-point shots in the game's opening two minutes. But team success did not slow down there.
DePaul opened the game on a 26-2 run while shooting nine-of-16 shooting in the game's first five-and-a-half minutes. That lead propelled the Blue Demons to a 33-12 lead after the end of the first quarter. DePaul ended up pouring in 10 3-pointers in the first half en route to shooting 45.5 percent on those shot attempts. By the end of the first half, DePaul led 65-23 on 18-of-41 shooting from the field, which was good for 43.9 percent.
Forcing Savannah State into committing 25 turnovers opened up the floor for DePaul's offense. DePaul finished the outing with 32 points scored off those turnovers and 59 points scored on fast breaks. Let alone, DePaul's team-high 35 assists paved the way for its flowing offense as well.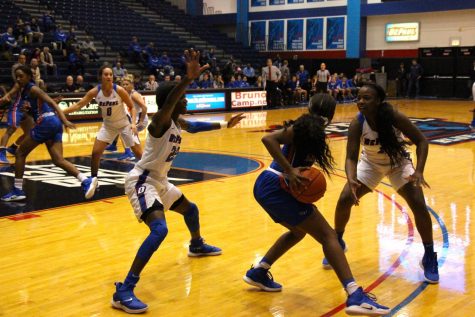 "I thought we shared the ball really well," Stonewall said. "Finding the open teammate is something that we pride ourselves on, so I thought we did that extremely well today."
Morris finished with 13 points scored and knocked down her first four 3-point field goal attempts while Grays dropped in 12 points and pulled down six rebounds. Rebounding numbers played in DePaul's favor, as they outrebounded Savannah State 55-41 and hauled down 15 offensive rebounds as a team.
"I think it just shows how special this team can be this year," Bekelja said when asked about her team's all-around performance. "We have 11 people on the bench you can play, and whoever gets in should be interchangeable for each person that gets in, so there shouldn't be any lack or slack for when there's a person subbing in and out and I just think that we showed that today."
Savannah State was held to just 16.2 percent from the floor in the first half and only made six baskets. Furthermore, DePaul's full court press forced Savannah State to turn the ball over 17 times which DePaul converted into 25 first half points off those turnovers.
With DePaul up 73-29 at the 6:09 mark in the third quarter, Bruno cleared the bench for his substitute players in Tanita Allen, Maya Stovall and Jolene Daninger to come in. Allen finished with 12 points, eight rebounds and seven assists. Likewise, Rebekah Dahlman also dished out seven assists. Stovall contributed with five points and five assists. Daninger also finished with nine points and three assists.
When it was all said and done, DePaul nailed 40 shots on a  50.6 percent total shooting mark overall. Not to mention, DePaul got to the free throw line 24 times and efficiently converted on 22 of those attempts.
"After practices you see a lot of girls stay around and shoot," Stonewall said. "And honestly, for the three years I've been here, this is the most I've ever seen the number of girls stay after practice and work on their shot. So it's just like Lexi (Held) said, it's just rewarding to finally see everything just starting to pay off and come together."
Junior guard Kelly Campbell, who has started in all of DePaul's first five games of the season, sat out in the contest.
DePaul's busy stretch concludes with a road contest against Connecticut on Wednesday night at 6 p.m CT.