"He's Our Superman;" Strus helps Blue Demons fan Flames
The DePaul Blue Demon men's basketball team (7-2) was probably expecting a more competitive game than the 90-70 waxing they put on the University of Illinois at Chicago Flames (4-7) tonight at Wintrust Arena.
But they also probably didn't expect their star forward Max Strus to have the game of his DePaul career and record Blue Demon career highs in three categories. Or maybe they did.
"No, it doesn't surprise me because Max does everything," redshirt sophomore point guard Devin Gage said after the game. "He's kind of like our superman, nothing surprises us."
"The bar is raised really high in my estimation for him so as he continues to do this we hope that [even though] he may not score 30 points every night, he can still do the kind of things he did tonight on a much more consistent basis," Blue Demon head coach Dave Leitao said.
Strus poured in a career-high 34 points on 10-for-23 from the field (previous career high was 33 points against Northwestern and Xavier last season). He also grabbed a game-high 13 rebounds, also a career high.
In an encore shooting performance after scaling the 100 career 3-point field goal mark on Wednesday night against Chicago State, Strus poured in eight of the 16 3-point field goals he attempted against UIC tonight to tie for the school record with Draelon Burns for most 3-pointers in one game.
In the last two games, Strus has nailed 13 3-point field goals at a 54.2 percent clip. The hot streak has helped him pass four guys on the Blue Demons all-time list in career 3-point field goals made. Strus marched up to the No. 17 spot on that list with his now 110 career 3-pointers.
"Teammates were getting me open, I had a lot of open shots," Strus said. "Shots that I could make. I think I missed a couple that I should have made and I'm not happy about that. But I'll take the game today. Devin [Gage] was finding me in transition and my teammates were finding me in open spots and I was just making open shots."
The Blue Demons used a hefty run early in the first half to create separation that the Flames would never recover from. A 15-2 run across 3:27 lengthened the Blue Demon lead up to 32-15 at the 7:26 mark in the first half.
"I thought from the outset that our mindset and our attention to detail defensively was as good as it has been all year long," Leitao said. "We got out to a lead and I was nervous they were going to keep coming at us and keep shooting threes. We did really good jobs in our coverages and it made offense a whole lot easier."
Back-to-back 3-point field goals from Strus ballooned the Blue Demon lead to 40-18 with 4:36 to play in the first half as DePaul shot 6-for-10 from downtown to start the game. Whenever the Flames went on a run, Strus was the one who stopped it.
The Flames went on an 8-0 run to challenge within 14 points at the 2:23 mark in the first half. But Strus wasn't having it, exploding for a personal 9-0 run of his own. In this sequence, he hit a 3-pointer, took a charge on the other end, and then hit another 3-pointer on the next possession. On the following possession, he drew a foul while shooting another one from deep and hit all three of his freebies from the charity stripe.
"He's a good player and he made shots," UIC head coach Steve McClain said about Strus after the game. "That's what good players do."
The Blue Demons lead at halftime sat at 52-28, behind 20 points from Strus who had hit five 3-point field goals at this point. The Blue Demons forced 13 UIC turnovers.
The Flames temporarily scratched themselves back into the game with a 9-2 run out of the half. But again, Strus wasn't having any part of that comeback. He stopped that run with his sixth 3-point field goal of the game. On the next possession, he proceeded to hit another one. Then on the next possession, Strus pulled up from 3-point land yet again. This time, his attempt found iron and floated down into the hands of Gage who went up and dunked emphatically. He hung on the rim a little extra and swung his legs over UIC big man Jordan Blount.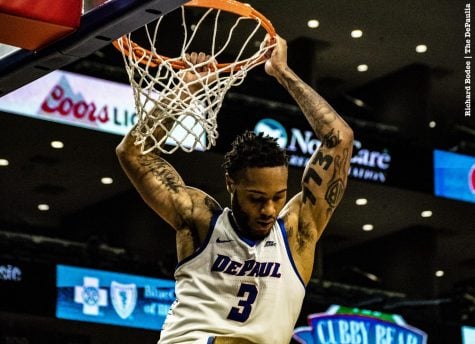 Gage finished with 15 points, five assists, and a career-high six steals. Reed put up a silent 13 points (career high) and collected seven rebounds.
The highlight of the night came with 13:04 left in the game when Strus soared over Flames 6-foot-9-inch center Travell Washington for a poster dunk for his 28th point of the night.
After the game, Strus estimated that this was his second best in-game dunk of his career. The first came when he was at Lewis University, although he said he was called for a charge on that one.
Meanwhile, his head coach thought the dunk was second to none.
"When he was at Lewis, he made a dunk like that that would make you drop the remote control and go 'oh boy,'" Leitao said. "That's exactly what happened today. I saw his eyes light up and he just kept going up and unfortunately he screamed and got a technical but it was good as of a dunk as I've seen from him."
With the win, the Blue Demons improve to 7-2 which is the program's best start since they jumped out to the same record during the 2002-2003 season.