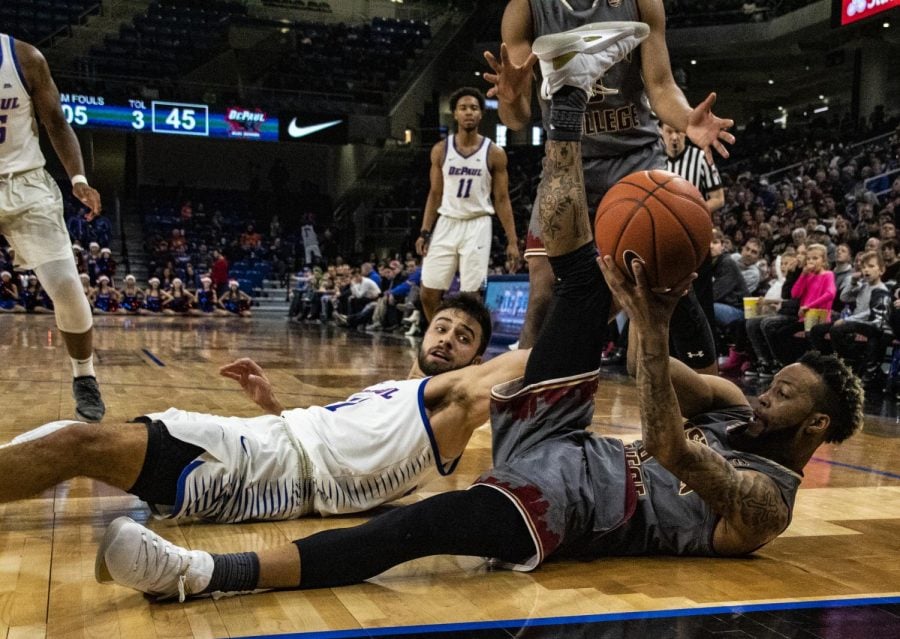 DePaul (8-3) trailed for only 32 seconds, but it happened to be the final half minute as Boston College rallied for a 65-62 win Saturday afternoon at Wintrust Arena, handing DePaul its first home loss of the season.
While DePaul was held without a field goal over the final two minutes, Boston College (9-2) hit six of their last seven shots to rally for the win. While of course the final few minutes may have swung the game, DePaul head coach Dave Leitao looked at the lead DePaul built in the first half and lamented the fact they weren't able to respond to the Eagles runs well enough.
"Tough pill to swallow today," Leitao said. "I think I've talked about it with the team, I've talked about it publicly of responding to another teams' run or what they bring and it started early on about 10 minutes into the game when we got up comfortably, up double figures and then we didn't continue from either a mentality standpoint or a gameplan standpoint to do on the end what we needed to do and so credit Boston College for their resiliency in hanging in there on the road."
The Blue Demons led for over 38 minutes on the afternoon, and only trailed for 32 seconds, but with DePaul leading by one with less than 40 seconds to play, a miscommunication on the inbounds play led to a breakaway on the other end for Boston College guard Wynston Tabbs. After Strus was called for a foul going for the block, Tabbs knocked down two free throws to give the Eagles its first lead of the game 61-60 with 35 seconds to play.
"The ball was thrown a little early," Leitao said. "We practiced that, we hadn't practiced it in a few days, probably about a week, it's a standard play to kind of have three or four options mainly between the two primary guys with both Max and Eli who was taking the ball out but unfortunately the ball got thrown in a little too early and Devin wasn't expecting it."
After Strus wasn't able to get a jumper to fall, Tabbs knocked down two free throws as the sides traded free throws down the stretch allowing Boston College to hang on for the win after a Strus half-court shot fell short at the buzzer.
The Blue Demons got off to a quick start opening up a 12-point lead on a Jaylen Butz 3-point play with 3:11 to play in the first half, but from there were held scoreless the rest of the half as Boston College closed on an 8-0 run to cut the deficit to four at the break.
After the Eagles cut the lead back down to two to open the second half, Strus responded with back-to-back layups to bump the lead back up to six.
While DePaul continued to fend off Boston College for much of the second half, the Eagles always seemed to have an answer. After a Max Strus dunk that gave the Blue Demons an eight-point lead with 5:12 to play, Boston College cut it right back down to one with three straight baskets from Ky Bowman, Chris Herren Jr. and Nik Popovic.
Strus broke free again late with a steal and huge dunk to give DePaul a 5-point lead with just over two minutes to play, forcing another Eagle timeout, Tabbs responded with a 6-0 run of his own to hand Boston College the win.
While Cain and Strus combined for nearly half of DePaul's points, they were just 3-of-21 from the 3-point line and 12-of-37 on the afternoon as Boston College attempted to make things difficult for DePaul's two leading scorers.
"Both of them are tremendous offensive players I don't know if you slow them down you just got to make them work," Boston College coach Jim Christhian said of the plan coming in to slow down Strus and Cain. "The plan with great players try not to give them anything easy and we did it late, we gave them a couple easy baskets late in the backdoor cut. You try to make them hit tough shots especially early in the game so they don't get overly confident, they're a really good offensive team when you can score the ball from all five spots you're a really good offensive team."
After a couple days off for the holiday, the Blue Demons are back in action for the first game of conference play against Xavier on Dec. 29. Leitao admitted the break will do his team good both physically and mentally as they look to take the next step in the process of learning how to win.
"It's not an easy process to have a room full of guys that have to every single day blindly trust going down a road that they've never been," Leitao said. "I've said it and I'll keep saying it we'll keep trying to work on it every single day to put yourself in a position to when you're up you can stay up but when you're down you can come back and that's as much a psychological plot to this that we've got to continue to grow as it is physical."