A year older, a year wiser
January 14, 2019
If older is indeed wiser, DePaul basketball has gifted young big men Paul Reed and Jaylen Butz one of the better learning environments in the country over the last two seasons.
Sometimes it's the upperclassmen who've stuck with a program for multiple years who become its unsung heroes. As Butz and Reed quickly found out, their best teachers at DePaul didn't always reside in classrooms and didn't only include their coaches.
"I definitely feel [upperclassmen big men] Peter Ryckbosch, Joe Hanel, and Marin Maric were great for me last year," Butz said. "As a freshman, you don't really know anything about the Big East Conference or playing at this level so those guys definitely took me under their wing and just showed me the ropes and kept me alive out there on the court. I feel like overall they did a great job just mentoring me both mentally and physically. They did what they had to do. Femi [Olujobi] is just as good. Overall those guys, they just want the best for everybody. They aren't too selfish with the stuff they say, they try to give you as much as they can."
Both Butz and Reed arrived at DePaul in the summer of 2017 as wide-eyed freshmen, calibrating to the new lifestyle that comes with being a first-year college student while simultaneously adjusting to the difference competition wise between basketball at the high school and Division I levels.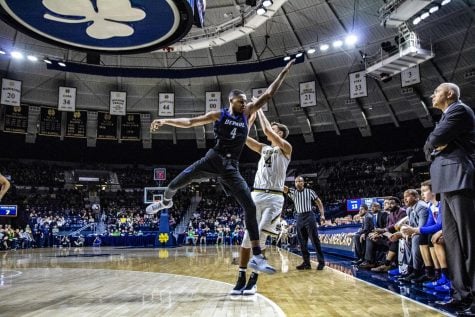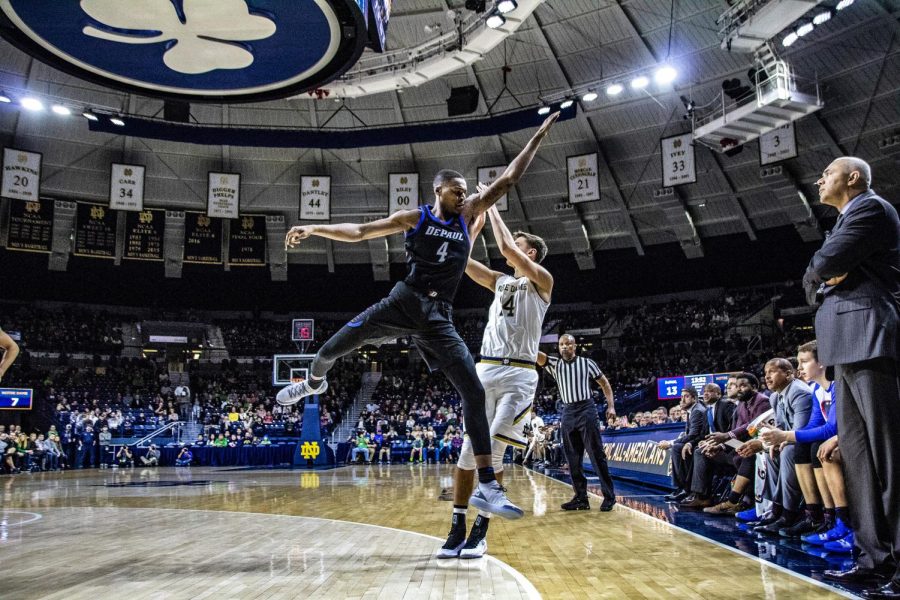 Both players occupy the same position. DePaul's website lists both of them as 6-foot-9-inches tall. They both came out of high school as unproven three-star prospects. They're also good friends who have kept each other grounded through their tumultuous first year and a half of college.
Both Reed and Butz endured ups and downs during their freshmen seasons. Butz missed four games in the middle of the season with an undisclosed illness. Reed couldn't garner consistent minutes, playing 10 minutes or less in 17 of the 28 games he appeared in last season. He finished the season averaging 9.9 minutes per game, which was ninth highest on the team despite owning the second highest player efficiency rating of all Blue Demons that season.
"I feel like it [having Butz around] has helped me a lot because going through this process freshman year it's good knowing you aren't going through it alone," Reed said. "I have somebody in the same position, going through the same things that I'm going through. I feel like having him there is very helpful because I know I'm not alone."
While both players leaned on each other during their freshman season, they also weren't hurting for mentors.
DePaul was a breeding ground for upperclassmen big men during Butz and Reed's freshman season. Maric was a graduate transfer student with 96 games of Division I ball under his belt from his time at Northern Illinois University before he landed in Lincoln Park. Both the four-year Blue Demon Hanel and six-year Blue Demon Ryckbosch [several redshirt years for medical hardships] weren't star players but oozed intangibles. Senior forward Tre'Darius McCallum started in all 63 games he played in his two seasons at DePaul after transferring over from a community college in 2016.
It was with this backdrop of experience, that Reed and Butz were groomed their freshmen seasons. Don't think the veterans took it easy on their young teammates either.
"Working with Tre' and Marin and Femi in practice we go at it against each other," Reed said. "That really makes a difference. When I'm playing against those other players it allows me to work on my skills.  [When I did something incorrectly] Femi would make it easy telling me what I did wrong. Marin was a little cocky and his style was different than Femi's."
After Maric, McCallum, Ryckbosch, and Hanel graduated after last season, Olujobi, a graduate transfer student with three years of Division I basketball experience [at Oakland and North Carolina A&T], transferred in and became immediately eligible to play, almost seamlessly filling in the role of another veteran that could mentor the youngsters.
"They've made it very easy to take over that role," Olujobi said in regards to mentoring Reed and Butz. "They are very well into listening. Sometimes it's harder to get younger guys to take information and run with it as opposed to them thinking that they just know it. Whenever I say something it seems like they listen. They also show me things as well so we kind of feed off of each other."
"I think both of those guys because they're improved have taken a little bit more of an independent approach on it in terms of where they fit in and what they can do," Blue Demon head coach Dave Leitao said in regards to Butz and Reed this season. "It's been ongoing, but I'm kind of pleased to see with both Jaylen and Paul that they've taken the bull by the horns and have done things this season that they couldn't do last season."
After struggling to garner consistent rotational minutes last season, Reed has settled into a role this season where he's averaged 22.6 minutes per game while posting the highest player efficiency rating on the team. He does a little bit of everything, averaging 9.5 points per game on over 50 percent shooting from the field, grabbing 7.3 rebounds per game, while leading the team with 1.1 blocks per game. His 18.3 percent rebounding percentage (the percentage of the total available rebounds a player grabs while on the floor) is second best in the Big East conference (minimum 100  minutes played this season).
Reed runs the floor well, jumps out of the building, and perhaps teased that he can become an effective passer as well with a pinpoint full-court baseball toss that settled into the hands of Max Strus and led to an easy dunk on Sunday against Seton Hall. Butz has also made strides in his sophomore season, averaging 7.9 points and 5.9 rebounds per contest. He's a naturally gifted rebounder with a 15-rebound and three nine-rebound games to his name this season.
It looks like all the mental notes they took from their upperclassmen big men teachers are beginning to pay off.