Nation & World Briefs: January 9
January 9, 2019
Trump stalks out of shutdown session with Dems — 'Bye-bye'
President Donald Trump stalked out of his negotiating meeting with congressional leaders Wednesday — "I said bye-bye," he tweeted soon after — as efforts to end the 19-day partial government shutdown fell into deeper disarray over his demand for billions of dollars to build a wall on the U.S.-Mexico border. Hundreds of thousands of federal workers now face lost paychecks on Friday.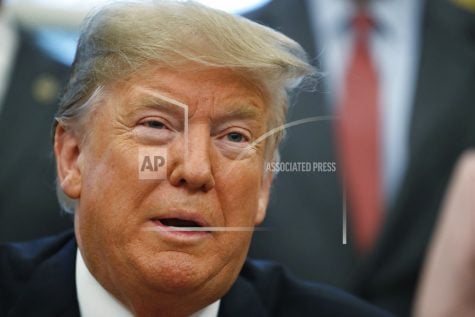 The president is to visit the border in person on Thursday, but he has expressed his own doubts that his appearance and remarks will change any minds.
Democrats said they asked Trump to re-open the government but he told them if he did they wouldn't give him money for the wall that has been his signature promise since his presidential campaign two years ago.
Republicans said Trump posed a direct question to House Speaker Nancy Pelosi: If he opened the government would she fund the wall? She said no.
Senate Democratic leader Chuck Schumer said Trump slammed his hand on the table and walked out. Republicans said Trump, who passed out candy at the start of the meeting, did not raise his voice and there was no table pounding.
One result was certain: The shutdown plunged into new territory with no endgame in sight. The Democrats see the idea of the long, impenetrable wall as ineffective and even immoral, a terrible use of the $5.7 billion Trump is asking. He sees it as an absolute necessity to stop what he calls a crisis of illegal immigration, drug-smuggling and human trafficking at the border.
Trump had just returned from Capitol Hill where he urged jittery congressional Republicans to hold firm with him. He suggested a deal for his border wall might be getting closer, but he also said the shutdown would last "whatever it takes."
Sen. Lisa Murkowski, R-Alaska, was among several senators who questioned Trump at the Capitol.
"I addressed the things that are very local to us — it's not just those who don't receive a federal paycheck perhaps on Friday but there are other consequences," she said, mentioning the inability to certify weight scales for selling fish. The president's response? "He urged unity."
---
Steyer won't run for president, will focus on impeachment
Billionaire investor and Democratic activist Tom Steyer said Wednesday that he will not run for the White House in 2020 and will instead focus on calling for President Donald Trump's impeachment.
Steyer, who has spent $50 million on his Need to Impeach campaign and announced plans to spend $40 million more this year, said at an event in Des Moines that "the impeachment question has reached an inflection point," given that Democrats have taken majority control of the House.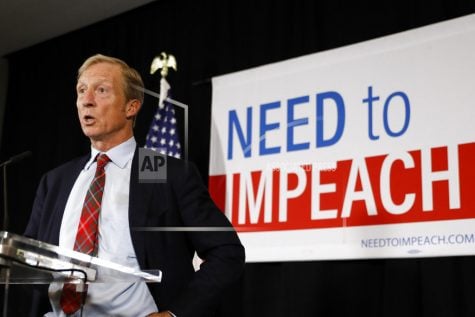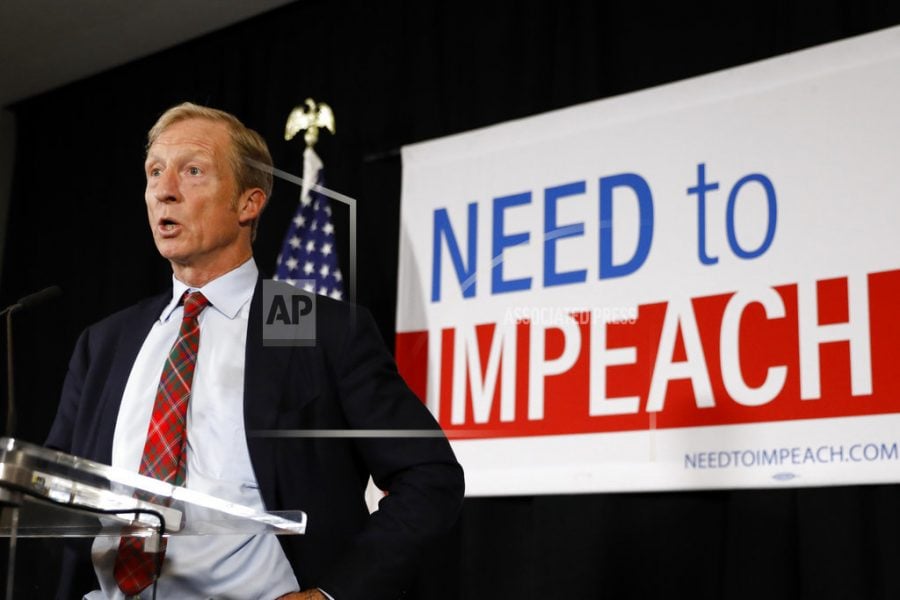 "I said last year that I'm willing to do whatever I can to protect our country from this reckless, lawless and dangerous president," Steyer said. "Therefore, I will be dedicating 100 percent of my time, effort and resources working for Mr. Trump's impeachment and removal from office. I am not running for president at this time."
Steyer said his $40 million commitment for 2019 was designed to pressure the Democratic-controlled House to begin impeachment hearings and to persuade the party's presidential contenders to support impeachment on their platform.
The decision not to run comes as a surprise since Steyer had been traveling the country promoting the political platform he released after November's midterm elections.
But Steyer, who chose the premier presidential caucus state to make his announcement, likened his mission to seeking the presidency itself.
"Most people come to Iowa around this time to announce a campaign for the presidency," he said. "But I am proud to be here that I will do whatever it takes as long as it takes to remove a president."
Although Steyer opted against a presidential run, the constellation of political organizations that he has built is likely to have an impact on the presidential race and on key congressional races across the country.
Several prominent Democrats have also declined to run in 2020, including former Massachusetts Gov. Deval Patrick and Stormy Daniels' lawyer, Michael Avenatti.
---
Kim looking to 'achieve results' in 2nd summit with Trump
North Korean leader Kim Jong Un has reportedly told the leader of his only major ally, China, that he wants to "achieve results" on the nuclear standoff on the Korean Peninsula in a second summit with President Donald Trump.
The comments, contained in reports Thursday from Chinese and North Korean state media, came a day after Kim left Beijing on his special armored train for Pyongyang after a two-day visit to the Chinese capital.
Kim's trip to China — his fourth in the past 10 months — is believed to be an effort to coordinate with Beijing ahead of a possible second summit with Trump. It comes after U.S. and North Korean officials are thought to have met in Vietnam to discuss the site of the summit.
North Korea will "make efforts for the second summit between (North Korean) and U.S. leaders to achieve results that will be welcomed by the international community," Kim was quoted as saying by China's official Xinhua News Agency.
All sides should "jointly push for a comprehensive resolution of the Korean Peninsula issue" and North Korea would "continue sticking to the stance of denuclearization and resolving the Korean Peninsula issue through dialogue and consultation," Xinhua quoted Kim as saying.
Kim also said North Korea hopes its "legitimate concerns" would be given due respect, a reference to Pyongyang's desire for security guarantees and a possible peace treaty to formally end the 1950-53 Korean War.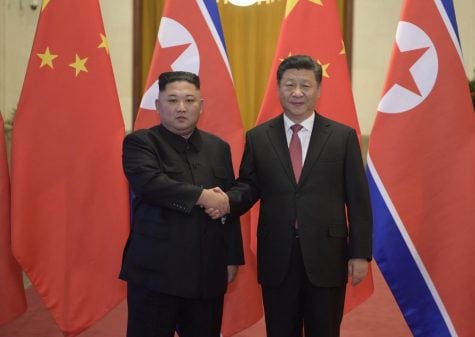 [President] Xi was quoted as saying that China supports the U.S.-North Korea summits and hopes the two sides "will meet each other halfway." The North said in its report that Xi accepted an invitation to visit North Korea, although details of when he might come were not given.
Xi has yet to visit North Korea since taking office in 2012.
Trump and Kim met in Singapore in June for the first-ever leaders' meeting between their nations, but there has been a standoff ever since, with dueling accusations of bad faith.
Kim's Beijing visit was seen as part of an effort to win Chinese support for a reduction of U.N. sanctions imposed over his nuclear weapons and ballistic missile programs, which have severely impacted his country's already ailing economy.
While North Korea hasn't conducted any launches or detonations in more than a year, it's displayed no real intention of abandoning the programs that are seen as guaranteeing the government's survival.
While Trump says he considers Xi key to enticing Kim into taking concrete steps toward denuclearization, the president's own relationship with his Chinese counterpart has frayed over the U.S.-China trade war.
Officially, at least, China says it considers the tariff battle and North Korea's weapons programs to be entirely separate.
Tuesday was Kim's birthday but there was no word of any official celebrations.