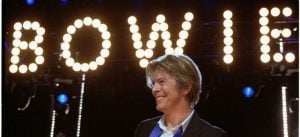 "We can be heroes, just for one day" David Bowie sang on his hit song "Heroes."
And today Bowie gets to have his own day. Last week Mayor Rahm Emanuel declared Sept. 23 as David Bowie Day in Chicago, coinciding with the opening of the Museum of Contemporary Art's "David Bowie Is" exhibition archiving Bowie's personal items from the past five decades.
DePaulia Multimedia Editor Andrew Morrell says the Bowie-centric exhibition is "an essential for not only Bowie die-hards, but anyone interested in music, art, film, fashion or theatre, all of which Bowie moulded into his own."
According to the proclamation signed by Emanuel, Bowie is "an undisputed global icon" and the MCA exhibition "offers insight into the innovator, the rebel, and most importantly, the man."
Make sure to catch "David Bowie Is" at the MCA until Jan. 4, 2015. To get into the Bowie mood beforehand, here's a playlist dedicated to the multi-faceted musical and cultural icon known to reinvent himself throughout his career.