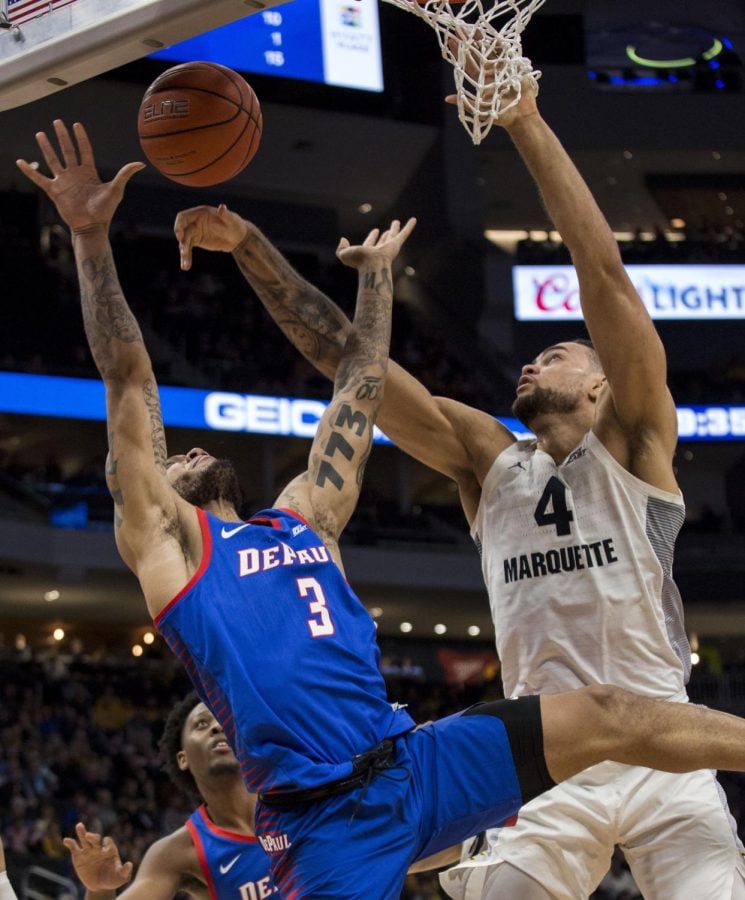 MILWAUKEE— Facing a 13-point halftime deficit on the road and trailing for the first time by double digits at halftime all season, DePaul battled back in the second half but was not able to get any closer than four as they fell 79-69 to No. 12/11 Marquette Wednesday night at Fiserv Forum in Milwaukee, WI.
DePaul did jump out to an early 16-12 lead through the first 10 minutes, as Marquette started just 5-of-15 from the field.
The Golden Eagles quickly tied the game, however, after consecutive technical fouls were given to DePaul sophomore Jaylen Butz and the Blue Demon bench after Butz was called for an offensive foul. Marquette junior Markus Howard knocked down all four free throws to tie the game.
DePaul responded with a layup from senior forward Femi Olujobi and led 21-18 following an Eli Cain 3-point play with 6:23 to play.
The final six minutes belonged to the Golden Eagles, however, as they closed the half on a 22-6 run to take a 40-27 halftime lead. After the Blue Demons held Marquette second-leading scorer Sam Hauser scoreless over the first 13 minutes, he scored 10 points in the final six minutes as the Golden Eagles also received a lift from Theo John who scored five straight points to help jumpstart Marquette.
The Blue Demons were just 3-10 from the field to close out the half. DePaul head coach Dave Leitao was happy with the way his team opened the game, but said the message at halftime focused on getting more stops and getting back to playing with a better flow that hurt them late in the half.
"We started off pretty well and then we allowed 40 points and we only scored 27," Leitao said. "I'd like to think we'd allow 33-35 something like that and we can score about that much ourselves. We're just coming off a game we scored 97 points and I certainly don't expect us to score 97 but when we play a certain way there's a flow to what we're doing. I thought we got stagnant because we had to run around a lot on defense and we missed some coverages and it led to taking the ball out of bounds more than we needed to."
DePaul was not going away quietly, however, as they opened the second half on an 8-0 run, with five of those eight points coming from Paul Reed as DePaul cut the deficit to five with 17:39 remaining. Reed and Femi Olujobi bounced back from tough first halves as Reed finished with 18 points and seven rebounds, while Olujobi finished with 15 points and 11 rebounds, although he was limited to just six shots.
"I thought Paul hung in there, Femi didn't have his typical offensive game," Leitao said. "I thought he was half a step behind in his aggression when he caught it to go right at it. He was kind of looking around to see if there was help or doubles or anything and they mixed it up a little bit. I didn't think our inside-out game, meaning the ball going inside and then getting it out and changing sides of the floor was as good as it needed to be and so they're good players both of them."
Leitao added, similar to Marquette it's important for DePaul to have an good inside-out balance for them to be the offense they can be.
The Blue Demons were able to edge their way back into the game by forcing five Marquette turnovers in the first seven minutes as the Golden Eagles also opened the half just 2-of-7 from the field. DePaul senior Max Strus said it was important for the visitors to start the second half fast and respond after Marquette controlled the opening 20 minutes.
"They outplayed us in the first half in every aspect of the game," DePaul senior Max Strus said of their response to begin the second half. "In the second half we just tried to throw the first punch and keep throwing them. I think we did a good job of that to start but we let a few slip by and that cost us."
After four straight points from Theo John gave Marquette a 56-48 lead with 8:38 remaining, DePaul continued to stay within reach after consecutive layups from Strus and Reed prompted another Marquette timeout with just over seven minutes to go. Four times in the second half DePaul cut the deficit back down to four, but that was as close as they would get as John and Howard continued to keep the Blue Demons at arms length.
Down the stretch, however, DePaul not slow down Howard and John as they combined to score 13 straight points for Marquette as they built a nine-point lead with 3:51 to go. Howard finished with 23 points, but was held without a 3-pointer and also turned it over eight times. John, however, hurt DePaul time again with 16 points, 10 rebounds and six blocks.
"If you had told me that we would have a game where Markus Howard wouldn't make a three and have eight turnovers I would tell you we had a great shot to win," Leitao said. "But they're anything contrary to media reports that, with all due respect to Markus that has put him on a pedestal with some of the great players across the country and he deserves it but Marquette is very good for a number of reasons and the fact that Theo John stepped up like he did today was monumental when they needed it."
DePaul continues its road trip on Sunday against Providence. Olujobi said the approach for the team remains the same as they close out the three-game road trip.
"We can't really dwell on this game," Olujobi said. "We got to pretty much just put the game behind us, I mean we will obviously study film, break down film, see what we did wrong, what we could do better but as far as that that's all we pretty much can do, just the same thing we would do any other game. It's just a regular game throughout the Big East conference."
Prior to the game DePaul wore shirts and wristbands while warming up that read "I know a fighter" and "#sahistrong" in support of DePaul student manager Aameer Sahi, who DePaul athletics says is fighting neurofibromatosis.