CTA raises awareness for Chicago's low blood supply
January 28, 2019
If you're waiting for the Red Line in the coming weeks, you might notice a peculiar advertisement wrapped around the train cars: a message that, in big bold letters, declares the train cars the "Blood Line." This is part of a blood drive campaign the company Vitalent formed to run throughout the city of Chicago.
Vitalent, formerly known as Lifesource, is one of the country's largest transfusion medicine organizations and provides services to over a thousand hospitals in 40 states. With this new campaign, the company hopes to help Chicago in an area where help is needed: the city's blood supply.
According to reports, Chicago has a critically low blood supply. Blood donations are down as much as 50 percent, which is about half the usual supply. This can delay treatments and surgeries that are necessary for serious illness and injuries.
With this new campaign, Vitalent is hoping to change this. Kathleen Meyer, the marketing and communications lead for Vitalent's Chicago office, is hoping the company can bring in lots of new donors to get involved and help raise the city's blood supply. More specifically, she is hoping to get to the millennial demographic and bring in younger donors to give blood.
Luckily for Vitalent, this campaign may just get them that new demographic they are hoping for. Ron Culp, a professional director in DePaul's Public Relations and Advertising Department, says this campaign is just the type of thing that appeals to millennials.
According to Culp, millennials tend to gravitate toward advertising campaigns and cause-related marketing that make them think about "what they can do to feel good and contribute to society."
"They may not have enough money, but they have a lot of heart," he said.
This type of big advertising campaigns, Culp says, really took off in the 1990s. With lots of money being pooled into projects, the campaigns become bigger and bigger. To be successful, these campaigns need a blend of emotion and science—as well as just plain luck.
"Everybody wants to have the next Ice Bucket Challenge," Culp said, referencing the 2014 viral challenge that raised over $115 million for the A.L.S. association.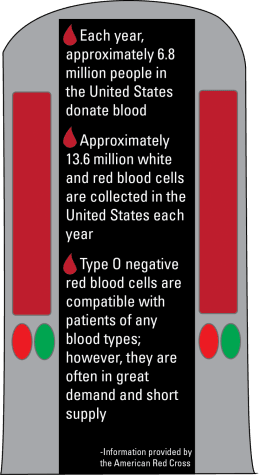 The Blood Line campaign started when Vitalent began working with Intersection, an out-of-home advertising and technology company, to ramp up its advertising on the CTA. Through that partnership, Vitalent was introduced to We Are Unlimited, an ad agency that made headlines in March 2018 by flipping the iconic McDonald's arches upside-down for International Women's Day. Located on Michigan Avenue, the agency describes itself as "the home of world-class, business-driving Connected Creativity" and views brands not as fixed things, but as "dynamic experiences." It was this ad agency that first had the idea for a way to increase blood donations in Chicago by creating the "Blood Line."
The Red Line was chosen for this campaign because of its spot as one of the largest and most identifiable CTA lines, running 24 hours a day and traveling over 20 miles. According to Irene Ferradaz, a Media Representative for the CTA, there will be four "wrapped CTA train cars [running] through Feb. 10, 2019" that Vitalent commissioned. In addition to the wrapped train cars, people will be able to give blood at mobile blood donation trucks staged at various stations—including one near DePaul, at 2400 N. Sheffield on Feb. 1.
This monthlong Blood Line campaign will run in honor of National Blood Donor Month, which takes place in January every year. Meyer says Vitalent always hopes to do "fun and creative" things during January to raise awareness of Chicago's blood supply problem. She says if this campaign goes well, the company is hoping to continue running the Blood Line well into the future.