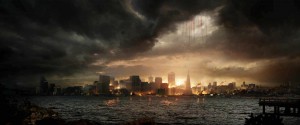 Buildings crumble to the ground like a tower of toy bricks as Superman and his foe, General Zod, throw punches at each other. Neither one pays any attention to the mass destruction he leaves behind, only caring bout finishing the fight. A small group of civilians struggles to escape the falling skyscrapers, but something still doesn't feel right.
What about the rest of the people living in Metropolis? Or does it even matter because it looks cool?
Last summer's Superman reboot, "Man of Steel," caused a lot of damage to the fictional city of Metropolis. It would have caused an estimated $700 billion worth of damage, more than 12 times the damage 9/11 cost, according to a BuzzFeed study with Watson Technical Consulting. Just imagine the through-the-roof insurance rates of living in the same city as Superman.
But that doesn't seem to faze most audiences, because some of the blockbuster films from this summer brought even more destruction to familiar cities. From "The Amazing Spider-Man 2," to "Godzilla," to "Transformers: Age of Extinction," more cities will topple to the ground.
Perhaps the acceptance of seeing cities destroyed has come from seeing people survive the horrors, at least according to former adjunct DePaul Film History Professor Cary Elza.
"It's appealing to see these building topple, especially if it's the end of the film," Elza said. "It shows that we don't actually need those buildings to carry on."
Despite having their homes destroyed, people are resilient, and they survive. So seeing all that destruction doesn't necessarily mean the end for humanity. That same destruction seems to spur an almost patriotic sense of renewal and growth.
"Sure, they can destroy our outer shell, but they can't destroy what makes us Americans," Elza said.
Similar to roller coasters, there's a sense of danger, but without the real threat. People can sit back and see the damage, and know it's not real. It's cathartic.
"It allows us to work out our fears by showing we're vulnerable to something through the use of storytelling," Elza said.
DePaul Media and Cinema Studies Professor Paul Booth said the connection to real events a city has to face sometimes acts as a metaphor during a movie.
"Historically, whenever there's some disaster or monster attacking a city, it becomes some sort of metaphor for some danger that city is in," Booth said. "When you look at the original "Godzilla" movie, you have this evil beast created from nuclear power with it somehow going to destroy a city in Japan, just like in World War II."
After nuclear missiles strike Britain, people live in devastation. Families are torn apart, children are starving, people are permanently damaged from radiation, and many corpses burn in giant piles.
Instead of focusing on the nuclear battle between the West and the East, the 1965 movie "The War Game"  finds its strength by focusing on the people hurt by the fighting. The results are effective in showing the dangers of nuclear war, yet the images are haunting and painful to see.
"You're not going to get a feel-good summer blockbuster that shows the resiliency of people if you include the actual people who would be killed lying there on the ground," Elza said.
Instead, people have become used to seeing the spectacle of cities falling. And though seeing "the reality of the damage makes it too real," according to Booth, people can learn from these disasters.
By seeing different possibilities such as infections or natural disasters or even monster-alien invasions, society can prepare for the worst.
"They're allowing us to imagine how the world could be better. The encourage us to think about how we might prevent an apocalypse," Elza said. "Or how we might think about climate change, preventing the causes of terrorism, making sure that people are treated well, and that's not bad at all."
But how much longer will we want to see all this destruction?
Hollywood continues to try to raise the stakes, and to keep pulling out bigger guns. But there isn't a limit yet. With Marvel Studio's recent announcement, admitting to having enough movie ideas to last until 2028, it's likely New York City and Los Angeles will have to endure destruction time and time again.
"Hollywood is investing in these films, and they're going to sell the hell out of them," Elza said. "We live in a culture of choice, and you don't have to watch them if you don't like them."