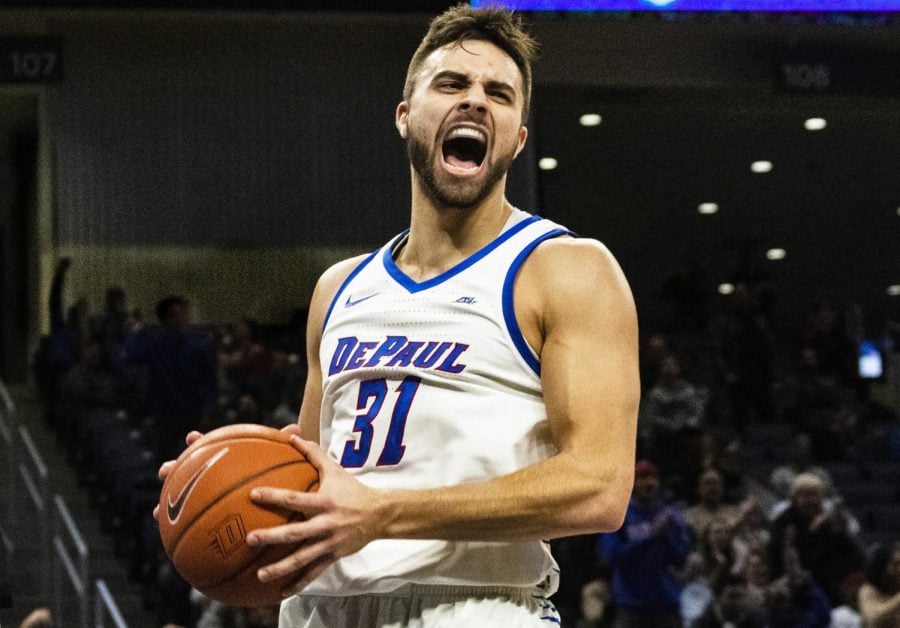 Playing Providence  (13-9; 3-6 Big East) for the second time in seven days, DePaul (12-9; 4-6 Big East) avenged its earlier loss to the Friars, snapping in a three-game losing streak, as well, with a 67-55 victory Saturday afternoon at Wintrust Arena.
In the first matchup between the two teams DePaul led just one time but Saturday was a different story as they led for over 30 minutes but still had to fend off a tough Providence team that didn't go away quietly in the second half.
The Blue Demons finally put it away for good with back-to-back 3-point plays from senior forward Femi Olujobi followed shortly thereafter by sophomore forward Paul Reed, who finished with 18 points and 15 rebounds, to help DePaul open a 10-point lead with 1:24 to play and provided the jolt of energy both on the court and in the stands DePaul needed to hold on for a much-needed win.
"When that kind of thing happens it energizes [everyone] just like a 3-pointer from the perimeter," head coach Dave Leitao said. "But and-ones are really energizing to our crowd and the team and allows us to play more spirited defense so I thought for both of those guys it was really important."
The Blue Demons defense was the story in the final couple of minutes as they held Providence without a field goal over the final three minutes and 15 seconds of the game as the Friars missed its last nine field goals.
After Providence leading scorer Alpha Diallo knocked down a 3-pointer with 7:54 remaining in the first half to give Providence a 20-18 lead, the Blue Demons clamped down defensively with a 15-3 run to close out the half while holding Providence without a field goal during that span. Providence head coach Ed Cooley said it wasn't as much anything special DePaul was doing but was disappointed his team missed open shots both late in the first half and late in the game.
"I think it's a fair question but my guys are still open, they're wide open shots," Cooley said. "You got to make them, you got to make them, it was a rock fight out there I think they may have ended the game on a 14-2 run or something like that, of which many of them came from the foul line and then they got a couple of and-ones to open the game up but I thought it was both a heavily defended game, both teams are defensive oriented and they made a couple more shots than we did."
That double digit lead was short lived; however, as Providence opened the half on an 12-4  run to cut the DePaul lead to two.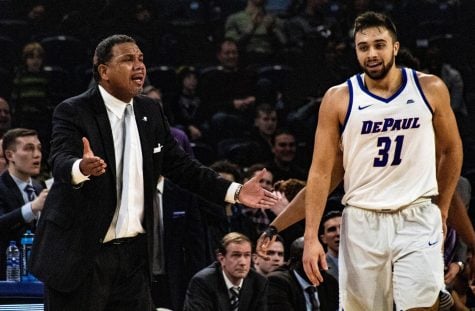 Despite the run, the Blue Demons continued to hang on to a narrow lead as both teams searched for answers offensively. Senior guard Max Strus finally gave the Blue Demons some life with a 3-pointer from the corner as DePaul opened up a 6-point lead; however, Providence quickly responded with an 8-2 run to tie the game for the first time in the second half and take it a short time later with a layup from David Duke.
That was the last field goal Providence would make; however, as DePaul came right back with a 6-0 run of their own to regain a 57-53 lead with just over three minutes remaining. In danger of letting another second half lead slip away, Strus pointed to a team talk earlier this week in which the team addressed some of their second half struggled.
"We just said you know what this is it, it's go time," Strus said. "I mean we don't really have time to waste anymore we got six conference losses, it's time to turn it around and we've lost too many games in the second half where we blow our lead or teams extend theirs so we made a commitment to defend and rebound like we did and that kept us in it at the end of the day and our team we all bought in on what we want to do and that helps at the end of the day."
Butz echoed that sentiment saying one of the messages all year has been staying together, which was something he said allowed them to get over the hump in a game in which neither team was able to establish much of a rhythm.
"We [are] trying to preach it every day," Butz said. "It's kind of a hard thing to do winning any game, it's tough down the stretch guys can go all kind of ways but just trying to stay together and keep each other motivated so I feel like that brought it home for us."
DePaul will now be able to enjoy a week off before heading back on the road to face Xavier next Saturday night.