Improved timing and chemistry have been keys to late season resurgence for DePaul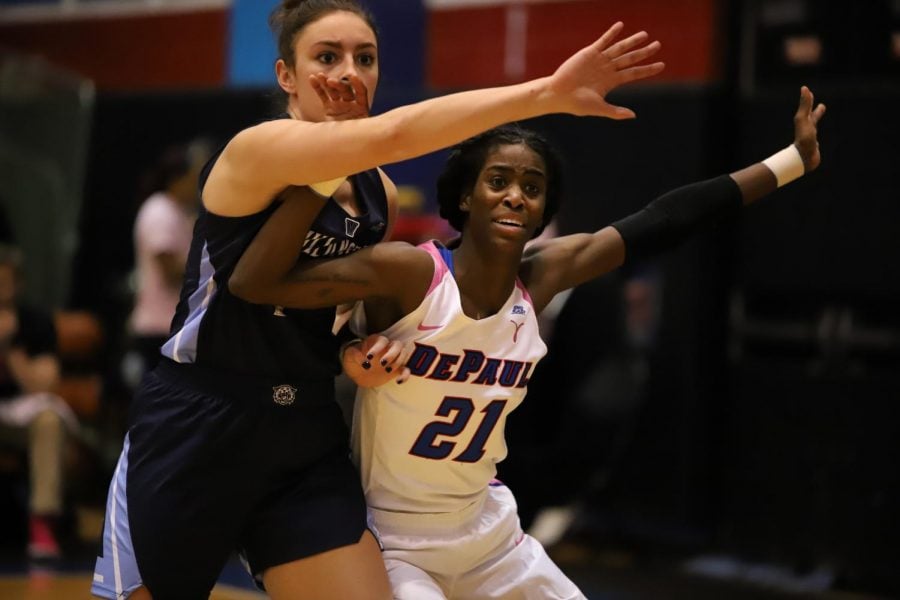 After storming back in the second half against Marquette, DePaul picked up right where they left off with complete offensive performance against Villanova. While they had to weather some offensive droughts en route to a 76-71 victory over Georgetown on Sunday afternoon, there were still plenty of positives to take away in a pivotal home game.
"If you make a layup this is a completely different basketball game. We have to get better at focusing and finishing blank twos," head coach Doug Bruno said. "I'm proud of our basketball team for having the resiliency to be up nine in the second half, to give away the lead, then have the resiliency down the stretch to finish the game."
A lot has been made of DePaul's ability to make shots beyond the arc, and rightly so, but against Georgetown it was their ability to finish plays with contact that gave the Blue Demons the edge over Georgetown. DePaul converted 14-of-24 layups under the basket.
After scoring a career-high 31 points just two days earlier against Villanova, senior forward Mart'e Grays made her mark in the second with 15 points on a perfect 7-of-7 shooting from the field. She played just 16 minutes after picking up two quick fouls in the first half that sidelined her until after halftime.
"It was definitely a physical game," Grays said. "A lot of people were in foul trouble, so it was our priority to attack the rim and create open shots for our teammates."
At the half, DePaul was 8-of-14 shooting 2-pointers. Bruno said DePaul's ability to make threes, spaced the floor allowed them to have the room to get to the rim and have the spacing to post up.
To counteract this, the Hoyas sporadically turned to a 3-2 zone in an effort to keep DePaul off balance and avoid leaving open shooters from 3-point range. The Blue Demons only attempted 15 threes but were able to knock down six triples specifically from the left wing.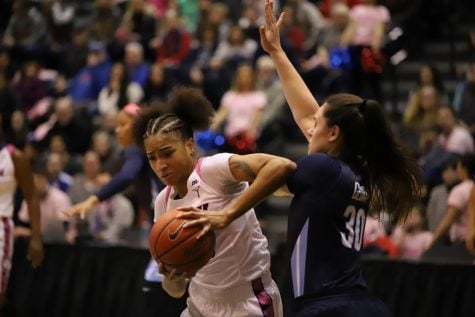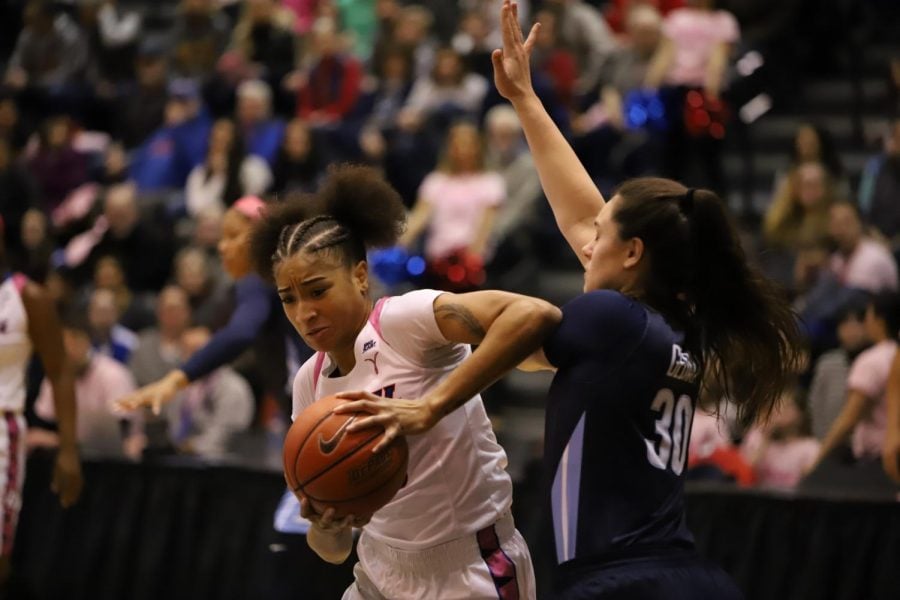 One of DePaul's best offensive weapons continues to be junior forward Chante Stonewall who played every minute in the second quarter, scoring 10 points on 4-of-7 shooting. She led the offense with 15 second-half points.
"I was trying to be aggressive and get our team going. They were guarding us pretty tight and switched on a lot of screens, so I was trying to find slips and make myself available," Stonewall said. "I thought we needed to be more patient. They were locking a lot of stuff, of course you practice it, but it's different when you're actually in the game."
Stonewall and Grays on the floor together were important against Georgetown, as their ability to guard Dionna White, who scored 16 points, and Dorothy Adomako, who added 15 points made it difficult for the Hoyas to get things going.
After DePaul was forced to adjust after losing a couple players to foul trouble, Bruno was impressed with Stonewall moving into a role of a guard. Given many of the skills she possess such as shooting and her ability to attack the rim, Stonewall a lot of the time serves as another guard on the court.
"There's no such thing as a great offense, there's no such thing as a bad offense, there are only well executed offenses, or poor executed offenses," Bruno said. "But inside of any offensive basketball, know where the ball is, know where you need to be in relation of the ball."
Since the second half of DePaul's defeat to Marquette, the Blue Demons offense has flowed much better. According to Bruno, time and chemistry have been the biggest reasons for this improvement.
As they play together longer, players are getting used to each other. The Blue Demons have had to incorporate three freshmen and lost senior forward Tanita Allen, which was a blow to their bench
"We are working in a lot of people to go with players that have veteran experience. It's gradually taking shape. I was really pleased with some of the execution today," Bruno said. "You can't do more than put them in a position to get layups. We got to make the layups. It's coming ever so slowly, but we are getting better on the offensive side of the ball."