Hard work pays off in year two for Paul Reed
February 18, 2019
DePaul men's basketball has taken a leap forward this season by winning 13 games, the most since the 2006-2007 season. One player whose overall game has trended in the same direction has been Paul Reed.
The six-foot-nine-inch 210-pound sophomore forward from Orlando, Florida is averaging 11.6 points and 8.1 rebounds per game through 24 games while shooting 52.9 percent from the field, an improvement from last season when Reed averaged just 3.6 points and 3.1 rebounds per game on a 51.8 percent shooting mark. Reed's rebounding figures have propelled him to lead the Big East conference in total rebounds per game.
Not to mention, Reed also leads the Big East with a defensive rebounding percentage of 24.5 percent. In total, Reed has grabbed 194 rebounds, which ranks third overall in the conference. One hundred thirty of Reed's rebounds have come on the defensive glass and 64 have come on the offensive glass. Overall, Reed has the second-highest rebounding percentage, and his offensive rebounding percentage is third-best in the conference.
Perhaps the most prevalent component of Reed's game this year has been his ability to step out of the paint and drill 3-point field goals with confidence. Reed has converted on 36.4 percent of his shot attempts from deep in comparison to a 21.4 percentage line one year ago.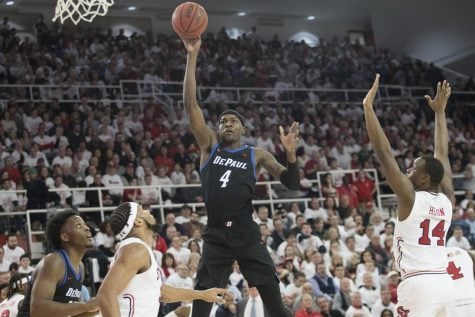 "It's been amazing," Reed said when asked about what it has been like to break out this season on a revamped DePaul team. "I remember I would be feeling bad for the fans when they come see us lose, so now that we're winning, or winning more, it just feels good. And I feel good to be part of that."
In the 13 games played against conference opponents, Reed has drilled 53.3 percent of his 3-point field goals after only attempting six shots from long range before then. Assistant coach Shane Heirman has been working with Reed to improve his jump shot, and that relationship has picked up ever since conference play began in December.
"It helps my teammates get open too," Reed said. "It really brings more options for the whole team because when I drive, somebody's gotta guard me and I can just swing it to one of my teammates for an open [3-point field goal], so it helps."
Reed has put up double-digit scoring figures 13 times this season and scored a career-high 21 points on Jan. 19 in a road win against Seton Hall. Additionally, Reed has recorded four double-doubles.
"Paul Reed is the most improved player in the Big East, and I think it's clear-cut," senior guard Eli Cain said. "I don't think there's anybody close to the improvement that he's put on from his freshman to sophomore year. But the thing about [Paul] is he works. He works and he believes in it. He's a young guy, so it's gonna be a lot of doubts like all of us, even me and myself. It's hard to see the bigger picture sometimes, but he listens and I think that's the biggest thing that changed from his freshman to sophomore year… is his mindset."
Aside from Reed's ability to shoot the basketball and rebound, Reed has utilized his length to the maximum level on defense. Reed's 99.2 defensive rating is third-best among all Big East players.
Reed has blocked 31 shots, which is fifth-best in the Big East at a rate of 1.3 blocks per game. As a result, Reed's block percentage, an estimate of the percentage of opponent two-point field attempts blocked by the player while he was on the floor, is second-best at 5.2 percent.
Before coming to DePaul in the summer of 2017, Reed had a successful basketball career at Wekiva High School, where he led his team to a state runner-up finish in Florida's 9A class. As a senior, Reed averaged 18.2 points and 11.4 rebounds per game en route to earning Central Florida Player of the Year honors from the Orlando Sentinel.
DePaul head coach Dave Leitao saw Reed's potential when he recruited him a few years ago.
"He knew how to put the ball in the basket, you know, and I thought he had to get stronger and all that to do that, but I think with him there's a high ceiling on just about every part of his game," Leitao said. "Facing the basket and making plays, either catch and shooting from three or passing, which he's learned how to do a whole lot better, is all part of what he's gonna be able to do consistently as his game keeps growing."
Outside of school, Reed played AAU basketball for the Showtime Ballers and averaged 18 points, 13.7 rebounds and 3.7 blocks per game at the 2016 Adidas Uprising Summer Championships in Las Vegas.
With conference play in full swing, Reed is handling his business one game at a time. One thing that Reed mentioned is that he and his teammates have been on the same page this season because they have been playing together.
"The biggest thing I've learned is [that] you've gotta have fun with it," Reed said. "If you have fun with it, you're going to hoop."