DePaul Golf tees off the year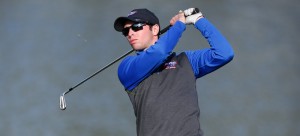 For most golfers, fall is the time when golf season starts to wind down with the weather getting cooler and people starting to put away their clubs. For DePaul golf, the season is just beginning.
After taking the whole summer to improve their individual games, the group of nine players has come back together this fall quarter to start another season. Each player must switch from an individual mindset to focusing on how to help the Blue Demons as a whole.
With two tournaments under the team's belt thus far, there is a lot of room for growth while the team displayed many encouraging signs as well.
"We have such a young team that having a positive attitude is really important," DePaul assistant coach Dylan Gergen said. "Resiliency is a big thing in golf. With a young team, it's an important thing. We're trying to stress that and I think that they're responding to it."
Of DePaul's nine players, there are seven who are either a first-year players or sophomores. Gergen said that he and head coach Betty Kaufmann were trying to help with the adjustments that come with going back to school and balancing classwork and golfing.
"It's tough because they play all summer, and they come back and have to deal with school as well," Gergen said. "They can't put as much time as they would like into preparing for tournaments. The other aspect is not getting burnt out. We stress our guys to play three or four big tournaments in the summer, but we want them to come back fresh in September."
Sophomore Jonathan Hewett is one of the players who has had to make that transition. Hewett spent the summer in his native country of England where he played in various tournaments. He said he's had to get used to the course differences in the United States as he begins the new season, noting that courses in England are longer and have different types of grass.
Hewett, however, is having success early. At Illinois State for the D.A. Weibring Intercollegiate, Hewett was tied for third place after two rounds before rain canceled the event's third day. Heweitt shot 143 (71, 72) to end the tournament 1-over as DePaul finished fifth overall out of 15 total teams.
"I was mad and not mad at the same time (about not finishing)," Hewett said. "It was still a good finish, but I wanted to finish strong.  … I should really be playing my best golf right now because I've been playing for the last three months competitively. It takes a little bit of adjusting to play here in the states, but I feel pretty good about my game."
Hewett said the biggest difference between his first year and his second is his confidence.
"The first year here, I was a bit nervous and didn't know what to expect," Hewett said. "I didn't know what the team was like and how team college golf worked."
"I'm not the captain, but I feel I have a responsibility to help everyone play well and be supportive," he said.
Jonathan Goldstein is another player making an important impact. In the second tournament of the year, Goldstein, a sophomore, finished with a 75 to end the three-day tournament in 18th place with an 11-over.
The tournament was a transition for Goldstein, who appeared in only six events last season.  He said the workload is something he has to be on top of, but said Kaufmann was helping him with his game.
"She's definitely helping me with my swing," Goldstein said. "She's given me a few drills here and there. I'm seeing the improvement in the last three weeks rather than the whole summer."
Goldstein and the team have a lot of room improve, but he's excited about the team's room for growth.
"It's fun," Goldstein said. "It's competitive in practice, and we're always doing a head-to-head competition of some sort. You get better throughout the year because everyone carries over from playing in summer really well."