DePaul blows by Xavier 81-48 for 20th win of the season
On the last Friday night home game of the regular season, DePaul women's basketball (20-7, 11-4 Big East) defeated Xavier (11-15, 2-13 Big East) by a final score of 81-48 at Wintrust Arena in the South Loop to extend its winning streak to five games and clinch the program's 12th consecutive 20-win season.
Senior forward Mart'e Grays recorded a double-double with a game-high 17 points and 11 rebounds behind a five-of-10 shooting mark, good for her eighth straight double-digit scoring game. Senior guard Ashton Millender pitched in 13 points off a fairly efficient five-of-eight shooting spree that included two 3-point field goals.
Junior guard Kelly Campbell had an all-around game with nine points, nine rebounds, four steals and three assists. Freshman Jolene Daninger tied a season-high with nine points on three-of-five shooting after only previously appearing in 15 games.
DePaul overcame a tough shooting night after making just 27 percent of its 3-point field goal attempts and shooting 29-of-70 overall with the help of second-chance scoring opportunities, good interior play and superb rebounding totals. DePaul scored 26 second-chance points while Xavier scored three of them.
"I just think we're growing as a basketball team," DePaul head coach Doug Bruno said. "It's taken a while for this team to come together. It's still a work in progress, but some teams come together quicker than others and I just think this is one of those teams that [has] just taken a lot longer to come together than I thought it might at the beginning of the season, but it is starting to show signs of coming together."
DePaul's trap defense held Xavier to collectively shoot 34.6 percent from the field. DePaul went on to score 32 points in the paint. Comparably Xavier scored 24 points down low.
Not only did DePaul win the battle in the paint, but they also out-rebounded Xavier 47-34. Eighteen of DePaul's total rebounds came on the offensive glass. On the other hand, Xavier came up with seven offensive rebounds.
"That opens up [3-point field goals] for our team," Grays said when asked about the importance of her team getting offensive rebounds. "The defense is sucked into the paint area, so we just kick it back out and our offense just increases and we get more points that way."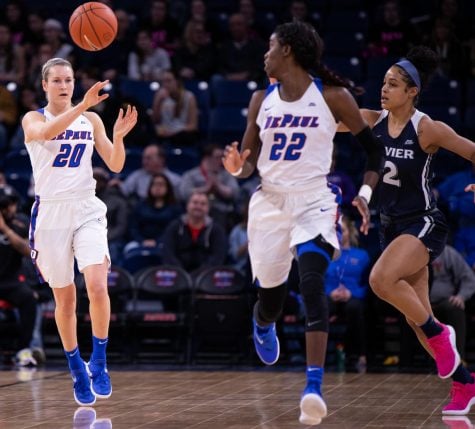 As a result of controlling the glass, DePaul sped up the tempo and outscored Xavier 11-0 in the fast break. Another key factor to DePaul's victory was its bench play and passing ability, as the bench totaled 33 points and DePaul dished out 20 total assists.
After a relatively slow offensive start for both teams in the first quarter, DePaul went on a 10-0 run to extend its lead to 15-5 with just over three minutes to play. DePaul closed the first quarter leading Xavier 19-11 after converting on four of its last six shots led by Grays, who scored eight points early on.
"I just went out and just focused on rebounding and just making my short shots," Grays said. "Coach Bruno emphasized before the game [that] when we have close shots, we have to stick them, be focused and just finish around the rim."
Once the second quarter rolled around, DePaul went on a cold streak and shot one-of-eight before Grays made a basket underneath the rim. Shortly after, Daninger came off the bench and drilled a wide-open 3-point field goal from the right wing to get DePaul's offense going on a 7-0 run to extend its lead to 39-22 at halftime.
"I'm really so proud of Jolene Daninger because she has not gotten the minutes [that] some of the other players have gotten," Bruno said. "I thought she had a couple of magnificent practices, so I'm just thrilled for her to translate that into a couple knock-down buckets. You know, that is what she can do very, very effectively and efficiently."
In the third quarter, DePaul went on a 9-0 run over a span of nearly a-minute-and-a-half to enlarge its lead to 53-29 with 4:13 left in the period. Over that stretch, DePaul shot four-of-five from the field.
After this run, DePaul went on another run, but this time it was a 12-2 run over the final 3:32 of the third period. DePaul made three consecutive field goals while Xavier went on a scoring drought in the final 2:54. Consequently, DePaul entered the fourth quarter with a 65-34 cushion.
"It was very big," Millender said in response to DePaul's pair of late offensive spurts. "I would say it helped us gain momentum."
DePaul will face Butler (20-6, 10-5 Big East) on Sunday afternoon at 2:00 p.m. tip-off at Wintrust Arena for Senior Day. Grays, Millender, Tanita Allen and Rebekah Dahlman will be honored for their contributions to the team in a postgame ceremony.