Alex Bialek | The DePaulia
St. Vincent's DeJamz
While the choices this week may vary drastically from each other, they are all selections from concept albums. With concept albums, the whole is greater than the sum of its parts. The collective songs on a conceptual album contribute to an overall theme or message. When people think of concept albums, Pink Floyd often is the first name to come up. However, this list features songs from hip-hop, rock and progressive metal. Check out these jams that range from dreamy to heavy.
1. "Yellow Eyes"- Between the Buried and Me
North Carolina-based Between the Buried and Me released their eighth studio album, "Automata I," in early 2018. Despite not taking home the Grammy for Best Metal Performance last week, the band remains a juggernaut in the progressive metal scene. The song flows from heavy riffs and screams to a beautiful section where bassist Dan Briggs has room to breathe and lay down some pleasing bass lines. Between the Buried and Me remains one of the most consistent bands at delivering incredible album after album, which is one of the reasons I've seen them live over 15 times.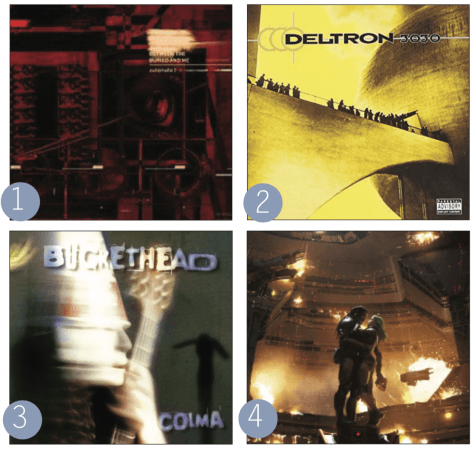 2. "3030" – Del the Funky Homosapien
Nineteen years ago, rapper Del the Funky Homosapien collaborated with producer Dan the Automator and DJ Kid Koala to create one of the greatest hip-hop concept albums ever. "Deltron 3030" follows Del as he rebels against a 31st-century new world order.  In this dystopian future, evil oligarchs fight to suppress hip-hop music as well as human rights. Del demonstrates his abilities as a social critic without falling into self-righteousness. At 7:29, "3030" is on the lengthier side for rap music; that said, Del's rhyming, combined with a brilliant instrumental, makes this a must-listen.
3. "Whitewash" – Buckethead
Virtuosic guitarist Buckethead is shrouded in mystery. For decades, his identity and appearance were the subjects of major scrutiny as he remains an enigma. Sporting an expressionless white mask and a KFC bucket on his head, Buckethead resembles a horror villain more than a musician. Buckethead's fourth studio album, "Colma," refers to the town of Colma, California, where the dead population outnumber the living by thousands to one. The all-instrumental album starts with "Whitewash," which allows Buckethead to build a calming ambiance. This is one of my favorite songs to play on guitar as well as listen to on repeat endlessly.
4. "The Gutter"- Coheed and Cambria
New York-based rock outfit Coheed and Cambria released their ninth studio album, "The Unheavenly Creatures" in 2018. This album continues the band's Amory Wars concept, which has encompassed all but one of their discographies. "The Gutter" is a captivating listen that features a catchy chorus, which is unconventional for the band given their prog-rock roots. Complete with a great blend of creative guitar riffs, crushing percussion and the vocal range of frontman Claudio Sanchez, Coheed and Cambria cement themselves as one of the most idiosyncratic bands today.