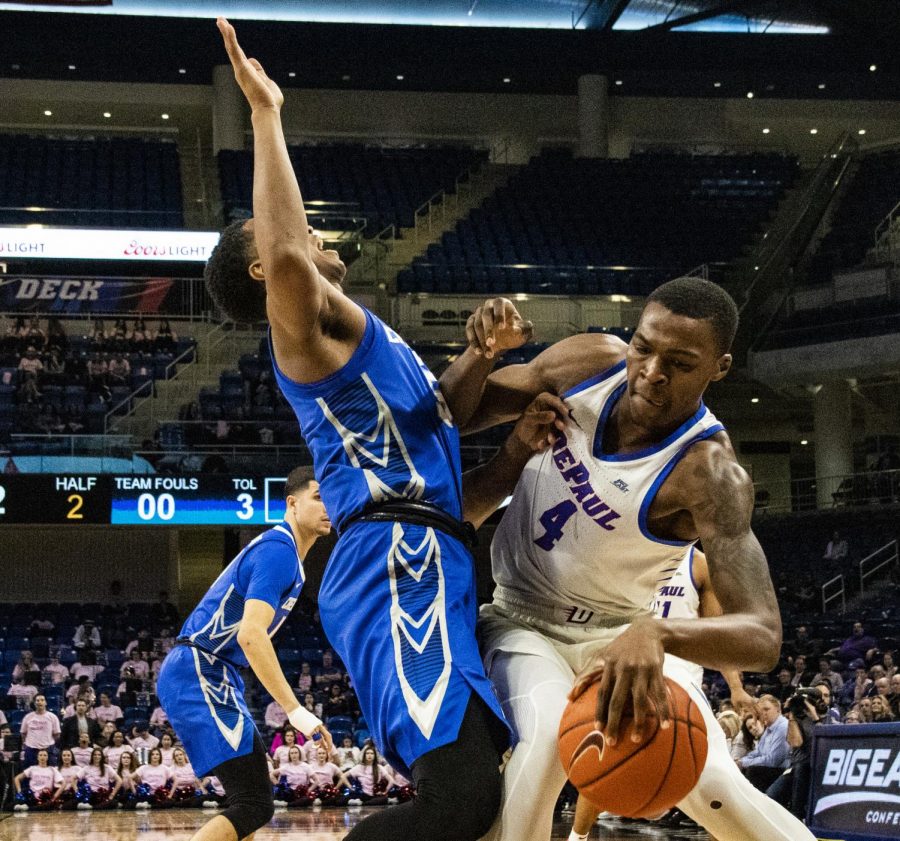 Richard Bodee | The DePaulia
DePaul lost their third straight game Wednesday night, this time coming to Creighton 79-67 at Wintrust Arena. While DePaul has controlled opponents inside much of the season, it was Creighton that outscored DePaul 36-16 in points in the paint, while DePaul struggled to get anything going against the Bluejays' defense, which was intent on keeping DePaul's big men out of the paint. 
The trio entered Wednesday's game combining for 37.5 points per game and 19.6 rebounds per contest. On Wednesday night, however, the Bluejays were intent on double-teaming Femi Olujobi, Paul Reed and Jaylen Butz and forcing others to beat them. The plan worked to perfection as Butz, Reed and Olujobi combined for just 14 points and 10 rebounds. 
 "They had a good game plan; they doubled off a couple of our guys," DePaul senior Max Strus said. "They doubled the post on the first dribble so we had a tough adjustment to that, but we will go in, watch the film and learn from it and try to get better." 
It didn't help that the Blue Demons big men were in foul trouble inside the first five minutes after both Reed and Olujobi picked up two fouls in that span. The foul trouble got more problematic for the Blue Demons as Olujobi picked up his third foul with 5:11 remaining in the first half, prompting DePaul head coach Dave Leitao to turn back to Reed.
It was clear that the Bluejays were intent on slowing down Strus, Reed, Olujobi and senior guard Eli Cain and living with the results outside of that. DePaul did make them pay at times with freshman Flynn Cameron — who hadn't scored since Jan. 16 against Butler — scoring a career-high 11 points in the first half. 
"We lived with some shots from a couple of their players," Creighton head coach Craig McDermott said. "To Flynn's credit he really made us pay. We had a chance to really get some separation in the first half and I don't know that he's scored in a month and he has 11 on us at halftime. So they made us pay for that but we were active in the fact that they had nine offensive rebounds at halftime and only two the second half, and that's a big reason we were able to win the game." 
The Bluejays were also content to give sophomore Devin Gage space to shoot, and as a result the 6-foot-2-inch guard struggled finishing 0-8 in the first half and 4-16 for the game. Gage did take advantage of the space given to him at times though, as he opened with a quick 10 points while going 4-of-5 from the field to open the second half as DePaul closed within three with 9:55 to play, although he would miss his three shots as Creighton once again opened up the game. 
Leitao anticipated his big men would get double teamed after Butler employed a similar strategy just a few days earlier. 
"This is the second game in a row and we anticipated it," Leitao said. "I think Greg [McDermott] does a terrific job of game planning and he slumped off some of the perimeter guys that they played percentages with. They doubled our size guys and we've been working on it for two days on how you play out of a double team. We moved it around a little bit but you've got to get it out quick, you've got to move it quick and you got to attack quick and I don't know that all three of those happened enough for us to really make them pay a price for doubling." 
There is a risk to double teaming and, as Leitao pointed out, if the Blue Demons are able to get the ball out of the double team and move the ball, they can make teams pay for doing it.
"If you get the ball out of the double team quick you're playing 4-on-3," Leitao said. "Most people would like those odds but you got to do it crisply, you got to do it quickly and you got to do it decisively. Sometimes when it came out, the ball got stuck on one side of the floor. Other times, when it changed sides of the floor, it didn't get attacked real well. Sometimes, when we got in the paint, we didn't finish the play with a good paint shot, so when we look at the film it will show some things and I'm sure there are things we could do better, but I anticipate that might even continue because that's something we've been good at all year long." 
DePaul now has a week off before playing three games in the span of a week and will have a chance to develop a plan of attack, knowing that teams are likely to employ a similar strategy in coming weeks. The Bluejays and Blue Demons will meet again in just three weeks when DePaul will have another chance to improve on the 67 points they scored against the Bluejays on Wednesday.