Maya Stovall: On the court to add chemistry to the mix
March 4, 2019
Freshman point guard Maya Stovall works hard to get her team involved and connected so everyone can play a strong game. Her work has paid off, and she has been able to play on the court more frequently as the season continues.
Head women's coach Doug Bruno said the team moved Stovall into the starting lineup because of the impact she made on the team.
Bruno said he felt that the team needed a change, and Stovall earned the spot.
"She's a really solid facilitator," Bruno said.  "She's one of those players that brings cohesion to the group."
Stovall hails from St. Louis, Missouri and attended Parkway North High School, where she helped her team place third.
At 5'7", she has scored 10 points and made two 3-point field goals against Villanova, made three field goals against Georgetown, made four free throws against Providence and made one block and three steals against Marquette.
Stovall found her interest in basketball from her brother's involvement in the game. She started playing because of her competitive nature.  She's been able to meet her goal of being competitive on the team.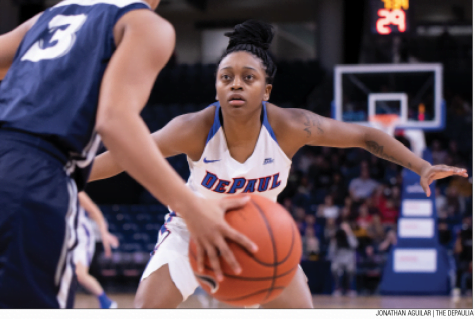 "I love to win. I hate to lose," Stovall said.
Stovall's mother, Maria Wilson, has attended several of Stovall's games. Wilson said she knew Stovall was good at basketball and she couldn't be more proud.
"I always wanted her to somehow find a way to get her athletic abilities to get her to college," Wilson said.
Wilson said she has seen her daughter grow throughout her first season, now that Stovall has gone from not playing much to being in the starting lineup.
"She helps me go hard and keep pushing myself," Stovall said.
Stovall has been doing well, Bruno said, and the team has been better with her on the floor.
Bruno said Stovall has had some great moments, some good moments and some freshman-esque moments, when freshmen on the team may think they are more familiar with the game than they really are.
"I think in the big picture of her time as a starter, I think she's done a good job," he said. "She's had a lot more great and good moments than she's had more freshman-esque moments."
Stovall has helped the chemistry improve, which is difficult to have because there is no formula for it, Bruno said.
"[Chemistry is] not something you can x and o," Bruno said. "It's a synergy among humans. Maya has helped that chemistry."
Bruno thinks Stovall is going to grow, and her growth is going to not only be that she's happy to be on the floor, but also that she'll understand herself and the way she impacts both sides of the ball.
Stovall can be a "junkyard dog" defender, Bruno said. He sees her becoming more aggressive, both on defense and offense. The next is to find the perfect balance of aggressiveness .
Size has been a challenge for Stovall at times as well as well. To improve and face this challenge she has gone to the gym and the weight room and trained outside of practice.
"Everybody is big in college," Stovall said. "You have to get faster. Everybody is stronger."
Stovall ran track in high school, which helped her improve her quickness as a basketball player. She said it feels good to see that hard work pay off.
"I know I'm good enough to be out there with everybody," Stovall said. "I just have to keep working."
Stovall wants to keep improving every day as her basketball career progresses, and she become a more versatile player as time goes along.
Stovall said she wished she could improve shooting 3's; she can make them but she would rather get to the basket and get her team a high quality shot.
Senior forward Mart'e Grays said Stovall brings a lot of energy to the team, runs the offense well, and her defensive presence gives the team a lift.
"She's just a really solid player for us at this point in time," Grays said.
Senior guard Ashton Millender said Stovall's defennse gives the team a lift.
"When Maya puts her mind to it, she can guard anybody," Millender said.
Grays said Stovall has made a big impact because of the type of player she is.
"I bet she doesn't even realize how much impact she has had thus far," Grays said. "I think that's a good thing. Her head is in the right place at the right time."