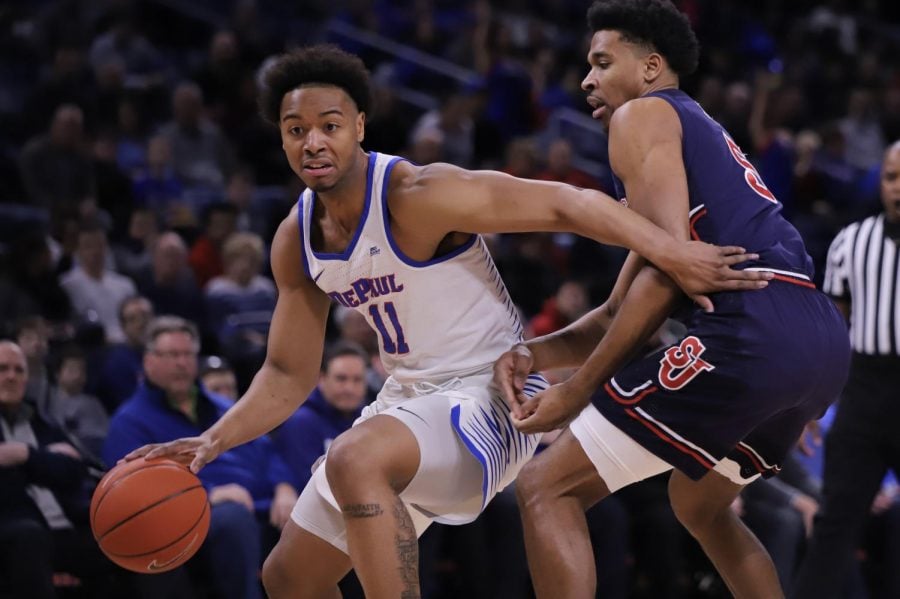 For the second time during Big East play, DePaul will play an opponent twice within a week when Georgetown visits DePaul on Wednesday night at Wintrust Arena.
The first matchup went the Hoyas way, after they closed the half on a 7-0 run to take a commanding 49-34 lead at the break. DePaul cut the lead down to seven with just under a minute to play but got no closer as they lost their fourth straight game 82-73 last Wednesday.
DePaul is coming off an emotional 92-83 victory over St. John's on senior day. Senior guard Max Strus finished with a career-high 43 points, including 36 in the second half as DePaul erased a 12-point first-half deficit, matching the largest deficit overcome this season. Georgetown had a thrilling win of their own outlasting Seton Hall 77-71 in double overtime as they won for the third time in four games.
Now comes the challenge for DePaul of refocusing, and DePaul head coach Dave Leitao said he has been cognizant of that over the past few days but has been pleased with the way his team practiced Tuesday afternoon after largely staying away from the court on Monday.
"We talked a lot about it Monday," Leitao said. "We stayed a little bit away from the court so that we could get some rest because we're in the middle of a nine game stretch to end our regular season, so I trusted and I have to trust their mental state of mind I think to refocus themselves so today was a good day to test that out."
Leitao added the team went up and down with some vigor and while the team has sometimes had trouble being too high after a win, he hasn't seen that so far.
Senior guard Eli Cain described Sunday's win as "special" and given the team a boost as they prepare for the Hoyas but added it was time for DePaul to turn their focus to Wednesday.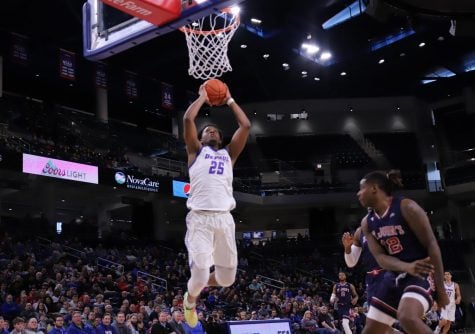 "It's always good to get a win you can feel a different energy in practice than when you are on a three or four game losing streak," Cain said Tuesday. "Sometimes it's easy to just give up and say alright whatever but we don't have that type of team, we don't have that kind of coach. He was pushing us every day, getting on us every day and still today he's not letting us just slack off just because we won one game. All of us have the same mindset that we're not done yet it's one game we'll take it but [Wednesday] we got Georgetown that's in the past."
Notes from Georgetown
Having just played Georgetown, many of the mistakes are still fresh in players' minds but Cain said many were also correctable. Heading into Wednesday's game, DePaul will need to take better care of the ball and prevent the Hoyas from getting out in transition after they scored 28 transition points and 17 points off turnovers in the first matchup.
"We really just shot ourselves in the foot the whole game on both ends turnovers, fastbreaks, that we just gave them easy points and those kind of easy points you give teams like that gives them confidence," Cain said. "This is one of the best leagues in the Big East, so we're playing against guys that are really talented so if you get easy points it's easy to get a lot of confidence and get things rolling on both ends."
After DePaul allowed 49 first-half points and 33 in the second half, senior forward Femi Olujobi said the Blue Demons need to enter Wednesday's game focused especially on the defensive end.
"Just playing with more intensity on the defensive end just being engaged and playing as a unit," Olujobi said. "Even 33 points we feel is too much at times but we just need to pick it up more on the defensive end. I think it started last game with St. John's in the second half."
Plenty to play for
Aside from being the final home game for DePaul in its second season at Wintrust, the Blue Demons have plenty to play for over the next week.
A win on Wednesday would give DePaul seven conference wins and 12 home wins, both would be the most they have since the 2006-07 season when they went 14-2 at home and 9-7 in the Big East. Not to mention, a first-round bye in the Big East tournament is not out of the equation either for DePaul with a good week. Those accomplishments are not lost on players whether they have been here for multiple years like Cain or Olujobi, who is in first season with the Blue Demons.
"It would be huge for me personally that's the goal me and coach had coming in," Cain said "We both came in together four years ago that's the goal we had we went through the trenches those first three years, last year we seen it we were there we lost multiple games by under five points. This year we were able to pull some of those games out. It would be big first time in [over] 10 years that would be huge going forward. I think the program is in great hands after this year too."
DePaul is well aware of how bunched up the Big East is with eight teams separated by just two games and what a pair of wins in the final week could mean in terms of seeding.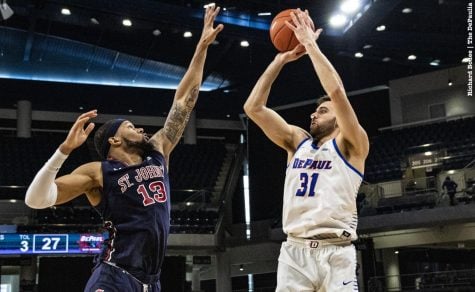 "That's the key because at this time of year, one more game, two more games in most leagues, you can drop a position, add position, tie a team or not tie a team," Leitao said. "That you can move up five spots in a week or less than a week in one game, two games, so it's critical that you finish off the right way and obviously you want to talk about momentum going into New York but before you even get to that is trying to find the highest finish you can have in Big East play."
Leitao added obviously a first round bye is beneficial for any team, but especially for DePaul who doesn't play 10-11 players, and of course only having to win three straight games would be easier than having to win a fourth game as well.
To get in a position for a bye, DePaul will have to avenge a loss against Georgetown and that task begins Wednesday at 7:30 p.m CT at Wintrust Arena.