Up for grabs: Wild regular season ends with more drama
March 11, 2019
Entering the final weekend of Big East play, seven teams were separated by just one game, with Providence hovering just a game behind them at 6-11.
Welcome to the Big East this season.
Unlike past seasons, there is no dominant team in the league with Villanova capturing the regular season title  with five losses, while Marquette sat right behind them with six losses, after losing four straight to close the year.  Then there is a pack that includes Georgetown, Seton Hall, Creighton and Xavier all at 9-9.  Each of the other leagues have at least a  program that finished with less than five conference wins, while a couple teams have clearly separated themselves at the top of the standings.
"Other leagues you will see teams that are 16-2 in conference and then at the bottom it's teams that are 4-12," senior guard Eli Cain said. "You're not going to see that in this league everybody is pretty much just beating each other and I think that's why the Big East Tournament is going to be so interesting because nobody really knows what can happen. I'm sure all 10 teams are going in feeling like they have a real good chance to be winning that last day."
Given how bunched up the league is, that can be both a positive and negative for the conference.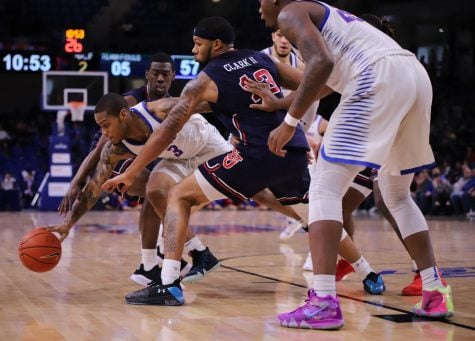 "There are teams at the top that are really good," Coach Dave Leitao said of the Big East this season compared to other conferences. "There are teams at the middle that are very competitive and there are some teams at the bottom that by comparison are not nearly as good and I respect them all, but there's tiers. We don't really have many tiers.
"Again I'd have to look at it a lot closer but I don't know that there's been a league especially at this level that can say that.So it makes it really competitive and on a negative note you start beating yourself up people think you're not that good either."
So with the tournament beginning on March 13, how are people feeling about a race with new frontrunners? For DePaul junior John Cotter, who's been following college basketball since high school, he's been excited about the Big East this year. 
"DePaul's men's team has had stretches where they've been performing pretty well, but the Big East is super competitive," Cotter said.
The Big East was first established in 1979, consisting of up to 16 schools that played Division 1 sports such as basketball, football, and much more. In 2013, seven non-football playing schools voted to leave the Big East; they ended up in a conference that kept the Big East name, while the other schools were placed in the American Athletic Conference. These seven schools are DePaul, Georgetown, Marquette, Providence, Seton Hall, St. John's, and Villanova – when they branched off into a new conference in 2013, they were joined by Butler, Creighton, and Xavier to make up the ten teams in the conference. 
For Tim Stebbins and Matt Melemseter, they're very much invested in the season. As managers at Radio DePaul Sports, they've been following the Big East throughout the year as they call DePaul's games.
"The Big East has certainly taken a step back this season from where it was in 2017-18," said Stebbins, naming teams like Xavier and Villanova who have suffered due to graduating players and new coaches. "Long story short, the conference isn't as strong as it has been in recent memory, so the compact standings are a byproduct of that."
ESPN's Joe Lunardi projects only four teams to reach the Big East Tournament with Marquette listed as No. 5 seed followed by Villanova as a No. 7 seed, St John's as a 10 seed and Seton Hall as a No. 11 seed.
DePaul will play St. John's on the opening night of the Big East Tournament. If the Blue Demons win, they would face Marquette on Thursday night.
Despite DePaul's low spot in the standings, big wins like those against Georgetown and St. John's offer hope to fans that someday soon the Blue Demons may return to the dominance they exhibited in the 1980s, where they made the NCAA tournament nine times through the decade. The opportunity for DePaul to still make a postseason tournament this season, being the NCAA tournament or the NIT, still exists this late into the season.
Anything can happen, as Cain credited the extra competitiveness of the conference as something that can help DePaul.
"If you look at the standings, one week you can be ninth and next week you can be fifth or fourth. So if you handle your business and really try not to worry about other teams winning or losing…you never know," he said.
Forward Femi Olujobi echoed Cain's sentiment of just focusing on your own team, saying "we try to just take it a day at a time and just let destiny manifest itself."
Even DePaul fans are growing more optimistic.
"DePaul has been performing better this year than they have in the past but even that is not saying much," says Cotter.
"But I still think they have a chance – maybe."
The Big East Tournament will take place March 13 to March 16 at Madison Square Garden in New York City.