DePaul advances to Big East Tournament championship game with comeback victory over Creighton
For the third year in a row, No. 24 DePaul (25-7, 14-4 Big East) will take on No. 17 Marquette (26-6, 15-3 Big East)  in the Big East Tournament Championship Game after winning its 10th consecutive game with an 80-69 victory over Creighton on Monday evening's semifinal game at the Wintrust Arena.
Fueled by a late comeback in the fourth quarter, DePaul capitalized off Creighton's costly 20 turnovers and scored 26 points off Creighton's miscues. Comparably, DePaul consistently took care of the basketball and only committed five turnovers, a program record-low in Big East Tournament play.
Not to mention, DePaul recorded seven steals by way of implementing a full-court trap defensive scheme that resulted in a 12-3 advantage in fast break opportunities. Creighton's junior forward Jaylyn Agnew scored a game-high 27 points after shooting 12-of-15 from the field, or 80 percent overall.
DePaul senior forward Mart'e Grays poured in a team-high 20 points and grabbed five rebounds while Ashton Millender and Chante Stonewall scored 12 points each. Even though DePaul only converted on 21.7 percent of its 3-point field goal attempts, its bench came ready to play and totaled 29 points. On the contrary, Creighton's bench scored just 16 points.
"Whenever you win a game, it's always about the players," DePaul head coach Doug Bruno said. "Mart'e [Grays] is playing really good basketball. So is Ashton Millender, and one of the things that was most important about Mart'e tonight outside of the basketball was that she lost her composure slightly at the beginning of the second half, and I thought she did a great job of recapturing her composure, and I think that was very, very important to getting the win."
Traditionally known as being a guard-oriented team, DePaul took advantage of mismatches down low and outscored Creighton 36-30 in the paint. Creighton won the rebounding category 34-30, but DePaul pulled down 10 offensive rebounds. Accordingly, DePaul was able to extend some of its possessions and tally 12 second-chance points.
The game opened up with a string of traded baskets between both teams until Tanita Allen made a 3-point field goal from the left wing to put DePaul up 11-8 with just over six minutes remaining in the first quarter. Despite DePaul finishing the period shooting just 36.8 percent as a team, DePaul took a 19-17 lead heading into the second quarter behind 11 points from Grays.
"I feel like our confidence is coming from what we've done these last nine games," Grays said. "Our main focus has been defense, so I know if we just continue to focus on our defense end and rebounding, we'll take care of business."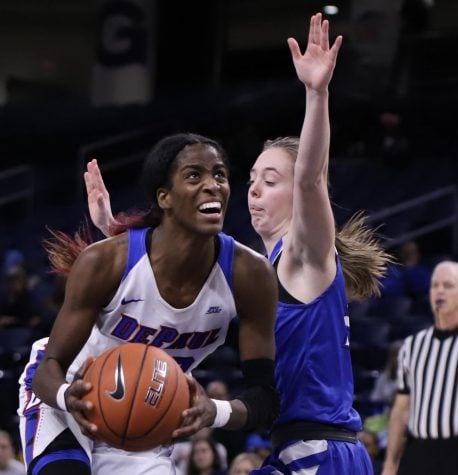 Midway through the second period, Creighton made four consecutive field goals to take a 31-30 lead with 3:46 left to play. DePaul retook the lead, 36-35, after Lexi Held drilled a pair of free throws and led Creighton 41-37 at halftime.
Grays had a game-high 16 points during intermission and Agnew had scored 14 points.
"When [Grays] is on a roll inside, I feel like it opens up the outside for us," Millender said. "But at the same time, when she's doing good on the inside, just give it to her, that's what I said in my head. When she's taking advantage inside, give it to her. She's going to get it out, she's not a selfish player, so I feel like if I give it to her, she'll give it back to me."
Creighton hit a cold streak once the third quarter rolled around as a result of committing three turnovers over a two-minute span and going scoreless during that stretch. DePaul could only contain Creighton's scoreless stretch for so long, as Creighton exploded for an 8-0 run over the follow minute-and-two-seconds to go ahead 52-49 at the 3:01 mark, causing Bruno to call a timeout.
Momentum soon shifted the other way in the fourth quarter, as DePaul picked up the pace and went on a 13-3 run over a stretch of four-minutes-and-three-seconds. Kelly Campbell drilled a 3-point field goal to tie the game at 58 apiece at the 7:19 media timeout. DePaul went up 66-58 midway through the fourth period and held on to the lead to end the game.
"I'm one of the crazy people in coaching that doesn't like the word poise. I like the word resolve," Bruno said. "So I just think our players have had to have a lot of resolve through this stretch here. I've had to learn our team, and it took me a while to learn this basketball team. I'm still learning it, but I think we're getting more educated about what we have with our different combinations."
DePaul, the No. 2 seed in the tournament, will face top-seeded Marquette on Tuesday night at 7:00 p.m. at the Wintrust Arena.