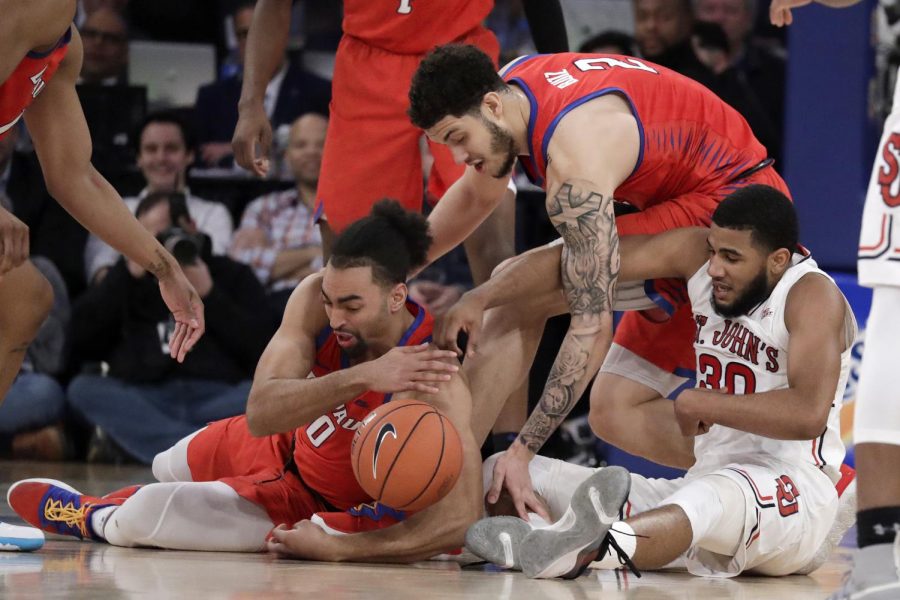 Basketball is often a game of adjustments, especially when two teams are meeting for the second time in 10 days, and third time over the course of the season — as is the case in the Big East Tournament every year.
St. John's (21-11) won the battle of adjustments Wednesday night and as a result was the one vying for a spot in the semifinals on Friday night when they took on Marquette after topping DePaul (15-15) 82-74.
Coming into the game, DePaul head coach Dave Leitao said he figured the game would come down to who was the most aggressive with the two teams matching up for the third time. From the opening whistle, that team was the Red Storm, who jumped out to a quick 13-4 lead less than four minutes and never trailed in the game as they maintained a double digit lead most of the second half.
"I thought that their game plan was effective and our response to it wasn't like it needed to be for enough consistency to get what we wanted as opposed to settling for things," Leitao said. "As most teams go, when there's not a ton of offensive success, it kind of spills over to defense. I thought our defense had some mental and physical lapses that gave them the kind of confidence that allowed them to play more aggressive offense and more aggressive defense. So I give them credit."
First and foremost for the Red Storm was figuring out a way to slow down DePaul senior guard Max Strus, who erupted for a career-high 43 points early this month, including 36 points in the second half. In that matchup, Strus took advantage of St. John's junior Justin Simon playing just seven minutes in the second half due to foul trouble. The adjustment for St. John's in this one was simple, keep the newly named Big East Defensive Player of the Year on the court.
"I just told him last game he had seven at halftime," St. John's head coach Chris Mullins said. "Justin picked up a few fouls. When he came out, the guy got going. He's that type player, it only takes a little bit for him to catch fire, and that's what happened.I just thought again tonight Justin was instrumental in setting the tone, and then Shamorie [Ponds] and the rest of our team did a good job. When he did catch, he was looking at two, three, four bodies."
Strus also credited the play of Simon and the game plan the Red Storm employed to slow him down. The senior guard finished with just 14 points on 4-of-12 shooting, including going 2-of-7 from the 3-point line.
"I think they did a great job," Strus said. "They had a great game plan. They executed very well. He's a good defender and shut me down today."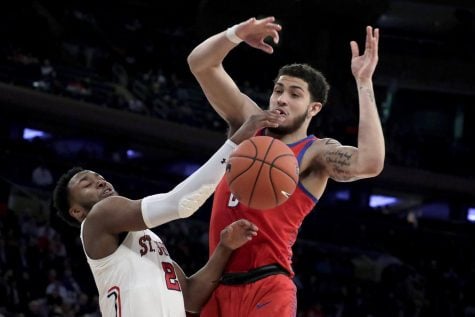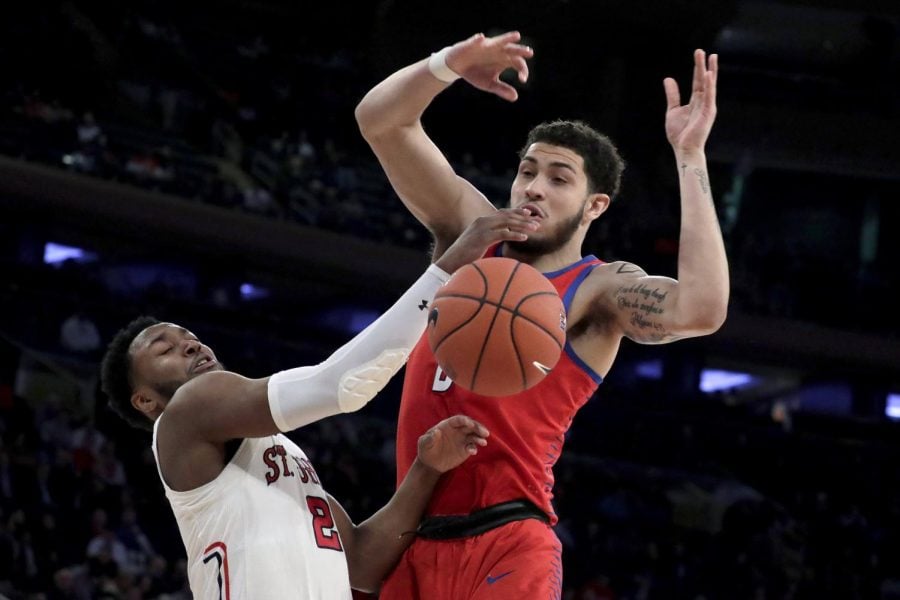 The other adjustment was one DePaul has become all too familiar with in recent weeks. Just Creighton did twice in its two wins, the Red Storm threw double teams at DePaul's big men Paul Reed and Femi Olujobi. The two combined for just 14 points on 6-of-12 shooting, which was 10 points below what the two have combined for on average this season.
"I think they took a page from our last game in [their] helping and doubling in the post, which is no secret that our post-game has been an effective weapon for us," Leitao said. "They were in help defense on guys in the perimeter, and our understanding, even going back two games ago, was just, when you have that, you've got to increase your ball movement, and I don't know that we did that enough times."
As has been the case in recent weeks, the Red Storm focused their attention heavily on slowing down Strus, Reed, Olujobi and senior guard Eli Cain. To Cain's credit, he kept the Blue Demons in the game in the first half with 16 points. Aside from Cain, no other player totaled more than six points in the opening 20 minutes.
Despite those early struggles, the Blue Demons trailed by just four and were within striking distance. The second half saw St. John's employ this same strategy and it was a riddle DePaul could not solve. Cain was limited to seven points while Strus had just eight points while going 2-of-7 from the field.
"I think their game plan was pretty much the same," Cain said. "They were setting off certain guys, trying to deny Max the ball, trying to deny me the ball. I think in the first half I just got a lane on rip-throughs and things like that, and I made a lot of free throws. I think that's what contributed to me getting the points in the first half."
One of those players who the defense played off of was sophomore guard Devin Gage, and he took advantage notching a career-high 19 points on 9-of-20 shooting. The Blue Demons didn't get much else out of the guard spot, however, as Lyrik Shreiner and Flynn Cameron combined for just two points in just under 19 minutes of action.
At some points this season, while showing obvious signs of improvement DePaul struggled to make adjustments down the stretch, especially in  two losses to Creighton to close the season and another Wednesday night.
While DePaul recorded their first non-losing season since the 2006-07 campaign, their ability to win the game of chess against St. John's and others will likely mean that they will have to wait another year to try record their  first winning season since that 2006-07 campaign.