Blue Demons advance to second round of CBI with win against Chippewas
DePaul could have made several excuses that could have curtailed their 100-86 victory against the Central Michigan Chippewas in the first round of the College Basketball Invitational tournament on Wednesday night.
McGrath-Phillips Arena not Wintrust Arena. Early deficit. CBI. Who cares, right?
"You should compete the same way every game," DePaul senior Max Strus said. "Keep playing everyday."
"You want to compete, we came here for a reason," DePaul senior guard Eli Cain said. "We didn't come here to stop after conference season. We're all competitors in the locker room. Same as the coaching staff, same as Jean [Lenti Ponsetto]. So really, everybody in this program has the same mindset, if you tell them they have another game to play they're going to play it regardless of where we are playing at."
However, for awhile it looked like the Blue Demons would succumb to one of those excuses. Complete with sloppy turnovers and a flurry of botched gimmies underneath the basket, DePaul sleepwalked their way through the first 14 minutes of the game finding themselves down by a game-high 12 points on five separate occasions during that stretch.
But then the Blue Demon seniors, who had insisted earlier in the week that they really wanted to win this tournament, decided they were going to keep their word. Fueled by Cain and Strus, the Blue Demons exploded on a 14-2 run to knot the game at 35 with 2:53 to play in the first half. The two seniors scored or assisted on all 14 points during that run, with Strus hitting two of his seven 3-pointers and Cain hitting roll men for back-to-back dunks.
"I knew both teams could play offense, so there are runs and they had runs on us and we had runs on them," Leitao said. "But particularly at the point you were talking about [beginning of the game] I didn't want it to happen [falling behind early] but I wasn't shocked that it happened. We were trying to figure out what is this all about. Then we got into a rhythm, understood what the gameplan was and how we needed to get baskets. We only shot low 40s (41.5 percent) in the first half compared to 66 or 67 percent (66.7 percent) in the second half. So when we understood what we could get offensively and how to get it I think it helped us offensively."
Strus and Cain combined for 29 first half points on 9-for-16 shooting to will the Blue Demons to a 46-42 lead at halftime. DePaul racked up 24 points in the paint and outrebounded the Chippewas 24-18.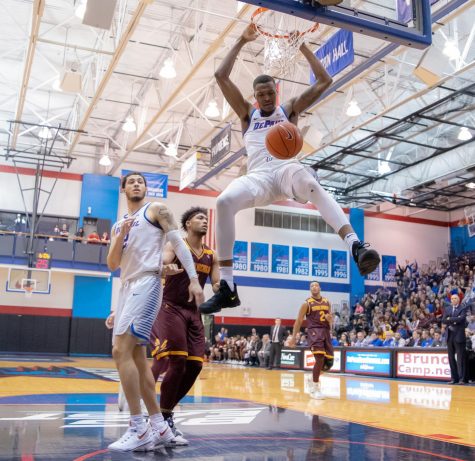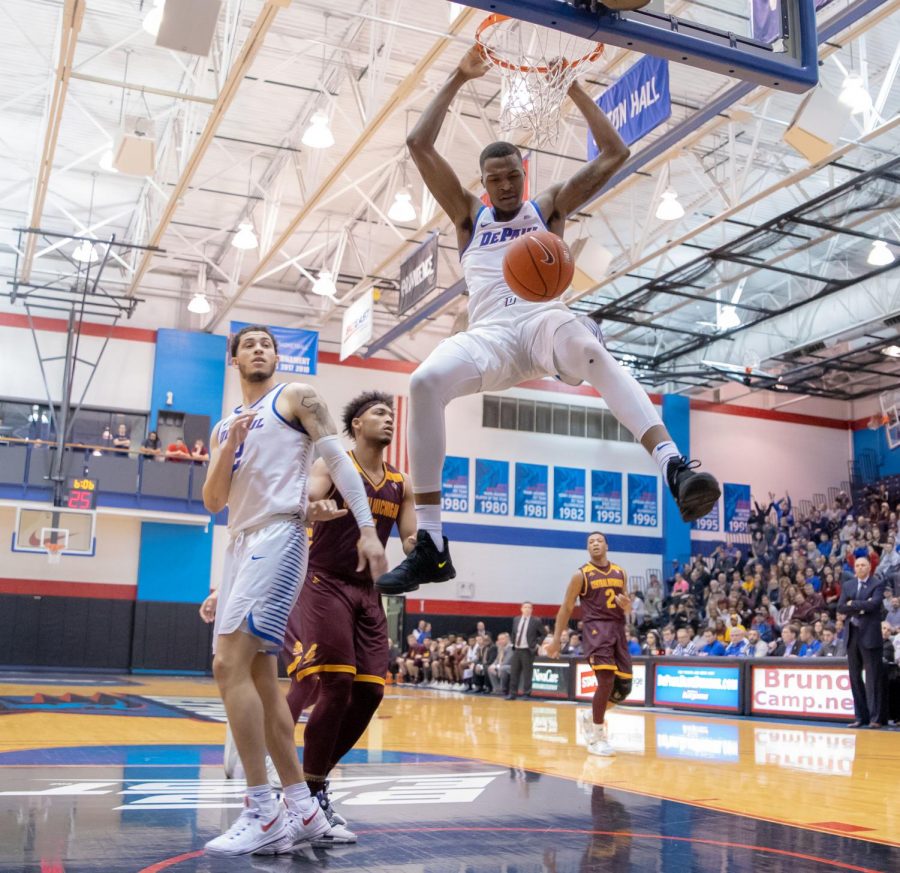 Sloppy turnovers led to back-to-back layups off of steals by the Chippewas Kevin McKay to bring CMU back to within three points with 12:33 to go in the second half. The Chippewas whittled away at the Blue Demon lead for most of the second half, but could never completely close the deficit.
Back-to-back transition dunks from Blue Demon point guard Devin Gage and big man Paul Reed put DePaul up 11 with 5:47 to go. Later Strus, who finished with 33 points, collected his own miss in the corner and then hit a 3-pointer to put the Blue Demons up 14 points with 5:02 to go. He finished the play off with a little skip to his step as he jogged back to the other side of the court.
DePaul shot 9-for-19 from 3-point range (47.4 percent), the highest percentage any team has shot against the Chippewas all season.
The McGrath-Phillips Arena crowd wasn't huge, but it was loud and the aesthetic of how well they filled the stands looked much better than it would have had the same sized crowd been at Wintrust (the official attendance tonight was 1,173). The student section in particular was jostling CMU star Larry Austin all night, jeering the already bad free-throw shooter (55.6 percent for his career) into a 4-for-10 night from the line.
"I just said it downstairs before I said anything and I would be remiss not to say it here, our fanbase today was phenomenal," Leitao said. "They turned out in droves, they were loud, and it helped our guys when we made consecutive shots and went on runs you could feel it. You could feel it in the gym and that was tremendous, so I give them all the credit in the world to the fans for turning out and hopefully we continue to play some more home games so we can have that again."
DePaul will now advance to the second round of the CBI tournament where they will play Longwood on Monday night.